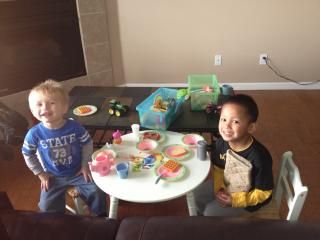 The boys are disappointed that there is no snow to play in, so they are having a tea party to pass the time. haha!
Has it really been almost a month since I last posted? I think the continual days of cold winter weather have me lagging behind. Yesterday was the first day of spring and temps were in the low 30's with a supposed snow and freezing rain storm coming today. No snow or rain falling yet and I have some disappointed kids, but I am completely fine if we don't receive an ounce of it. I have removed my snow friend from the front porch, removed all winter clothing with the exception of a few long sleeve shirts and jeans from the the kids closets and we have cleaned out our entire garage while also airing up bike tires and sport balls in anticipation of warm weather here to stay. So, Mr. Winter, be gone! I have no use for you!
Lots of fun so far in March! Earlier in the month we celebrated Papa J.R.'s birthday and all of us adults were able to venture out for a night out of entertainment and dancing!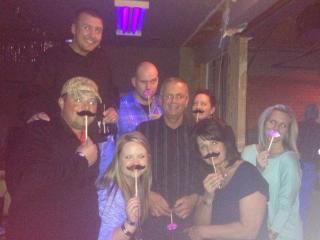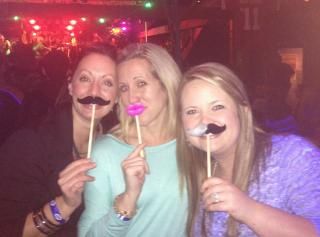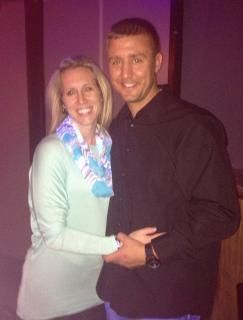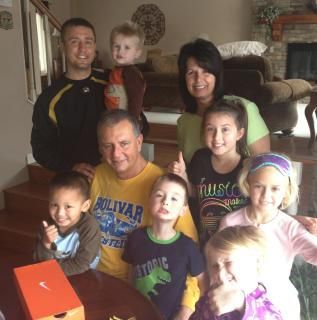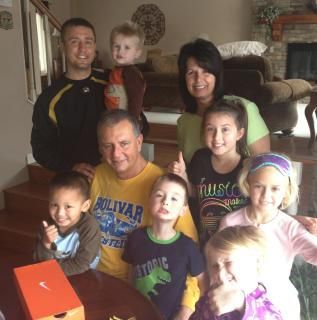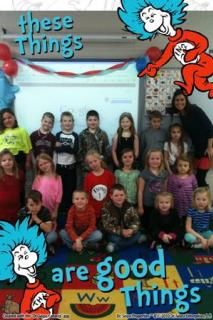 Addy's class celebrating Dr. Suess's birthday.
Jaidyn's teacher posts pictures of her class almost weekly. I look forward to these every week and seeing all the neat things they are doing in class.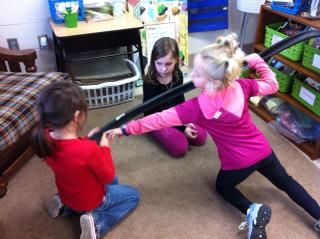 Studying force and motion by building their own roller coasters.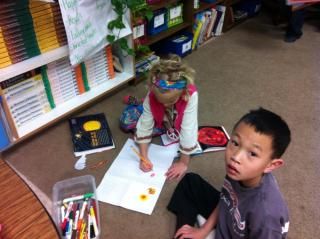 Researching and preparing for their planet projects.
Before spring break the girls had Decade Day and also participated in a Silly Sock Hop dance during the school day. Addy like totally like rocked it out in her 80's attire while Jaidyn peacefully glided through the hallways in her flare leg pants and fringe vest.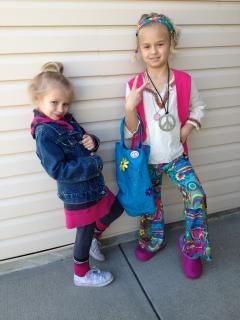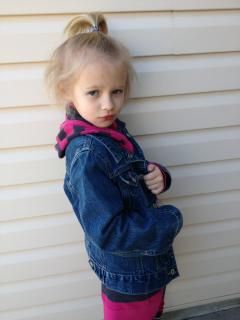 And Reid just wanted in on the picture action...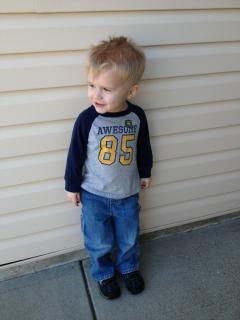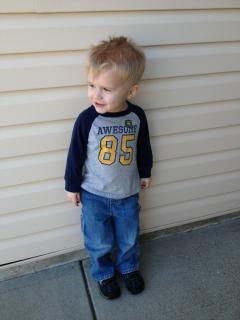 Wes worked late the night before and therefor didn't have to be at work quite as early, so I was able to surprise Jaidyn and hang out with her during her sock hop. Wish I could have made it for Addy too, but hers was in the afternoon.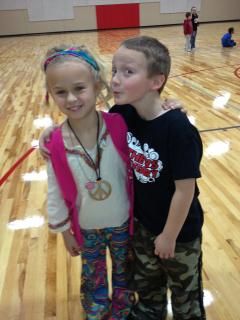 SPRING BREAK WEEK!!
Wes had perfect weather for his Gladiator Run that he participated in. The intense hilly 7 mile course consisted of many obstacles including wall and rope climbing, mud crawls and burpees. Wes and a buddy tore up their heat placing first. It was hard to actually compare times since there was no official timer and waves of approximately 100 people started the course every 30 minutes. Regardless, they earned bragging rights for participating as well as a tshirt and finishers medal.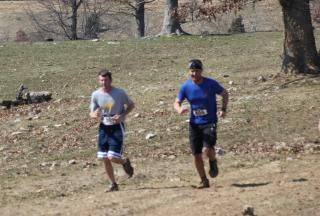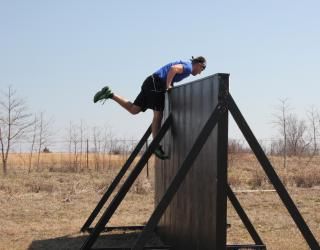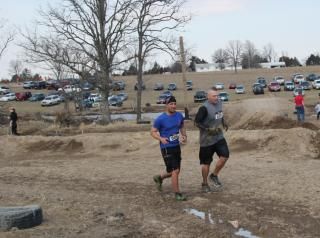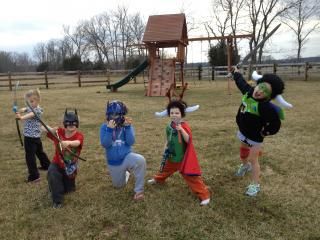 Check out these stylish Gladiators!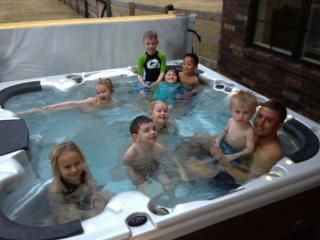 Never a better way to unwind and relax than hanging with 8 kids in a hot tub!
To kick off spring break, Jaidyn, Addy, Levi and I ventured out to the theater and watched Oz, The Great and Powerful. Great movie! Here we are just messing around in the lobby before the movie started.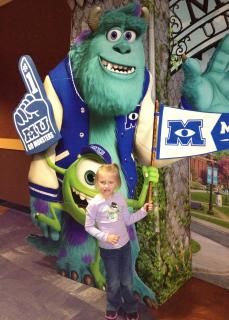 Jaidyn and Addy celebrated a friends birthday with an overnight slumber party in the church basement. This was Addy's first overnight sleepover and it was the highlight of her spring break (or started out that way anyways) as she was on a count down every day until it arrived.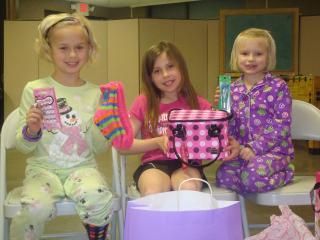 Celebrating with the birthday girl!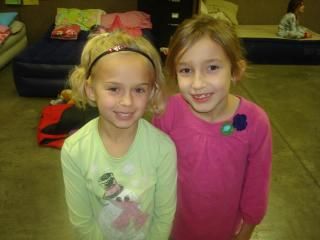 Forever friends!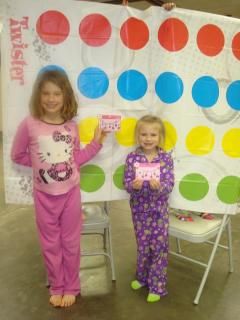 Addy was the Twister Tournament winner! Go Addy!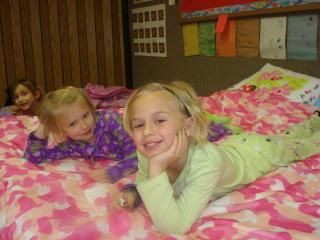 All was well until Addy decided that she needed to get in one more dance twirl in before crawling into her bed for a movie. This move in slippery socks resulted in me getting a 10:30pm phone call suggesting that she needed to go the emergency room. Addy fell on the cement floor splitting open her chin. Of course this would be the night that Wes was out of town for work, so I had to wake the boys and my once peaceful evening to myself was instead replaced with all of us in the ER until 2:00am. Fun time! Poor Addy, but she was a trooper and very brave through it all.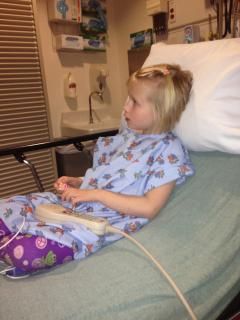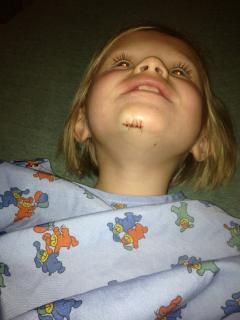 She did shed some tears after seeing this picture as she was extremely worried about everyone making fun of her for having chin whiskers...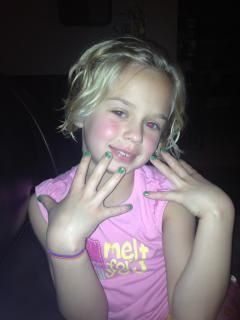 The girls were festive for St. Patrick's Day with their freshly painted green nails and toenails.
Enjoying the couple of nice sunny weather days of spring break with a picnic out in the yard and a hike at Buseik.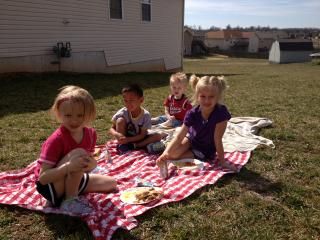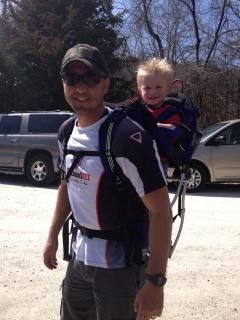 As if the hilly 3.1 mile hike the day before wasn't enough we talked the girls in to participating in the local 5K fun run. Wes kept up with Jaidyn on his bike carting the boys behind him and I stayed with Addy. Addy ran her 2nd ever 5K and beat her previous 5 year old time over a year ago by 10 minutes.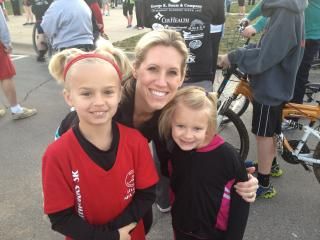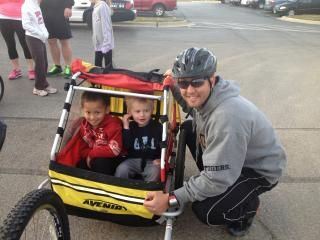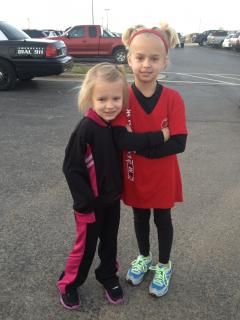 We finished up spring break by attending a Dancing with the Stars project graduation fundraising event with Papa and Nana. I knew when I found out that my BF from the school days was participating that I wouldn't miss it! She would have never stepped foot out on the dance floor with the exception of an occasional slow dance.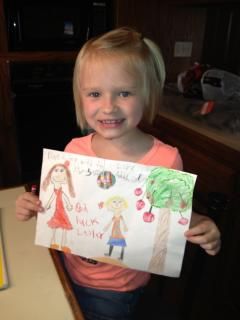 Addy made her a good luck sign to text her a picture of before the event. It is both she and Addy out on the dance floor. Notice the disco ball?? :)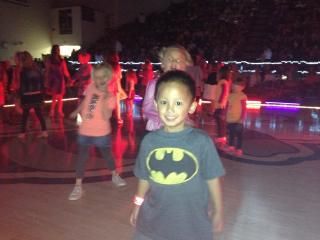 Before the event started all the kids were allowed out on the dance floor for some Cupid Shuffle and freestyle dancing. Jaidyn was out there adding some of her gymnastic flipping ability to her dance, Addy was as always making the most of it and used the opportunity to twirl, pump her arms, and even spin on the floor, and I was impressed with Levi as he was out on the floor the entire time trying to keep up with his sisters. One of the judges of the event even made it a point to find me after the show and tell me that we needed to get Addy in dance lessons as she is one of the most naturally talented dancers that she has seen. So maybe we need to let her lay low in the sport scene for a couple of months and get her in some dance lessons.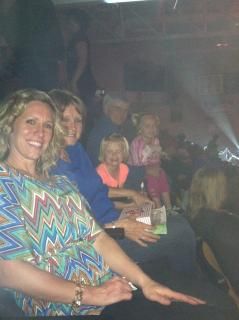 With probably 1000 people in attendance, the event raised over $18,000!! What a successful fundraiser! I am so proud of Lesley as I know that was a huge step out of her comfort zone. Actually, I should say leap as most of the time her feet were spent off the floor. It's no doubt she had many bruises from the training.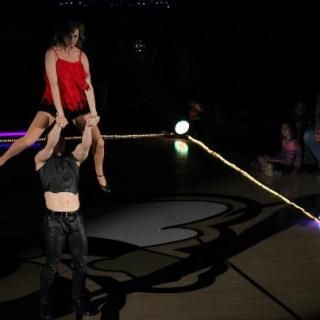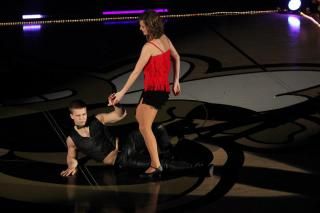 Found this in Jaidyn's backpack yesterday. I thought it was super sweet of her to nominate her sister for the March word of the month at school. Courage!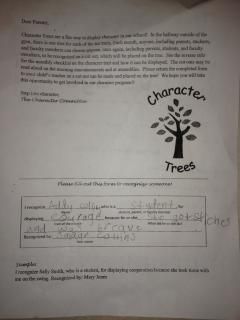 Levi and Reid are giggling over the noises Levi is making with his frog puppet from preschool.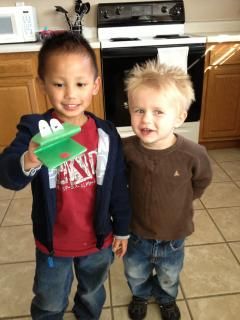 March came in like a lion with snow, so here's to hoping the ending of the month goes out like a lamb! Although looking at the 10-day forecast doesn't look too promising. :(