On Christmas Eve, Holly Jingles left with Santa to return to the North Pole. Jaidyn and Addy were in tears as I tucked them in to bed that night and Jaidyn had Holly tucked in right beside her. Holly did leave them a note telling them that she enjoyed her time with them all and promised that she would return again next year on December 1st. And she will be welcomed again with open arms as we had become extremely attached to that silly elf! Saturday Holly was found hanging from the fan in our room. She hid so well that it took quite a while for the kids to find her. Both the girls became upset as they thought that she had returned to the North Pole a few days early.
Sunday Holly was left in our bedroom when we left for the day to go to Papa & Lala's house and overnight she must have decided to stay and play in our room dragging out both Wes and I's underwear from our drawers. Reid was not thrilled seeing all his Dad's undies thrown out and hanging from the drawer.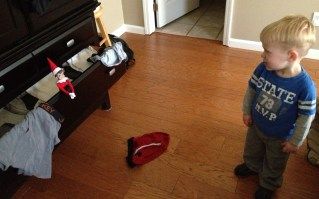 Monday Jaidyn slept with Holly and on her last morning with the kids she was found rocking Baby Jesus in the Stable (don't have a picture of this). Holly chose to save her sweetest and most meaningful gesture for last, reminding them what Christmas is truly about.