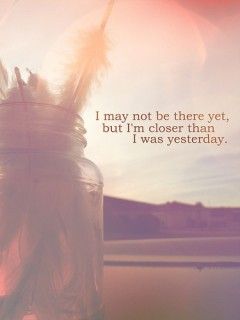 It's two months in to the year and so in keeping myself in check with
my goals for 2013
I am giving an update on my progress. Some, I have achieved and many are right on target to be achieved. And of course there are a couple that probably shouldn't even be on my list to begin with as I am quite sure they will remain just words on paper for the entire year.
Career
Obtain a teaching job in the local school district.
Unfortunately, I'm a little down on myself in my attempts to achieve this goal. I did get a call to do a pre-screening phone interview a couple of weeks ago and I wish I could say that I felt good about it, but in all honestly, I was just sick to my stomach after hanging up the phone. Even though I felt like I had prepared for the interview, I don't think that I highlighted any of my strengths. I just don't think I did well with the rapid-fire situational types of questioning. It's not that I hadn't experienced about every one of the situations that were presented in my prior years of teaching/coaching, its just that I am laid back in a sense that I take the time to fully evaluate a situation before immediately reacting and therefore it made the instanct need for a response, especially under the pressure of a recorded interview hard. Maybe by the grace of God or through my fantastic references I have listed I won't automatically be discarded from the possible candidates for any jobs that I am qualified for. Reminding myself to keep my head up...there's still lots of time before the next school year rolls around.
Education
Read 20 Books
- I am at 6 books for the year and they can be viewed on my Pinterest board. So far all of the ones I have chosen have been
in my opinion good reads.
Review CPR
- Not Yet
Attend 3 Local Fitness Clinics/Workshops -
(1) The Running Nutrition clinic that I attended in January was informational and a nice review. While some of the information was stuff that I already knew, I did enjoy getting a more in depth approach to running nutrition in regards to different calculators regarding the types of foods/drinks needed to maintain a specific threshold.
Faith
Continue to participate in St. Anne's Guild children's activities at church.
Ongoing and we just had our Bunco round-up event at church.
Attend 2 days of Holy Obligation/Saint Masses this year -
I know Stations of the Cross isn't a Holy Day of Obligation and even though I had good intentions to go one night, I let friends talk me out of it (and they know who they are :)
Read booklets in drawer on Catholic Faith -
Nope, not yet.
Health
Reach & Maintain pre-Reid weight of 130 -
constantly ongoing, but I'm headed in the right direction.
Schedule Annual Exam -
blah, but I really need to get this done. It's just to easy to put this one off.
2 Dental Visits a Year -
just went two weeks ago for a check-up and cleaning.
Running -
got my feet molds done last week and waiting for the orthotics to be done. Seriously hoping this helps my foot issue.
Add 30 minutes of Yoga weekly to normal workout activity -
I just need to delete this one from the list. It is seriously not happening and I am not putting an effort out to get it done either.
Financial
Pay off desk & girls bedroom furniture -
DONE!! :)
Save $1000 to put in to 2014 or 2015 summer beach family vacation fund -
DONE, hopefully we won't have to dip in to it!
Reduce grocery & eating out bill by cooking 10 freezer meals a month.
Did awesome in January and did come up with 10 freezer meals!! It was so nice to have them to pull out and fix and it did help keep our food spending down by quite a bit. February wasn't as good, not horrible, but still need to get back on track for March. And sadly, I would have thought February would have been great since it a shorter month.
Kids
Schedule 1 game/movie night with kids monthly -
Done! In January we had a night of Uno card playing and if I remember right all the kids were mad at me because I won most of the games. :) In February it was a Redbox movie night.
Run 3 5K's with Jaidyn -
Haven't been able to participate in any yet this year, but he local Nixpo is coming up and since it is a non-competitive 5K fun run event, the entire family is participating. Wes is going to pull the boys behind his bike and probably keep up with Jaidyn while I run with Addy.
Continue gymnastics, soccer league, softball baseball league, volleyball league and summer camps with kids.
It's about to get crazy!! Gymnastics is in full swing and outdoor soccer starts next week.
Design a scrapbook photo book for Reid on Shutterfly.
I have yet to even think about completing this...a summer project perhaps??
Potty Train Reid
- I've attempted to lay the ground work...reading potty books, pulling out the big boy undies, and bribing with M&M's, but he is just not interested! We will revisit this in a couple of months.
Increase Addy's Reading Level
- She's doing fantastic with the extra help that she is receiving at school and she has worked extremely hard here at home also. She is back on track and is so much fun to listen to as she reads!
Social
Attend 8 different Missouri Wineries.
One down, seven to go! I've had to put this goal on hold for 40 days as I gave up alcohol during the days of Lent. I did have a friend tell me that it was nice knowing me until after Lent. Ha!
Giving
Fill with the Kids 10 Operation Christmas Child Shoe boxes.
We continue to collect things throughout the year to fill the boxes in November.
Make with the Kids 5 Blessing Bags and distribute to the homeless throughout the year.
We've made two and have had the opportunity to give one. This was a big deal for the kids to be apart of. We have another in the van just waiting to be given away when the opportunity arises. The kids now have full radars on for people standing on the side of the overpass.
Sponsor a Child through
Compassion International
.
We are fairly new to this program and so far it is a great organization to be a part of. We (even Jaidyn gets involved in the writing) have written several letters to our child and have received one letter from her and one from her Pastor involved with the Compassion developmental center our sponsored child attends. I have learned that she lives in one of the poorest provinces of the Philippines and the province is considered as the gateway to child trafficking. I'm so grateful that she has the support of a 2 parent household, but it's my hopes that with our sponsorship she will gain self esteem and gain skills to be able to avoid the hazardous situations that she is probably faced with daily.
Continue to Tithe Monthly to Church -
Ongoing
Pick a monthly charity to give to -
Ongoing - many opportunities, and I sometimes wish I had a full pocket to give away freely.
Give our children a better earth to live by recycling -
hopefully I will have taken some steps next month in getting this goal in to action. It's on my to-do list. I just need to make some phone calls.
Complete a volunteer opportunity with the kids. -
hopefully this summer we will participate is several things. The girls are begging to be involved with the local animal shelter in some way.