It's primarily a picture post as I have lots of pictures to share. We are having a great month, but I just haven't had time to keep up with my blog this month the way I would like to. Both Levi's soccer season and Jaidyn's volleyball season which I was coaching have come to an end, so that lessens the amount of "on the go" by 4 activities per week. So maybe next month will be better for me.
We are all dressed up ready to participate in the Trunk or Treat event at church!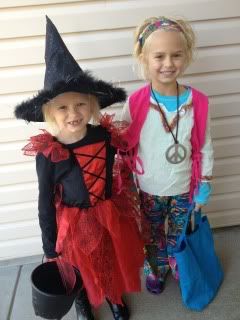 A friendly witch and a hippie go together like peas and carrots!
Levi showing me his most fierce Power Ranger move! Yes, we are hoping to perfect by Halloween night as it needs some work!
Friendly Witch Duo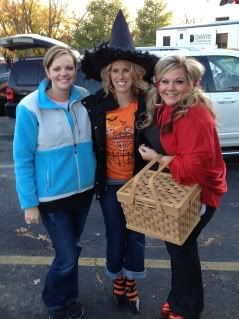 Taking a break for a picture from getting our trunks all jazzed up with some fellow St. Anne's Guild members!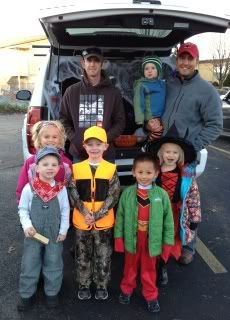 Trunk or Treat time! Mask Making!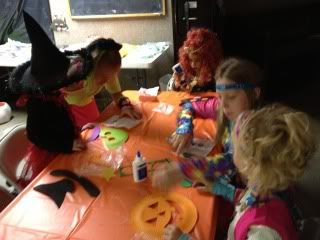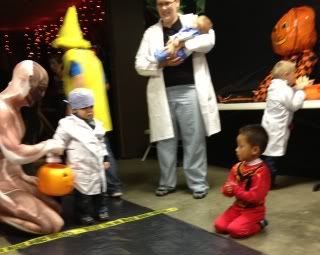 Levi primarily hung out at the Pumpkin Bowling game as he enjoyed continually rolling the plastic Jack-O-Lantern down the lane knocking down rolls of toilet paper.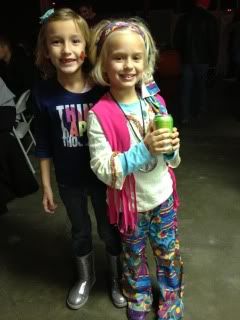 Friends!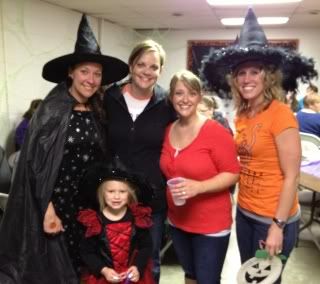 Love this group of girls! It's always a fun time when we are together!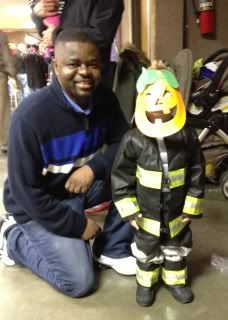 Fr. Savior joined in on the Trunk or Treat festivities!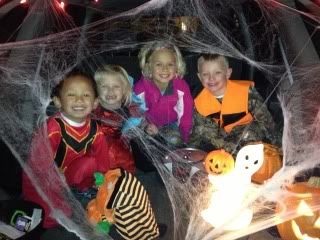 My efforts of trunk decorating with cobwebs, strings of lights and light up ghost and pumpkins didn't win a 1st prize, but I'm thinking next year if I include a bunch of cute little kids in the trunk it might help my chances. :)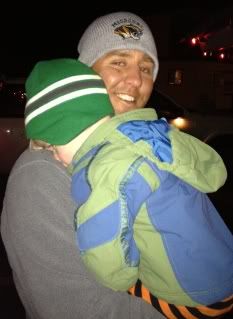 Poor Reid had enough of the Halloween festivities and just wanted to be home and in his warm cozy bed. Last night the kids and I carved the porch pumpkin (from Papa & Nana) and had some friendly banter going on between my sister on Facebook and through texting. Normally our jack-o-lantern consists of triangle eyes, nose and a jagged mouth, but this year with the help of actual pumpkin cutting tools and a pattern book that I bought on clearance last year, we were able to step our pumpkin carving up a notch! So it probably didn't beat out my sister's "Angry Birds" carving, but it was a step in the right direction and my kids are super impressed with our "Friendly Ghost" so I guess that is all that matters.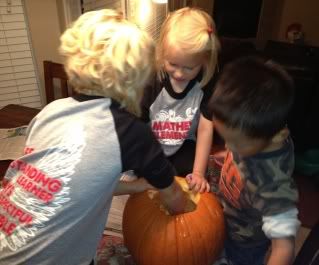 In efforts to build awareness for Drug Free week at school, the girls participated in spirit days all week long.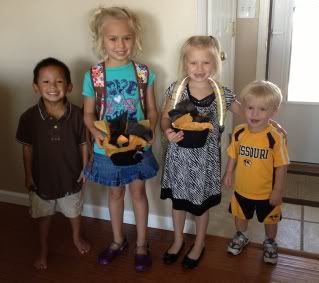 Here they are on "Dress for Success" day showing of the Halloween treat baskets for their teachers. The boys wanted in on the action and squeezed in for a picture.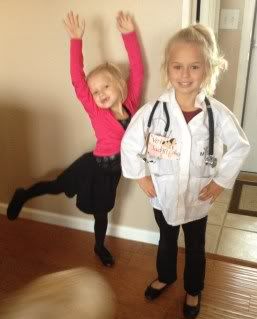 For "Career Day" Jaidyn was a Veterinarian and really worked hard putting together her outfit as she made a name tag for herself, had a sign-in checklist on her clip board and doctored up "Cookie" her stuffed animal dog with bandage wrappings. Addy dressed up as a dancer which fits her perfectly as she is constantly dancing around the house with every step.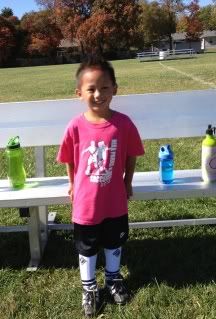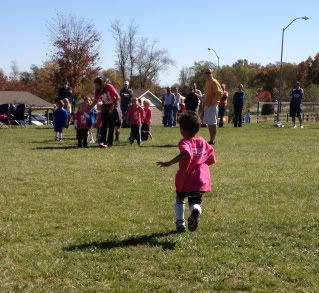 Wes and I love watching Levi play soccer. While he is such a nice kid on the field and it takes away from him being as aggressive as he could be, he is still one of the few at the 3-4 age level that truly gets the idea of the game. Even with short little legs he is still pretty fast and was usually good for scoring a couple goals each game. I hope he continues to excel at it as is something that he truly enjoys doing. Over the weekend we attended a birthday party at the bowling alley for a friend and with the exception of the Wii game bowling it was the first time they have ever bowled.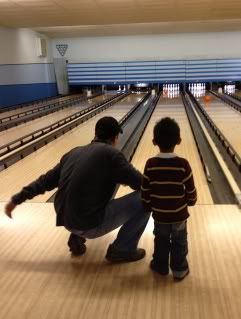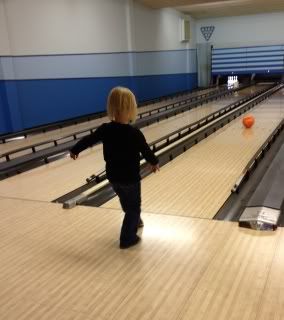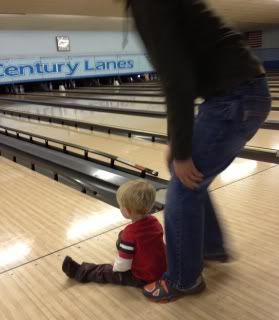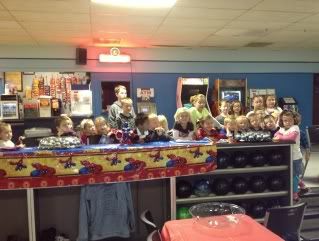 Dinner with friends! We have tried to make this a bi-weekly event, but with the business of everyone's schedules we are lucky to get together once a month.
Addy and one her classmates from school enjoyed hanging out with each other when we would go to watch the high school volleyball team play. They look so much alike, especially since they are both missing some teeth. I think that's about it for now. I am sure I will have more pictures to share from Halloween night and hopefully it won't be mid November before I have a chance to share them.