We continue to enjoy the Fall season and the kids keep us as busy as ever. Levi expressed earlier in the month that he wanted to be a red Power Ranger for Halloween. I have no idea what made him decide on that costume as he doesn't have any Power Ranger action figures or DVD's, but I was determined to get him that costume since he rarely asks for anything and is pretty easy to please. After searching several area Wal-Marts and Target for the costume with no luck and ready to start searching online retailers, I was extremely excited to find one at the local thrift store. And the $2.98 price tag made it an even better score. Levi seems to be thrilled with it and had to stand up on the bathroom sink to get a good look in the mirror and do some Power Ranger poses!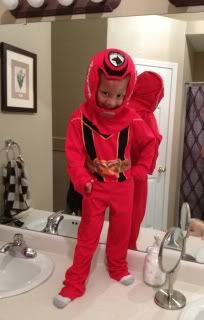 This little vintage light-up ghost has been a special edition added to my love of Halloween decor as it was my Grandma's. Reid likes to touch it saying "Ooooohh".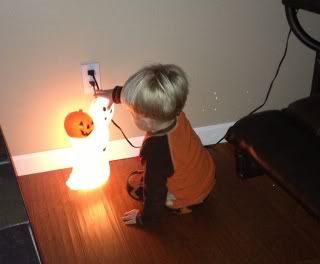 Last weekend while Wes and Levi enjoyed a "guys getaway" to KC to watch a Kansas City Chiefs football game the rest of us met up with Nana for a day in Mansfield visiting and touring the Laura Ingalls Wilder museum and homes that she lived in. We also went to an evening theater production called Laura's Memories which we all really enjoyed. It was a perfect follow-up to all the Laura Ingalls books on tapes that we listened to all summer long.
Bundled up heading to the stadium with the guys for some early morning tailgating.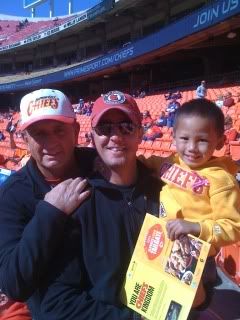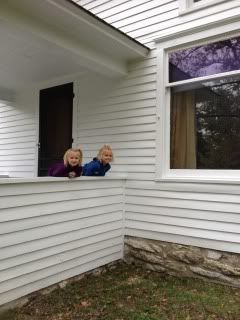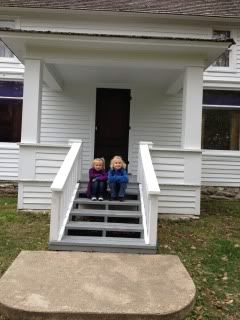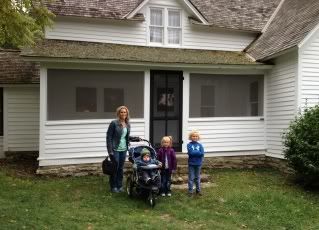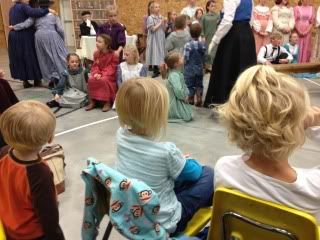 All day Friday was spent preparing for the evening's big Hula Luau Bunco event at church. Four of us girls pulled off a successful fundraising event including decorating the entire church basement and cooking enough food to feed almost 100 people. Thankfully we had many more people, including our husbands stick around and make the clean-up afterwards go a lot faster. I'm pretty sure that everyone had a great time! And I enjoyed the extra special adult luau pineapple drink as it was a nice needed treat by the time the actual event rolled around!!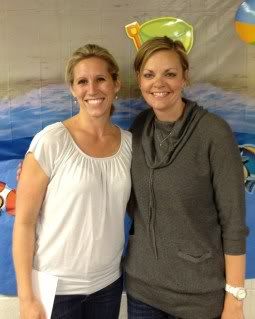 The two of us spent most of the day in the kitchen cooking up a feast. For those that know me well and know the extent of my cooking skills, don't worry as she was the mastermind behind the food and I was her right hand grunt worker side kick.
Wes helped serve food and he had many people through out the night tell him he should really think about getting a "lift".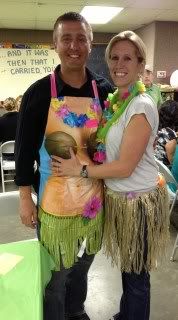 Papa & Lala joined us for the evening and were also a huge help in helping us out with the kids so they didn't have to hang out at the church until midnight for cleanup. For a while we though Lauretta had a chance to get a prize for "the most losses" aka The Biggest Loser, but her dice rolling skills sadly improved and she became average. :)
Yes, Reid can be lovey dovey, but it just doesn't happen very often!
Jaidyn spent the afternoon at a neighbor girls house and brought home a plate of cupcakes to share! It made my efforts of cookie baking with Levi and Addy while she was gone look pretty measly!
Levi loves playing soccer! And I think he has a crush on these two girls as he is always trying to get beside them in line. He's too funny!
Wes and Reid just hanging out waiting for our lunch to arrive. When Dad's around, Reid could care less about me. :( He's a Daddy's Boy for sure! Okay this blog update is done as the Cardinals are about to start their 1st game in the National League Series! Go Cards! Woot! Woot! (And good luck to my boyfriend David Freese!)