Not much to report, just wanted to share some recent pictures of Addy. Her class recently had a mustache "All Grown Up" day as a reward for filling up their class reward marble jar. Wes had planned that she would wear one of his ties for the day, but worked late the night before as well as early the next morning so we forgot all about it. Thankfully her teacher came to the rescue and had brought a handful of her husband's ties for the kids to share wearing for the day. She didn't like that her fluffy mustache kept getting up her nose causing it to itch all day.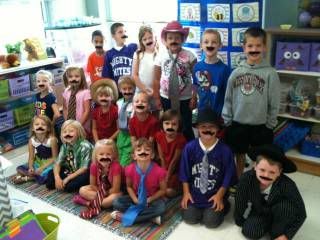 Today they are enjoying several Johnny Appleseed themed activities. Wes went in to work a little late so that he could hang out in her classroom for a bit and help cut up enough apples for crock pot applesauce and for various apple themed activities such as graphing that they will be doing throughout the day. She was so proud to have her Dad be there in her class for a bit. Here she is sketching a picture in her writing journal about the Johnny Appleseed story that they finished reading.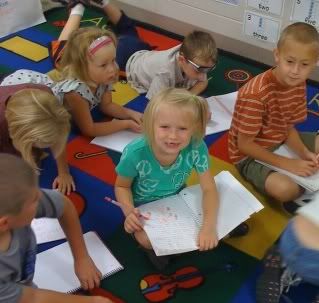 I'm thinking that life in the first grade looks like a lot of fun!