The recent devastating tornado destruction that has hit Joplin has really made the last 24 hours kind of a blur. Wes was called out immediately after to respond to the disaster. We once lived in a connecting town to Joplin so we are very familiar with the buildings and neighborhoods that were completely leveled. Jaidyn was born at St. John's hospital in Joplin which is now just a framing with shattered windows. I barely slept last night continuing to get up several times along with Reid's feedings to check Facebook to see who had finally checked in with family/friends as most cell phone service was down. Wes worked missing persons reports all day today and he said that there are many, many people unaccounted for.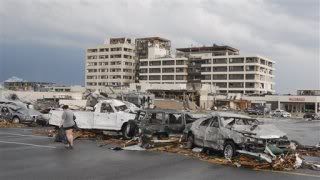 St. John's Hospital, Joplin Mo
On a brighter note...Addy had her last day of preschool today. Even though she is excited about the summer months she is loving the idea of officially being a Kindergartner.
Addy at her Preschool Spring Concert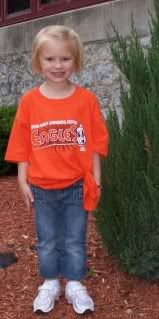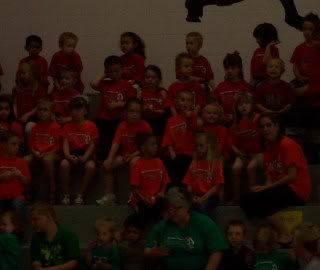 Wes and I both were proud of our finishes in the Ozark Greenways Adventure Race on Saturday. The stormy weather decided to break for a day and cooperated beautifully. The orienteering this year was much more friendly than in years past as the points we had to find weren't too far off of horse trail paths and therefor I think I managed to escape the miseries of poison ivy, itch weed, and thorn bushes tearing up my legs. While we both weren't on the same team, we did cross paths several time throughout the day...mainly when both our teams were very lost during the trail biking portion. The trail biking is always my least favorite phase of the race every year. I spend most of my time pushing my bike up steep terrain and then walking it back down the other side because I am afraid of tumbling. The only partial break I took all day was to step off in to the woods to manually relieve pressure that Reid normally does every day for me. Thank you so much to Nana and Papa for watching all the kids and getting up with Reid for all 3 of his nighttime feedings. The kids had a wonderful time and I know my parents had to be exhausted, perhaps as much as Wes and I were from the race. And thank you Wes for getting the kids around in the mornings for school so that I could have an hour each morning to train. Without his efforts, there is no way I would have been able to participate and prepare for this within 3 1/2 months after having Reid.
Arriving at the race headquarters...4:30 is an early morning wake.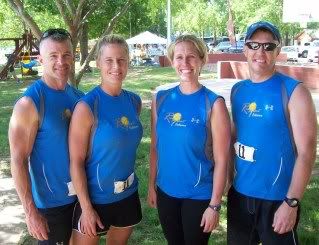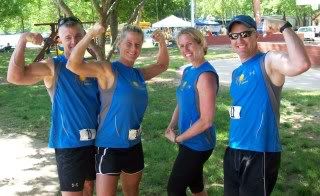 Feeling very good about our finish. Overall we finished 16th out of 53 teams and 4th in our division.
Wes and his partner competed well amongst the duo teams and finished around 15 minutes after we did.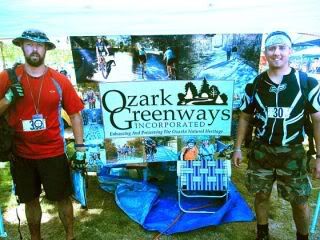 The kids, as always had a blast with Papa & Nana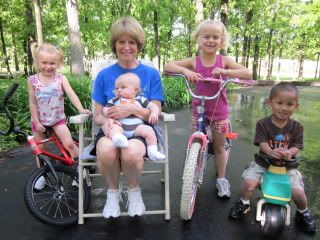 Nana had Papa take this picture so she could get in one with the kids and this is what she got. Lol!