Whoa! It hardly seems possible that Jaidyn's Kindergarten year is almost over and that Addy will be following along behind her in those hallways in the fall. To bring in the month of May we have already participated in Jaidyn's family fun night, Addy's Day in K, and Jaidyn's Kindergarten Celebration musical performance. Tonight Levi has t-ball practice and then we are having garage sale on Friday with our goal of reclaiming our garage so that we can park both vehicles in it. Saturday morning the girls have their last soccer game of the spring season. Sunday afternoon will be spent at Chuck E Cheese for Addy and Levi's birthdays and then back at our house with family for a Mother's Day celebration...By that time I think I will be completely deserving of a margarita.
Family Fun Night Pictures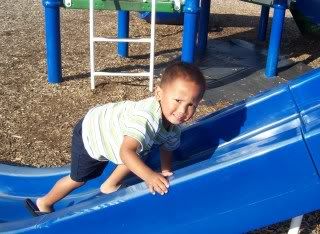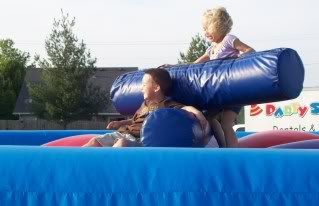 Jaidyn having no mercy on her opponent!
Mom came and spent several days with us while Wes was away for work training. I was so grateful for her help. She even mowed our lawn for us (Shhhh, she doesn't want my dad to find out as she doesn't want him to get any ideas). Our yard is big enough for a riding mower, so it was quite a job for her. I am hoping that none of the neighbors were watching us attempt to get the mower started. Until I found the directions on the mower, it was quite the sight to be seen.
After Addy's Day in K it only took her about 10 minutes on the couch to achieve this result...
Our neighbors got a new trampoline and I am sure they appreciated all of the help in putting it up. Ha!
Jaidyn went a few garage sales with me this past weekend and purchased these Spiderman boxing gloves with her own money. All of the kids have had a great time getting some shots in at their dad.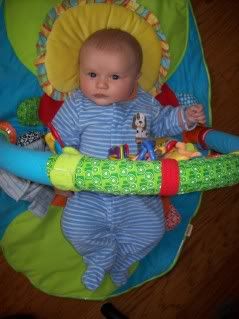 Our "Bundle of Joy" and to hear Levi call him that is too cute!
Jaidyn's Kindergarten Celebration musical performance.