Addy continues to love Kindergarten and most nights she entertains our dinner table conversation whether its about the boy who picks his nose and eats it during rest time or about wanting to wear her purple cheetah shirt with silver sequins so she will look "cool" and the little boy she sits with on the bus will think she's cute.
Last week they had a Clifford Day. She came bounding in the front door in her floppy eared Clifford headband.
Jaidyn received a very special award this week. She was chosen to receive the very first Caring Kid "Cooperation" award from her class and was recognized in a morning assembly.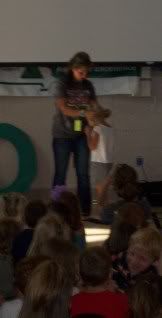 Receiving her Caring Kid dog tag necklace.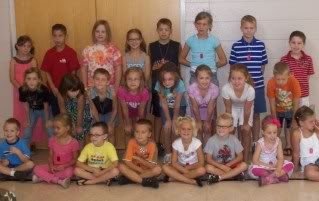 August Caring Kid Group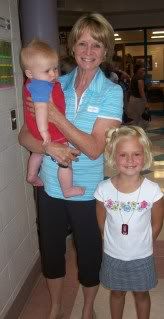 Nana made a surprise visit and enjoyed visiting the girls school.
The weekend was enjoyed at the lake getting to lounge around on floating rafts and watching the Boat Race Shootout.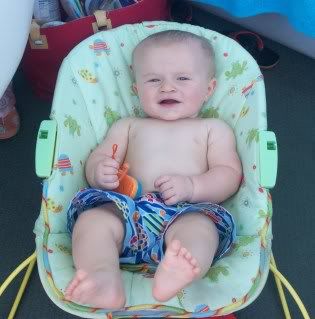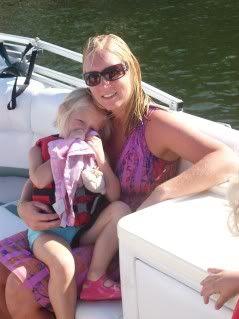 Jaidyn took another run at riding the knee board and she has really gotten good. In fact she thinks she is so good that she has already been asking to move on the trying out the wakeboard. Lol!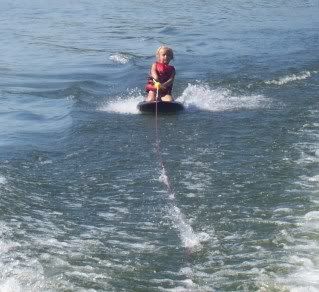 Holding up the orange flag when a skier goes down is serious business!!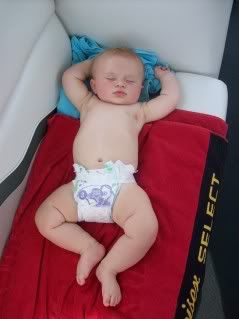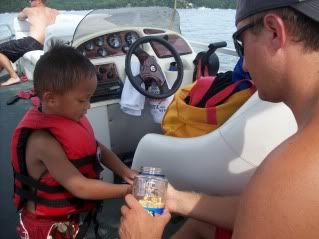 You might be a redneck if...

you use a pocket knife to cut off the tops of water bottles to be able to drink Pontoon Punch. It was a little rough around the edges but it worked! I bet next time we will remember plastic cups.
You might be a redneck if...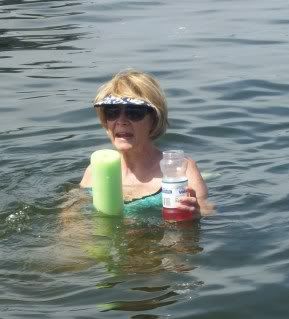 you use an empty peanut jar as your drink container.
In my opinion it's not Redneck, just resourceful!