Where is summer vacation going? School starts for the kids in just 15 days! Jaidyn accompanied me on a grocery trip to Walmart last week to get the remainder of the schools supplies needed that I wasn't able to find at a great back-to-school price and I now have all three kids back packs filled and with their names labeled on their items. We tried to convince Addy to come along, but apparently lounging on the basement couch appealed to her much more than coming along to pick out her own supplies. Instead she said, "No thanks, Jaidyn can just pick me out a red and blue folder". Is she really my child?? Growing up, I couldn't wait to pick out all of my brand new school supplies for the upcoming year and I still enjoy picking it out with the kids.
I'm kind of playing catch up on this post as I thought I had misplaced my camera during our St. Louis family reunion trip, but found it yesterday in the velcro pocket of the jog stroller...forgot to pull it back out after our trip to Grant's Farm. While I am extremely glad to have several of the pictures that I had taken over the weekend, I was secretly hoping not to find it as it would have been a great opportunity to purchase a new one. My camera battery door is held shut with Scotch Tape and being about 7-8 years old it is bulkier than I would like. It doesn't zoom in very far and I am never able to capture any good action shots. I'm thinking it would be a great Christmas gift idea for Wes and I....hint, hint to the grandparents. :)
Wish I had the big group shot from our family get together, so if anyone has it, email it to me so I can add it.
Our trip to St. Louis for the family get together included stopping by to take Grandpa to lunch at his old bar, A Cardinals MLB game, Grant's Farm, fellowship in a meeting room with family and pool time. And lots to celebrate since both my brother and sister have recently gotten engaged. We will be having 2 weddings in our family in 2013. Unfortunately Wes got stuck with the duty phone only days before we went and wasn't able to go with us. :(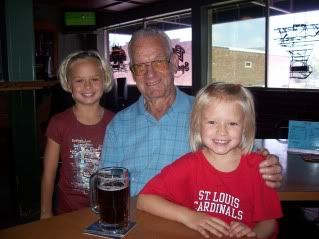 Jaidyn & Addy with Great Grandpa
Papa & Reid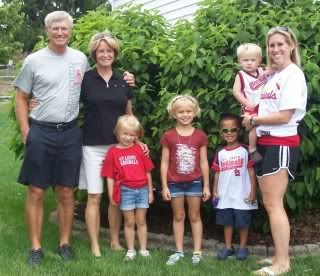 We stayed the 1st night with my sister. She took our picture before several of us headed out to the baseball game.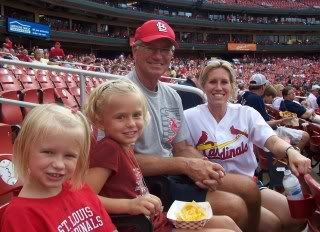 While we wished Wes could have come, my Dad was excited about getting to take his place and go with us to the Cards game. And I enjoyed spending the evening with my dad!
Jaidyn & Papa sharing a bag of peanuts.
The 2nd inning wasn't even over yet and Addy was already asking me how many more innings because she wanted to go back and play with the boys. I however, was thrilled to be there. It has been several years since I have had the opportunity to go.
Addy entertained herself by taking pictures with my camera...most were blurry and of the back of people's heads, but this one turned out cute!
Jaidyn blowing her baseball crush, Matt Holiday a pre-game good luck kiss! She's such a dork, but apparently it worked because he hit a home run bomb...the longest in Busch Stadium!!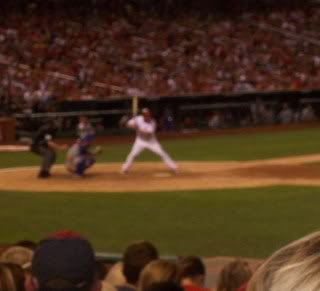 My celebrity boyfriend #23, David Freese! (see, I really do need a better camera with a better zoom)
My seat 10 rows up behind the dug out and #23 on first base is about as close as I'm sure I'll ever get to him. I'm not sure if it was the fact that I only took pictures of him or if it was because every time he batted both Jaidyn and Addy would turn to me saying, "Look Mom, David Freese is batting!!" (as if I already didn't know), but the lady beside me says, "I think I know who your favorite player is".
The girls had a good time between innings with Louie the Cardinal.
Grant's Farm
Bottle feeding the baby goats is one of the best parts.
Levi and Addy chose to stay outside to fencing to keep from getting plowed by baby goats, but eventually they got brave and went inside the gate. It didn't last long as Addy was screaming and Levi was crying from the babies jumping up on them in attempt to get to the bottle the carried in their hands.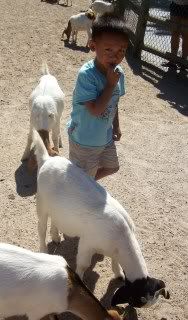 Conner is doing a great job keeping the goats from mauling him.
I held Reid inside the gate and he really didn't mind the goats so much, but he did mind the goats drinking what he thought was his bottle. He hasn't had a bottle in several months, but apparently hadn't forgotten all about it and he had that bottle in his own mouth every chance he could get. Yuck!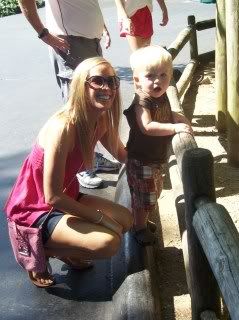 Reid checking out the gigantic land turtles with Jamie.
We took a last minute trip to the lake this past weekend as we aren't sure if we will get any more opportunities before the summer ends. Reid rode with his Dad in the boat tube behind the boat for the 1st time. He'd been watching his siblings all summer ride behind the boat so when I asked him he gave me a big nod of the head and I could barely get his shirt off from under his life jacket fast enough.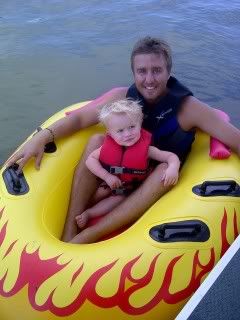 Sunday evening we met at an Asian grill restaurant to celebrate both Lala and Uncle Heath's July birthdays. The kids were easily entertained by our chef with his utensil twirling and fire building skills on the grill. And everyone with the exception of Reid enjoyed the dragon sneaking up on the two of them to dance to their birthday song.