While I am super exhausted from the entire week and it didn't help that Reid was awake calling, "Mama" at ten till seven this morning, I was super thrilled to be a part of the VBS activities at church as so many beautiful things came from it. Earlier this morning as I was fixing Levi oatmeal for breakfast, he told me that he wished there was 100 (his 2nd favorite number) more days of Bible School so as I sit here rubbing my eyes at the computer screen, I am completely reminded how the many hours of work that was put in to this week was completely enjoyed and it makes me almost excited about doing it all over again next year...almost. :)
The kids were super troopers over the last two weeks as we spent many hours up at church decorating and preparing for the event. Thankfully, two youth girls volunteered during those days and entertained all of our kids so that we could actually get work done. With a National Park theme, the entire basement and upper gathering space of church became transformed with scenes of mountains, waterfalls, forests, woodland animals, hikers and camping scenes. The nightly snacks fit the theme with the kids getting trail mix, acorns made from donut holes, ice cream "beaver" cups, and smores. Papa Papaya aka the yearly mascot of VBS entertained the kids with bible stories each evening in two different rooms. One looked like a cabin the the mountains with a river running alongside the mountain and the other room became a starry night in which he read to the kids with a headlamp and by the light of the campfire. The starry night room was one of Addy and Levi's favorite. Addy cried the night she had a softball game and had to miss story time in the Papa Papaya's starry night. Craft time in the Busy Beaver Den included making backpacks, refrigerator magnets and a photo frame for their VBS picture. I had to take down all of the kids end of school year art work from the fridge to make room for the new.
While I have lots of fun pictures from the week and have included most in the slideshow, these are some of my favorites.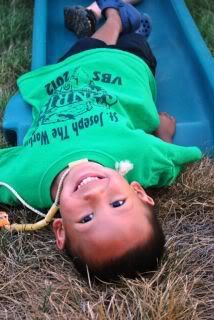 Joy!
Singing songs of praise!
Addy rocked the VBS songs and I had many people all week long telling me she was their entertainment during the nightly music portion. She was funny because she always made sure she was front row center during the songs and her actions to the songs and facial expressions sure didn't disappoint!
Reid giving Payton a high five. She was one of the girls who helped entertain him all week.
If you think her face is super messy from smores, you should have seen her shorts. Apparently wiping hands on shorts is much easier than getting up and getting a wet wipe.
Love these smiles!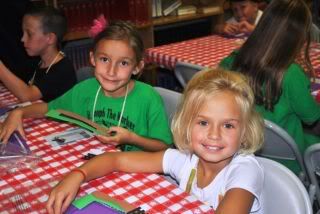 Working on their photo frames.
So many volunteers made for a fun week.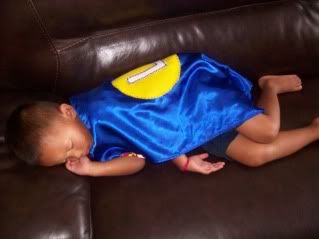 Even Super Heroes need naps before VBS.
On Wednesday evening during clean-up, several of our kids were playing hide and go seek in the basement of church and Jaidyn and Addy felt that hiding on top of the toilet seat in one of the bathroom stalls was a clever idea. Addy lost her balance and fell on top of the toilet tank placing a huge crack in the tank making water go everywhere. On the bright side, she thankfully wasn't hurt (she acted like she was because I'm sure she knew she was going to be in trouble), but yesterday I found that replacing a toilet tank isn't as easy as I was hoping. After a morning of hauling 4 kids around and making several phone calls to Lowe's, I was able to come up with a tank, but found last night that it wasn't the right size. So now, it looks like replacing the entire toilet is going to be the cheapest route...I'm thinking that I could have easily spent $100-$150 on something way more exciting and it made for what started to be a very inexpensive week of great Godly entertainment for the kids EXPENSIVE!