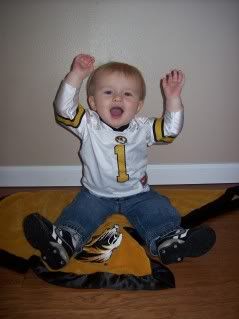 Happy 1st Birthday!!
One year ago tonight I was busily wrapping up last minute details for the grandparents staying with the kids as Wes and I were hoping that even with a blizzard headed our way we would still be able to make our 10 mile early morning drive to the hospital. While it was a planned induction the severe weather forecast was hurting my chances as it was causing businesses to shut down, school closings, and hospitals to be minimally staffed. News reporters advised everyone to stay indoors and off the roads except for emergency situations. And well, I considered my situation to be an emergency as I was miserable large and overly ready to bring the new addition to our family in to this world. And so on February 1st through a snow storm, our bundle of joy, Reid entered our lives. I love his deep belly laugh, his perfect for squeezing chubby legs, arms and cheeks, and his contagious toothy grin. He's his own person getting around with a silly looking scoot over the typical crawl and he can throw the most pitiful fits when he doesn't get his way. I enjoy his big bear hugs, open mouth slobbery kisses and the way he lays his sweet head on my shoulder when he's either completely exhausted or just content.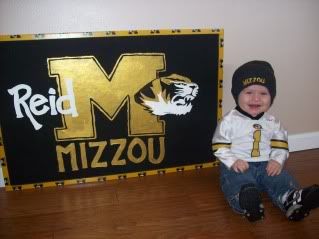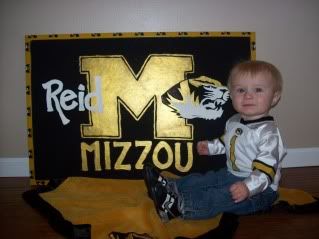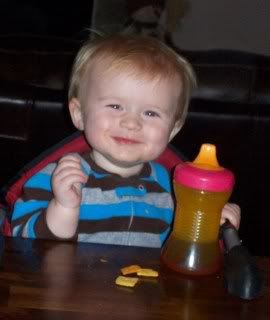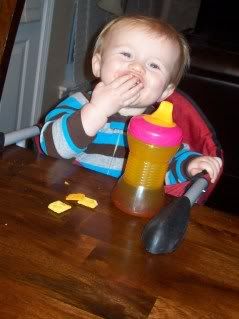 Happy Birthday Reid! We love you and can't imagine our lives being blessed in a more "unplanned" way than having you in it!
PS Reid, Now that you are one, do you think you could start sleeping through the night? Or how about even just getting your nightly awakenings down to one? :)
Just a few more pictures to add from his birthday morning!