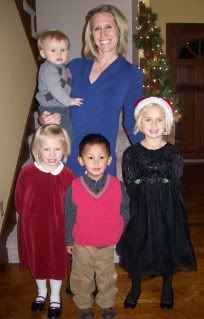 The hustle and bustle has moved wayside and Christmas Day has arrived. Because of our late night last night the kids slept til almost 8 before making their way upstairs to lull me from my bed. Wes has seemed to have recovered from his one-day flu bout as he made it up this morning after missing out on all the Christmas Eve activities the day before to meet the running group at 5 am and get in a quick 6 miles and still be home before the kids even thought about getting up. Overnight, Santa paid a visit and while I didn't think that the kids could possibly be spoiled with any more fantastic gifts than what they have already received, Santa continued to take part in the spoiling. Wes has spent most of the morning with kids setting up the kareoke machine, the laptop computer and playing bowling games on the Wii with the kids. I have enjoyed hearing Addy and Jaidyn's voices carrying up the stairs singing some Christmas carols and Hanna Montana over the microphone. I can't say all of the notes they are trying to hit are a joyful sound, but do feel blessed to still be able to hear their voices all the same. We enjoyed a nice breakfast and lunch of leftovers that I brought home from my Dad and Mom's house Christmas Eve. Always a treat in my opinion to not have to cook.
So yesterday morning, I met 5 girls from our running group to complete an 18 mile run in preparation for the upcoming marathon at 4:00 am (Yes, I completed it!! My longest training run EVER). And about mile 12 we decided to have a little gripe fest about Santa. While I love the Christmas holiday for the true meaning and renewed spirit it provides, I think I now know why Christmas is one of my not-so-favorite holidays...it's most always the moms or women in the house who do all of the Christmas preparations...the shopping, the wrapping, the cooking, the cleaning, the Christmas card envelope addressing, putting together the Christmas outfits for the kids and the list continues to go on and on. And who through this season gets all the recognition but Santa. I mean really it should probably be more about Mrs. Claus as I am fairly sure that without her Santa probably wouldn't have a full belly and be fully rested for his long night of travel and definitely wouldn't have a clean suit to wear. And then again, maybe I should just give the Santa man a break as it was mile 12 at around 5:30 am and you can't hardly blame me for being a little grouchy!
Levi and the girls had great school parties before starting their Christmas break. Levi has always not been very fond of Santa and I still think has bad memories of the time that he first sat on his lap. His preschool teachers knew of his fear as they said he started crying and told them that he didn't want to sit on his lap when he found out Santa was coming for a visit to his class. I am pretty sure Levi was placed last on the rug furthest from Santa to sing their Christmas carols. He watched each of his classmates take a turn sitting on Santa's lap before getting a gift from the gift exchange pile and to my surprise, when it was his turn stood right up and walked over and climbed on his lap. He never said a word but did sit quietly in his lap for a minute. And the best part was about 5 minutes later when they decided to do a class photo with Santa, Levi found a place right beside him all on his own. He's too funny! It was probably his last minute effort to make sure that he was on Santa's "Nice" list.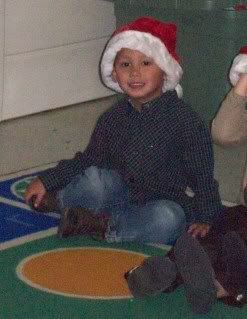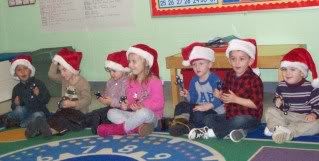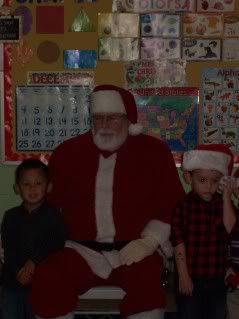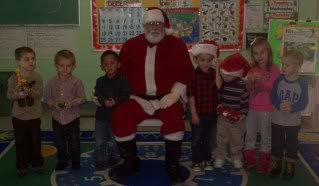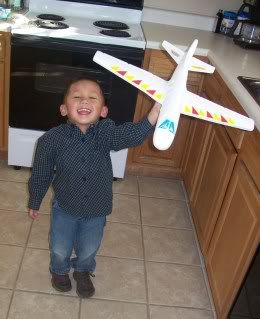 Levi with his foam airplane from his preschool gift exchange. This airplane has taken many flights in all kids of crazy directions. I am just waiting for it to take a nose dive right in to the Christmas tree. I am sure it is only a matter of time!
Jaidyn brought home this cute little ornament she made wrapped in a brown paper sack made to look like a gingerbread house for both Wes and I.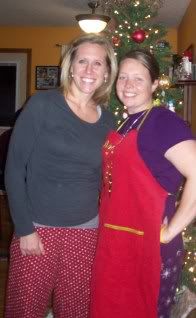 We loved getting time to spend some time with friends. It was actually Ashley's little girls idea to have a pajama party and I took complete advantage of the pajama wearing idea!
Reid is only about 2 months older than his little girlfriend, but is double in size!
It's been a couple of years, but Wes did get some batches of homemade Christmas Kahlua made to give to some friends, family and neighbors. Levi helped cork the bottles, Reid tangled the ribbon and I printed out the labels. The next night while driving around looking at Christmas lights we made several special deliveries.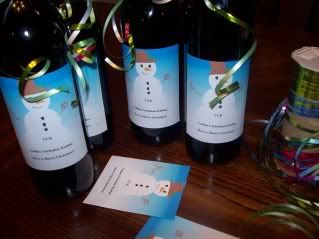 I let the kids open a few gifts early from their Aunt Charlene...I know that she thought it was a little strange when I gave her the idea of the spin brush toothbrushes, but they LOVE them! And the girls have loved the fingernail polishes. I have so far managed to escape getting mine painted, but my mom and sister were not so lucky. I'm quite positive my time is coming!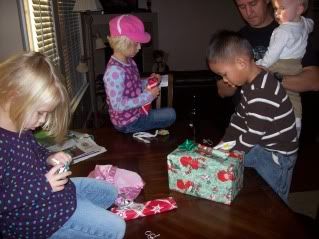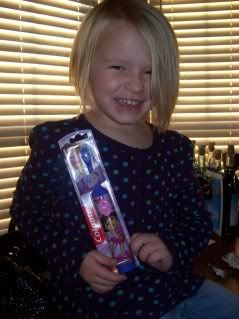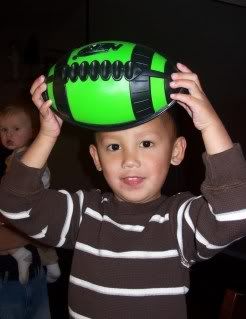 I love Christmas Eve at my parents house. I love seeing my Dad's Christmas light display on the house upon entering the driveway, the smell of all treats my mom has prepared in the kitchen and all of the Christmas decorations in the house bring back so many neat memories.
Jaidyn and her Pink BB gun from Aunt Jill. Now she will be right in the mix of things for her deer hunting trip next year.
Hoola-hoopin Addy!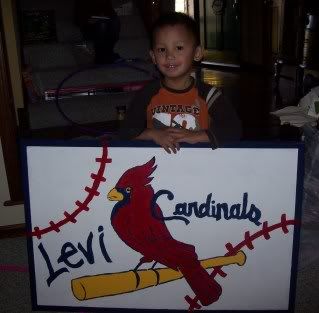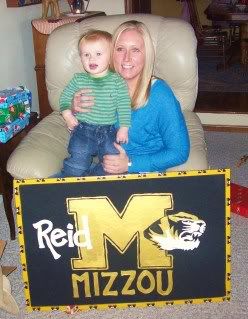 My sister made the boys each a totally awesome bulletin board for their bedrooms. She is so talented and got all of the crafty talent as I am fairly sure I didn't get any. Levi's Cardinal baseball board matches the red koolaid mustache that he has going on! I can't wait to see them up in their rooms (it is still on Wes's To-Do list for today and he keeps avoiding it).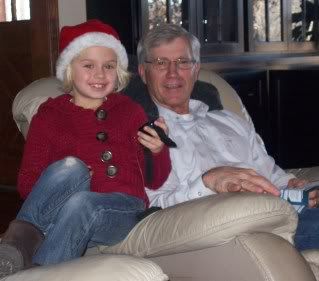 Jaidyn got a SpyNet Watch with Video and Night Vision. After starting to read the instruction booklet, I hear Papa tell her that there are too many instructions for him and she'll need to ask her Dad to learn how to use it. :)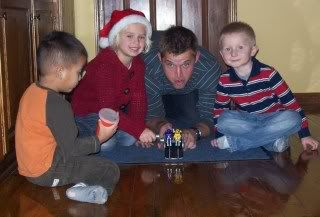 Jared launching some Hotwheel Racers with the kids! They had a ton of fun with these all day.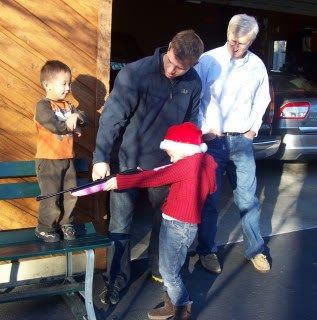 Beginners luck! She hit the can on her first shot, but the next 5 shots didn't end with any point scoring.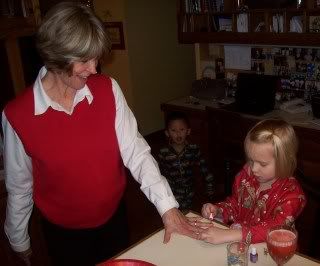 Nana getting a nicely tangerine colored paint on her nails by Addy.
My best friend from high school got away from her family events to make a quick surprise stop by the house. I loved seeing she and her family, even if it was only for 30 minutes.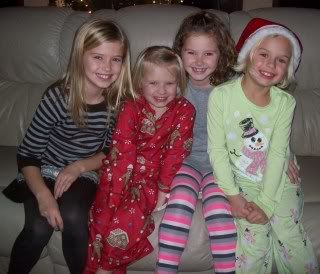 Ripping paper and digging through the loot Santa dropped off at our house!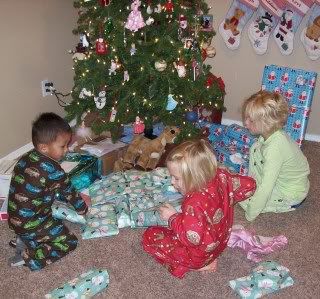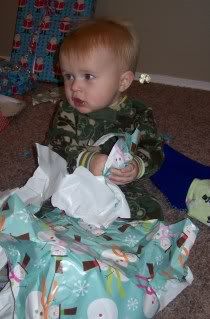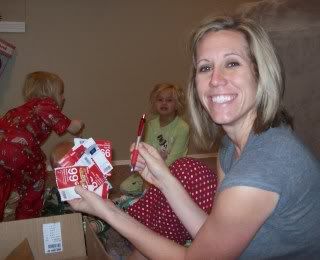 Jaidyn made gifts for each one in our family. For me, the crazy couponer, she managed to pull an insert from one of the weekly papers and had cut out all the coupons in it and added a pen all wrapped up in a box. She's too funny!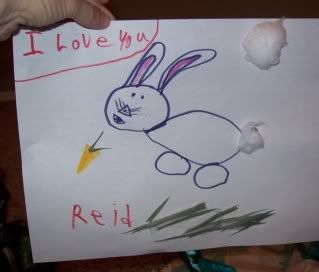 She made this cute little picture for Reid and said that it can be his first picture for his bulletin board.