On Saturday, Addy competed for the title of Tiny Miss Sucker Day as one of our hometown festivities for the festival weekend. She didn't come away with the crown, but I think overall it was a great experience for her. She rocked the stage in the opening dance number (in my opinion this is where she shines) and was super brave and did a good job introducing herself in the microphone on stage. Because Jaidyn was there to crown the next Tiny Miss, I had to help her with several tasks of the pageant including escorting the girls to the interview room. The room had glass windows so of course I couldn't help but sneaking a few glances in Addy's direction during her interviews. And I'll admit, I definitely didn't prepare her for this as there was a huge difference in the maturity level of Addy a Kindergartner and most of the other girls in 2nd grade. Addy climbed right up and sat in her chair on her knees (and in a dress), elbows on the table and instead of answering all the questions with words, I could see her smiling and just nodding. She also wasn't making engaging eye contact with the judge interviewing her. And while I am sure she still did fine on this portion, especially considering her age and prior experience (none) I was able to see things that could have been a lot better. But Wes and I are extremely proud of her and how hard she worked at home on the dance number and the walk pattern and vocal introduction for the stage. Addy is our top Tiny Miss any day!!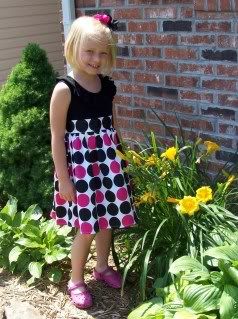 Addy in her dress for the morning interview session.
Our plan was to have curly hair (Addy's request) for the pageant, but even with mega hold 10 hairspray, I just couldn't get the hair to stay and as soon as I would pick the curls apart it would fall straight flat. This did cause some tears to fall as she couldn't understand why her Aunt Jill was able to get it to stay for a wedding and I was not. Boy that comment with her tears falling really made me feel like Mom of the Year. :(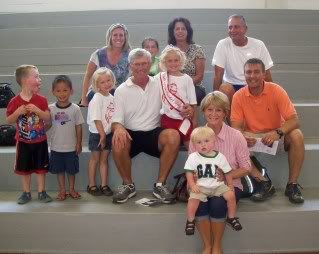 Addy's fan club!!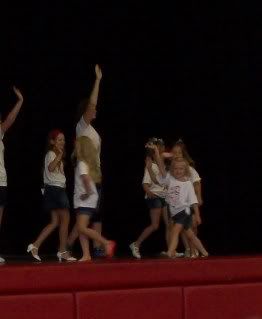 Doesn't she look beautiful in purple! I love purple with her blond hair.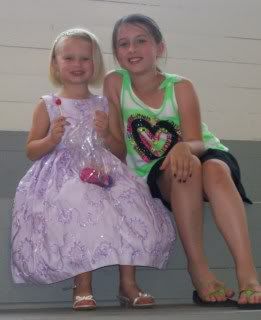 Addy with her cousin Haven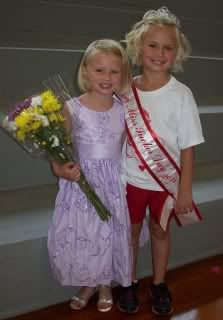 Addy and Jaidyn
And really all a little princess needs is a.....
CROWN! Lala got her a crown (bigger than Jaidyn's) because she will always be our little princess.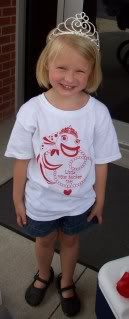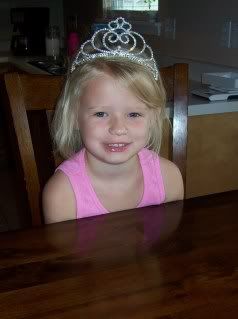 And this is how she came to the breakfast table this morning. :)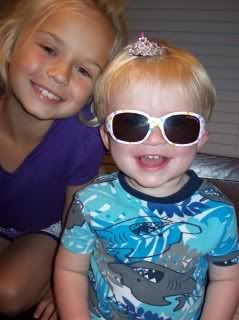 Jaidyn needs to step away from Reid and keep the crown shaped barrettes and Hello Kitty sunglasses to herself!
Levi's last day of preschool wore him out!!
Levi also had his first tball game the evening of his last day of preschool. And while most of the kids are busy kicking up dust, throwing rocks, turning summersaults in the outfield grass, Levi actually stays very focused and engaged in the game. There was one time while sitting in the dugout (he was the only on actually sitting on the bench waiting his turn to bat) and he was watching the other kids kick dirt at each other and even fill their gloves with dirt and dump over their heads that I saw him get up to retrieve his glove and then slowly look back at me to see if I was watching...all I had to do was shake my head and give him that "don't even think about it" look and he sat right back down and waited his turn to bat.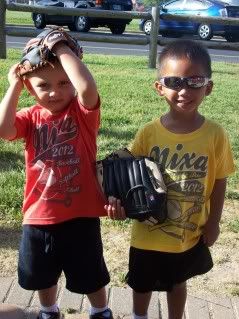 Levi with a preschool buddy.
The "don't even think about it look" apparently doesn't work for Reid. He was a dusty mess and went straight to the tub when we got home.
Jaidyn was recognized at school for making the President's Fitness Team. She received a medal and a certificate for doing this. To qualify she had to score in the top 85% in all 5 fitness events.