I never thought it would be me...I am a mini van drivin soccer mom!! I never thought I would A: drive a mini van and B: let my kids play soccer. Wes and I love sports and hope that our kids share our same interest, but for some reason, neither one of us cares for soccer much. Maybe it was because I personally was never good at the whole foot coordination thing. I let the girls choose one activity for the fall and they both chose soccer over gymnastics or dance. Glad they chose the same activity. Their first practice was last night and their foot/ball coordination was much better than I remember mine ever being in the junior high PE days.
Pink bows are the key to becoming a successful soccer player. :)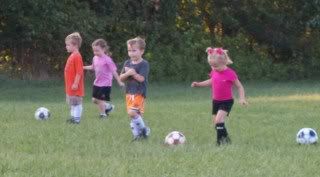 Addy and her buddy Kade were paired up most of the practice. They were playing keep-a-way.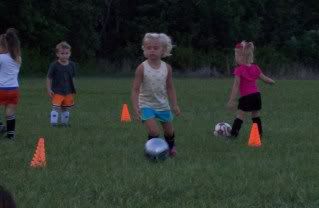 Cone dribbling practice.
Last Saturday we spent part of the afternoon enjoying the water and hot sunshine at the Shootout Boat Races. I have never been until this year and it was definitely a sight to see. We managed to wedge ourself close to the starting line, but probably over a 1000 boats were anchored out along the race course. The speeds that some of these boats reach on the water is incredible, 135++. Ocean sized boats out on the lake at top speeds equals, CRAZY!! I am so glad that my Grandpa was able to spend the day with us. He was equally amused watching the boats. My favorite was the Batman themed boat, too cool!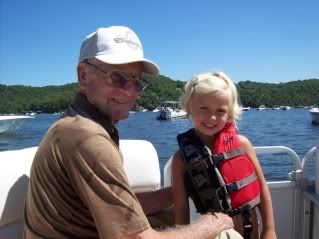 Levi in Jaidyn's pink hat. Why does he manage to always end up wearing something pink or purple?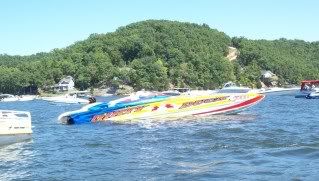 Saturday morning we stopped at a farmer's market and Jaidyn bought with her own money 3 little pumpkins so she could give one to Addy and Levi. Seeing them on the mantle all week has been a subtle reminder that Fall is almost here.