It is hard to believe that just one year ago today Wes and I boarded a plane taking us to the Philippines to spend a few days exploring and experiencing Levi's birth country before finally meeting him. I will be sure to post pictures of then and now of Levi on the 11th, his "Gotcha Day".
We continue to fit in as many activities before the girls start school next week. Last Saturday we enjoyed the perfect summer weather on our annual float trip with family. For some reason Jaidyn and Addy never wanted to be in our canoe. I guess we aren't cool enough. So the poor kidless couples were stuck with them. :) Levi stayed with Aunt Charlene since she isn't a big fan of the sun and enjoyed having an "All About Levi" day. I am sure he was spoiled rotten and got his way all day long.
The gang before boarding the canoes.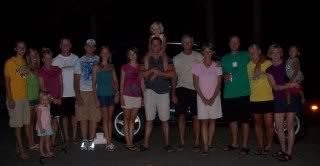 The gang (minus Wes & I) with full bellies from dinner and lots of dessert.
On Tuesday we had a playdate with some of Jaidyn's preschool friends and suffered through the 105+ heat index and ventured out to the Orion Dinosaur Center, lunch at McDonald's and then to the lake for some swim time off the dock.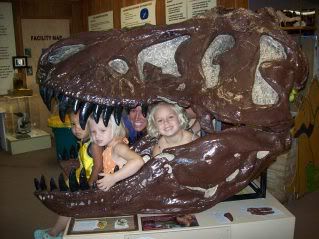 T-Rex was hungry for several snacks. Ahhh!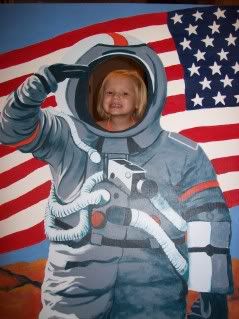 Addy's ambitious and maybe someday she'll make it to the moon.
Trying to find the perfect weight balance on the teeter-totter.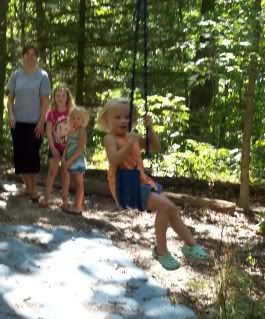 This might have been their favorite part...the zip line swing.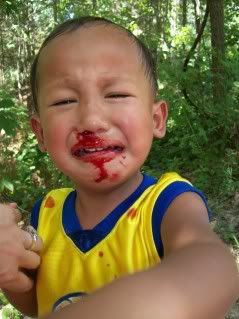 Poor Levi, he pushed on one of the outdoor swings and it came back and hit him right in the nose. I was unprepared for a nose bleed and we had to walk all the way back up the huge hill to get to a bathroom. The heat was just almost unbearable and we had to take a break about halfway up. Levi did not want me to take his picture (can't say that I blame him) and was trying to push the camera out of his face. However, by the time we got to the bathroom the nose bleed had stopped and dried to his face. Still today, he has a light colored bruise on the bridge of his nose.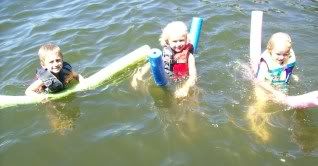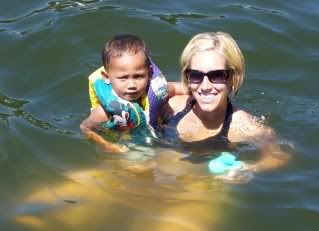 Lake Time!!