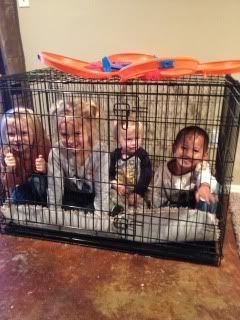 We were just playing around when we took this picture a few nights ago, but this is one of those mornings that I think locking them in the dog kennel for a while would be nice and maybe give me a few minutes of peace and serenity...Jaidyn and Addy are already at it with each other this morning, Levi is not feeling well and is more whiny than the usual and Reid is just adding to the fire as he is in his prime. He is already in a second change of clothing because the minute I finish dressing him from his bath he goes and reaches his arms in the tub to dump a cup of water on Levi. And of course, the new shirt I picked out was not the one he wanted it to wear so it was a fight to pull it down over his head and shove his arms in the sleeves. Regardless, I am still very THANKFUL for all four of them and the unique personalities of each one. I'm thankful for their health and their hardworking, competitive, caring and sweet spirits (most of the time). The girls had some celebratory Thanksgiving fun yesterday before getting a 5 day break away from school.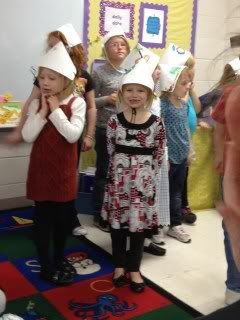 Addy was a Puritan Woman in her school play. She had the one-liner of "Mercy Me" that she repeated several times during the play and of course it wasn't said without her dramatic actions accompanying it.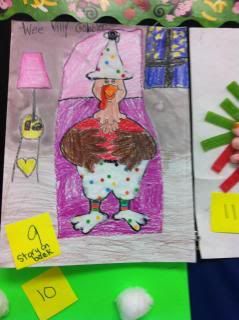 Jaidyn's Wee Willy Gobbler on display as an entry in her class Turkey Dressing contest. She didn't place, but we had fun creating him and she came up with a cute little story that she wrote on back to go with it.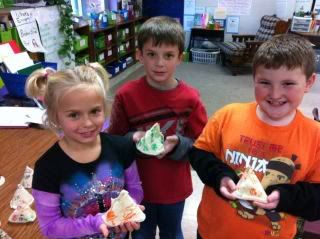 Jaidyn's class made Teepee's from tortilla wraps to decorate their Thanksgiving feast tables.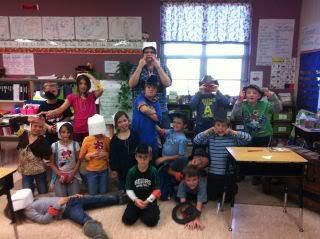 2nd grade class having fun in their pilgrim attire.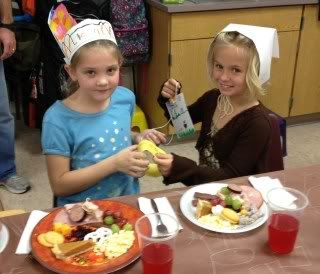 Exchanging gifts of friendship with her Native American friend during the feast.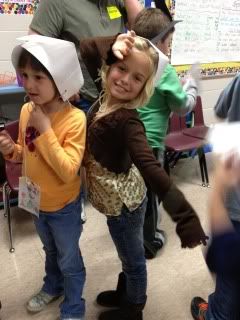 Happy Thanksgiving!