Halloween is over, done, and completely put away (that is if you don't count the massive kid stash of candy)! While Halloween is my absolute favorite, the decor has been dangling around my house for the past 31 days so I felt there was no need to let the holiday linger around any longer. With the exception of a few stand-up decorations that need to be taken out to the shed, by 9:00 this morning, all of my Halloween decor had been tucked neatly away in the storage bins and placed back in their corner of the laundry room. Thankfully, we had a beautiful day and evening perfect for Halloween treating!
These two cuties were trying to trick me early in the day!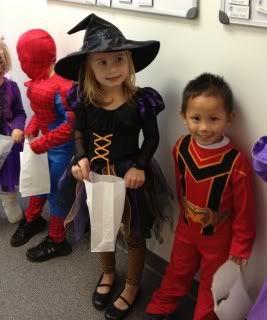 Levi is trick-or-treating the halls of the church office at preschool. He has had a crush on this cute little witch for the past 2 years.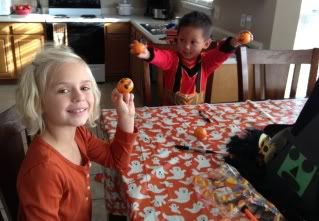 Nana brought a bag of clementines for the kids to draw faces. I think she thought she could trick Levi into eating one this way...he didn't give in to her efforts either.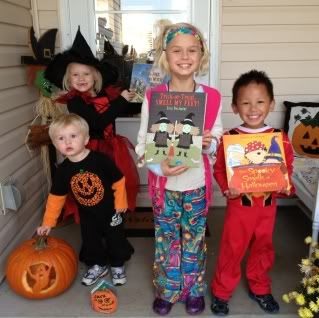 We have the BEST neighbors!! They brought each of the kids a Halloween book for Halloween. We read a couple last night and then the boys and I read some today before nap time.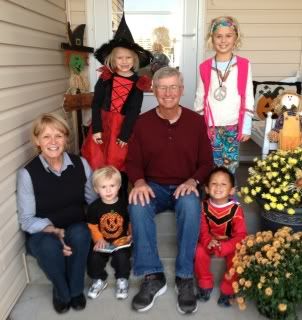 "Papa, don't close your eyes!" Never Fails!
We ran in to some of Jaidyn's friends from school.
Jaidyn trick-or-treated her 2nd grade teacher! I'm pretty sure this is the biggest house cat that I have ever seen!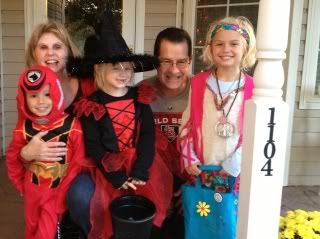 The girls visited their Kindergarten teacher. From her they received a big homemade chocolate chip cookie. Now that she is retired she said she actually has time to bake. :)
My mom bought me this "Give thanks for the bountiful harvest" towel a couple weeks ago. I'm guessing it was probably to remind me to not put up Christmas decorations until after Thanksgiving. Hmmm, we will see how long that lasts!