I'm managing to stay super busy trying to recover from being gone the last two weekends so this is primarily a picture post...
Family Get Together Weekend at Grandma Penny's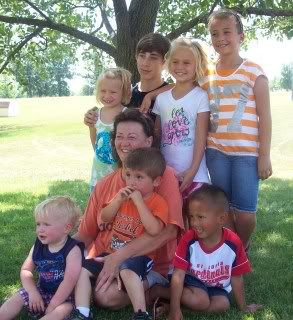 Lounging after a hot game of wiffle ball in the front yard.
Dog Piling Uncle Bear
The four wheeler is always a big hit with the kids. Funny how Reid managed to get to ride just about the entire time...a little spoiled, I think!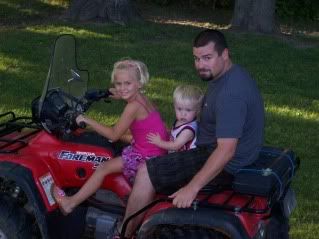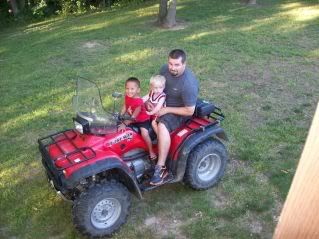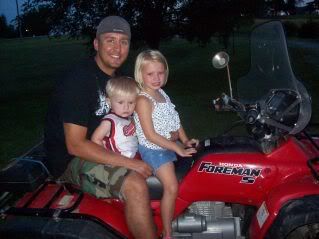 The boys requested grilled steaks so that's what they got!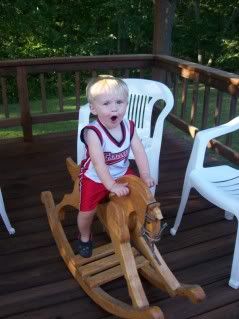 Giddyup! The horse had to be dusted off from the garage, but it has seen days with almost all the grandkids.
Storytime!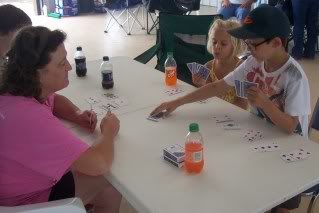 An intense game of Go Fish!
Jaidyn out of the blue decided that she was ready to get her ears pierced. I'm thinking that spending time with her older cousins this summer has been part of her getting the urge to get it done. :)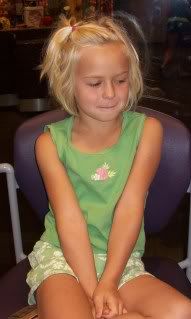 Just a little nervous!!
All smiles showing off her little daisy flower earrings.
Later in the day the kids were playing dress-up and Jaidyn dressed up as the ear piercing girl...she had her clip board with papers needing to be signed, a name tag and a key around her neck so she could get in to the "cabinet" with all the piercing tools. :)
Wes was asleep and sick in bed the morning after getting home for the weekend and I had to make a run to the grocery store so I put Jaidyn in charge of the kids while I went to the store...
She had a picnic with Reid while I was gone of all the things he pulled out of the lower cabinet and took a picture of it...I have no words as I think the items in the picture speak for themselves.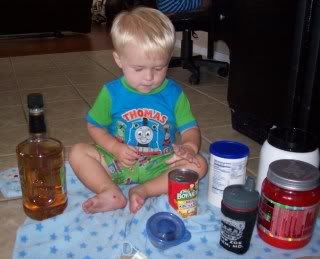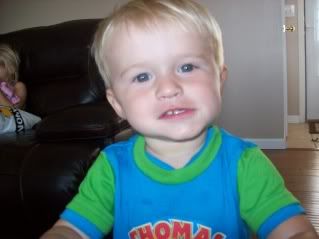 Enduring the heat to watch a Springflield Cardinals game. We didn't get there until about 5 minutes after the game started and therefore missed the legendary #1 Ozzie Smith throw the first pitch of the game. Ugh! I can't believe I missed seeing "The Wizard of Oz". :(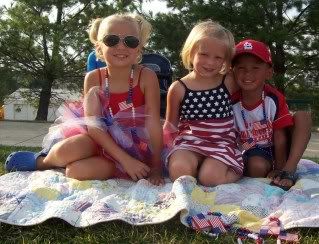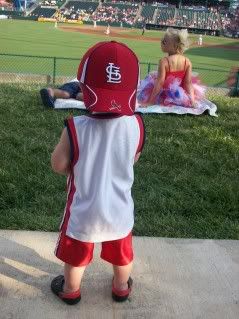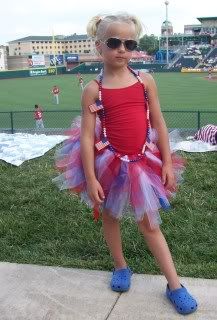 The kids ran the bases after the game.