Addy was up on her own at 6:15 this morning! That is the earliest that she has been up on her own all summer. She was so excited about her first day of Kindergarten! There were no tears of sadness from having to leave her Mom all day (and not any from me either as I am excited for her too). It is amazing how in the last few months she has become so interested in writing words and practicing things in order to "be ready for Kindergarten" or at least that's what she says when she tells me when she wants to practice something. It is so refreshing to see Addy so concerned about being "ready" as she really hasn't shown much interest in it until the summer months. We walked Addy to her classroom and her teacher read The Kissing Hand before letting all the parents leave. So we gave her a kiss and she waved us out the door skipping back to her seat.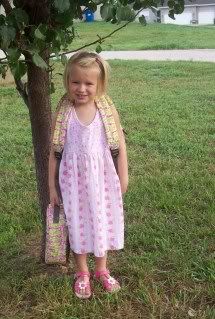 Jaidyn was looking forward to starting 1st grade today but she said she would rather be hanging out at home with me. I am not sure how she thinks cleaning, laundry and getting groceries would be more fun than school. I think she is still in summer mode...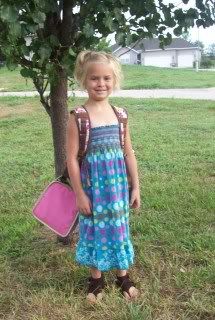 Today was so quiet at the house with just the boys and I...the stillness was very strange as the past couple summer months have been filled with much noise as not only is our house occupied with our four but usually a couple of neighborhood kids also. Since Addy wasn't here for Levi to fight with and he didn't have to share any toys he had a very good day. I also let him talk me in to letting him have soda with his afternoon snack. :)
Levi loves his very own "All About Me" photo book. He is so proud of it! Here he is studying it...it cracks me up how serious he is when he looks through it.