Happy 3rd Birthday, Levi!!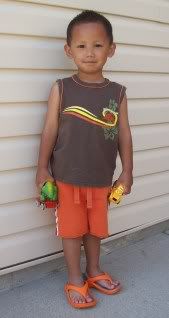 What a beautiful handsome boy you are becoming! You have introduced us to the joys of having a little boy around in so many ways. We love you to pieces!
Levi's Favorites:
Color: It's a different color every day
Book: Brown Bear, Brown Bear
Food: Anything unhealthy
Drink: Chocolate Milk
Song: The Wheels on The Bus
Song To Dance To: The Cupid Shuffle (I love it when he busts out a break dance spin on the floor)
Toy: Lightening McQueen, Mater, Doc and other Disney Pixar Diecast Cars
Movie: Disney Cars
And we are so proud of Levi's potty training accomplishments and he has officially been wearing big boy undies for about a month now. And thankfully we have a bathroom that we have primarily been able to dedicate to him as little boys and their aim, I have learned takes some practice. Ick!
I have lots of pictures from Addy and Levi's birthday party at Chuck E. Cheese and Mother's Day pictures to post from Sunday...hopefully I'll get to it tomorrow. :)