Each month at school, the teacher picks a student out of their class to be the Soaring Student for the month and they are recognized in an assembly. And for the very first month of August, not one, but both Jaidyn and Addy were chosen as the Soaring Student in their class. We are so proud of both of them. Jaidyn knew over the weekend as her teacher announced it in the Friday newsletter she sends home, but Addy's teacher kept it a surprise and we only knew because she sent us an email inviting us to the assembly.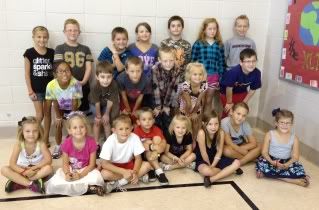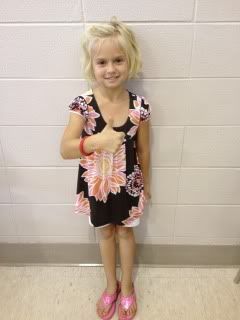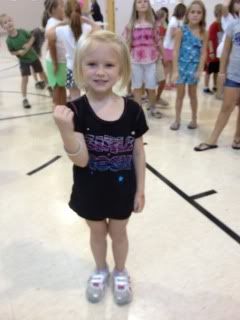 Here are some pics of our last trip to the lake for the summer.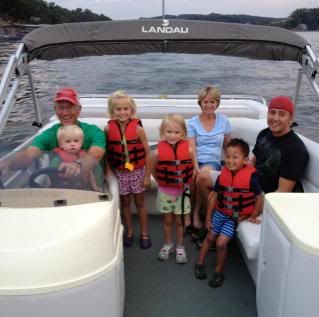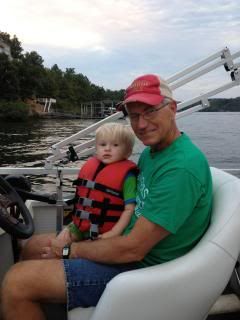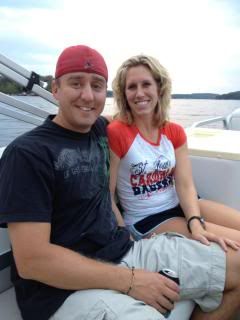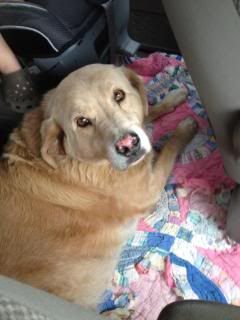 We've been taking Ray along with us to the lake all summer as he seems to enjoy being there and the steps around the lake house give him much needed exercise. His atrocious gas however, was not so enjoyable on the drive there...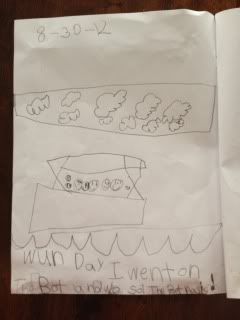 Addy wrote this as part of her school journal writing..."One day I went on the boat and I saw the boat races!"
Outside playing in the rain! The two days of rain that we received as the reminisce of Hurricane Issac pushed through the Ozarks was a huge blessing. Our yard was so ugly, dusty and we had crunchy brown grass beneath our bare feet from the lack of rain for so many weeks. The kids took advantage of the light rain showers and played for hours outside in it. Wes and I watched the kids play while sitting in the garage and watching our vehicles receive a red neck car wash.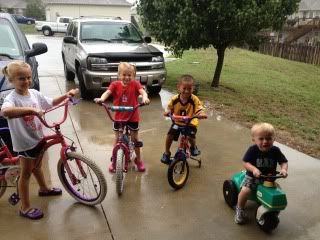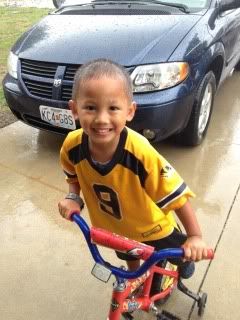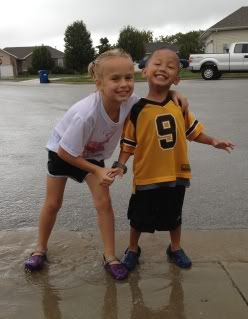 Reid has found and taken a liking to the pink cowgirl boots in the girls dress-up clothes! They are several sizes too big, but it hasn't stopped him from stomping around in them.
Afternoon painting! They both spent a good hour painting, but I'm not sure any "Mona Lisa" masterpieces were created...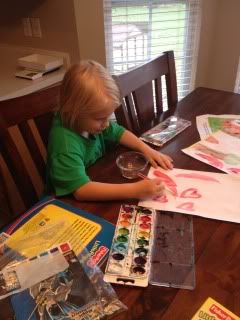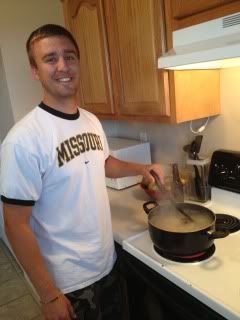 On Saturday, Wes must have felt extremely motivated or something...he fixed both lunch and dinner for the day! I'm not complaining as I enjoyed the break!
We took advantage of the extended holiday weekend and spent Labor Day, laboring! We gave some much needed attention to our deck. Wes was out staining each of the spindles as soon as it was light enough to see outside and I joined him for several hours as soon as I got the kids dressed and bellies full from breakfast. After a good six hours of work, it seems that only a dent was made in the task, but hopefully now that the spindles are done, the rest will be much less time consuming. Our deck was in dire need of some attention, so hopefully when we are finished we will be able to actually use it on some of these upcoming nice fall nights.