OMG! Is it really mid September? I swear these week days since school has started seem to go by so fast and before I know it I am at the weekend. Well Addy, has had a huge week losing 3 teeth and her "tooth fairy" Dad has had to be at the top of his game. He's so far three for three in delivering the much anticipated moolah that is placed under the pillow. Two of them were close calls, but he pulled it off. Even this morning he was able to slide a handful of dimes totaling $1 under her pillow before waking her for school. The latest tooth to come out needed some persuasion from Nana promising a big fat $5 if she pulled it that night. Thankfully, that did the trick as it has been hanging sideways in her mouth all week. But that was only after she counted out her entire piggy bank only to realize that without the $5 she wouldn't have enough money to buy the Lalaloopsy doll she has been saving for. Her teacher had a good sense of humor about it as well telling me that it was a good week to lose them all since they were working on the "Th" sound. :)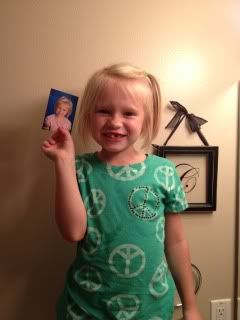 Holding up her school picture with all her baby teeth.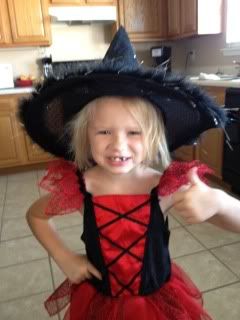 Addy is wearing this witch costume for Halloween and her smile fits the part perfectly!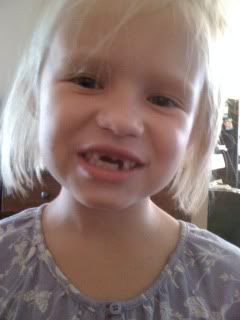 Three teeth lost within a week!
Addy also had a fabulous week at gymnastics getting to ring the bell 2x. She got her back kickover and back walkover in the same night. So she now gets to skip an entire level and join Jaidyn's class. Yea Addy! And Jaidyn got her round-off back handspring on the floor. She is just loving gymnastics since she is really starting to be a good tumbler.
Jaidyn's class earned a costume day as a reward and she chose to dress as a groovy hippie.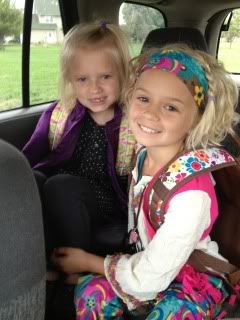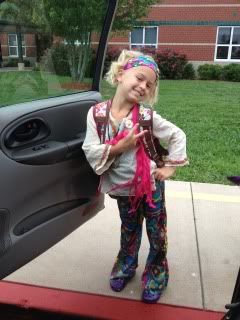 Telling me "peace out" as I dropped her off at school.
Class costume picture.
Last Friday I was the "mystery reader" in Jaidyn's class as the kids don't know who is coming until they walk in the door. I read
Memoir's of a Goldfish
. It's a really cute book, and I left Goldfish crackers for the class to enjoy for an afternoon snack!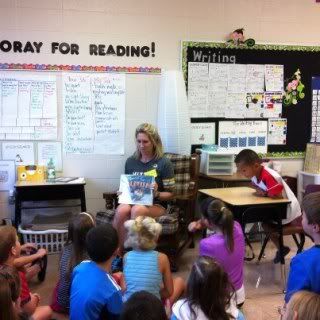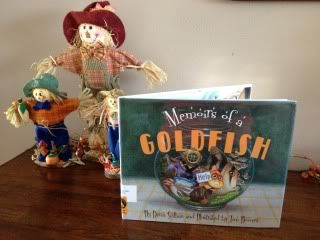 Reid had a rough day as he face planted the parking lot on one of our errands. Luckily, Wes's office was close by so we were able to get him cleaned up as he had blood everywhere. Poor guy!
Reid is also becoming very independent and has decided he no longer needs his high chair and feels that he should be sitting on the high stool chairs at the table.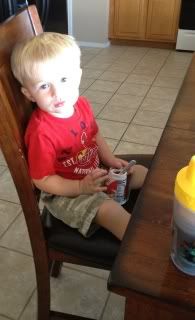 Yep, these two are ALWAYS in to something and have discovered a new hiding place.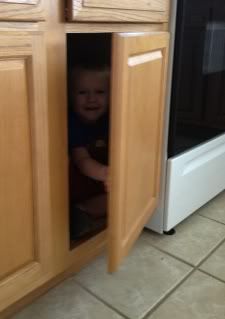 I got a wild hair and with Levi's help baked two batches of muffins and a pan of brownies. When the girls got home from school and realized that there was brownies and then muffins for breakfast the next day, I pretty much earned the "Mom of the Year" award. Yes, sadly it is a real treat when I bake as it almost NEVER happens. Reid got his own muffin pan and included himself in the festivity.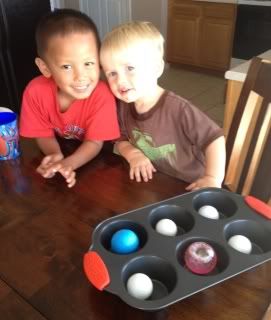 Last weekend we got a glimpse of fall temperatures and enjoyed an entire day at the Wickman's Fall Festival and Mother's Brewery Oktoberfest.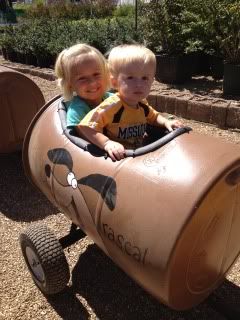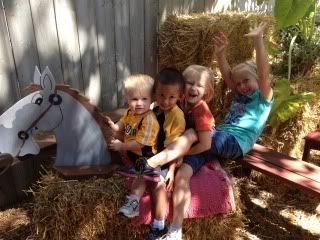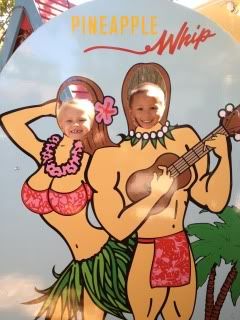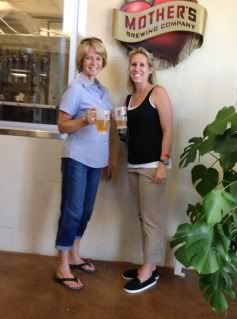 Another busy week ahead! Just off the top of my head...Levi's first soccer game of the season, Parish Picnic, Cider Days (if we can fit it in) Jaidyn's volleyball, Jaidyn and Addy's gymnastics, Addy has "All Grown Up" Mustache day at school and Grandparent's Day at school. Lots of pictures to come again next week!