With the recent upsetting news about the health of my Grandpa, I haven't felt motivated to post on the blog. For the past several days, I continue to download pictures on my desktop and each day continue to think that I'll wait to post them on the blog when my spirits are higher. And yet, the past couple of days have come and gone and the little pictures continue to stare back at me each time I sit down at the computer screaming at me to do something with them even though I feel its hard to be celebratory. It didn't help that this morning was one of those that would normally seem like a pretty crumby start to the day...Jaidyn waking up at 4:30am crying of an ear ache, an unplanned trip to the doctor's office squeezed in to the little time between a dentist appointment and Levi's preschool, and the van not starting for the 2nd time this morning resulting in moving car seats all over the trailblazer. And quite honestly, I feel horribly selfish to even think about complaining because in reality my morning is GREAT in comparison to the feeding tube that my Grandpa is scheduled to receive probably at this very moment. I'm so saddened about how much this will take away from the normal routine as he knows...morning Brandy, McDonald's lunch, park walks, & afternoon drives. I still have trouble wrapping my mind around the only choice that has been given to him. To me, its almost like he has been given a prison sentence, its horrific to even think about. Aging simply (for lack of better words) SUCKS! However, I am optimistic in hoping that he will heal and be able to have the tube removed. I continue to pray that God will heal him (fast) and pray for the doctors and nurses who are caring for him daily. I pray for my Dad and my Aunt who have had so many tough decisions to make and have had long days watching him suffer through this pain. Grandpa is healthy in so many other aspects and we all need to band together and help keep him in the mindset that he can pull through this tough road that he is about to endure...AND he better fight for his health to improve as Jaidyn is ready to challenge him in another game of shark marbles and he will need to bring his "A" game!!
Again, finding strength to post the following has been hard this week, but I do thank God for the continued blessings in our life. And just as the side bar in my blog states, we will endure the hard times and continue to dance for JOY!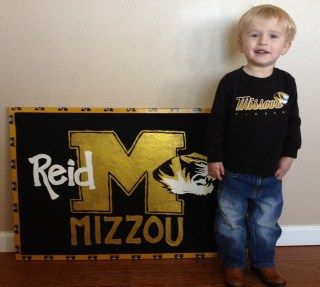 Reid tells me that he is my baby boy and Daddy's big boy! He just turned two and I agree that he is every bit of both! He will always be the baby and yet he has graduated out of about everything "baby". Reid has really started talking a lot in the last couple of weeks and at times I have to turn up the radio to drown out his constant questions. I promise I am not being mean as he likes to ask the same question over and over even though I have answered over and over! And his favorite phrase to shout continues to be "Beer, Daddy's beer!" And it doesn't matter how far over next to the yogurt and cottage cheese I get the shopping cart he always scopes out the shelves of beer lined up across the isle. And to tell on myself, we were in the potpourri/candle isle and he saw the bottles of liquid potpourri lined up and starts pointing saying, "Mama's wine!" Ummm, not quite, Reid! Geesh, he makes it sound like Wes and I are every night of the week lushes! Reid is very independent and is definitely a Daddy's boy, but I have still managed to sneak some late evening cuddle time with him right before bed. Reid's favorites include Mickey Mouse, Trains, boots, mWes's travel coffee mugs, Wes's camouflage St. Louis Cardinals ball cap and an empty laundry basket used as his boat.
His birthday party was a simple celebration with grandparents staying for dinner, an ice cream cake and presents. He only requested balloons for his birthday and I was completely good with the $3 receipt on 3 helium balloons from the Dollar Tree. Happy 2nd Birthday Reid!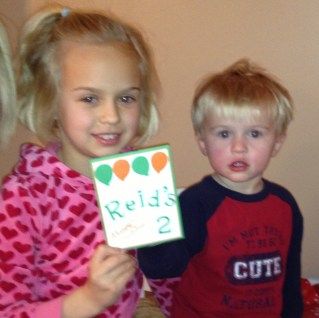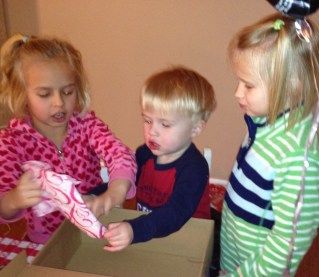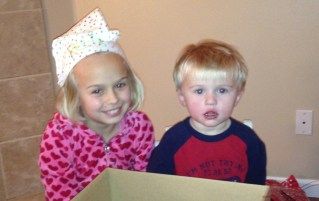 Jaidyn sewed him a night cap! Who does she think he is, Wee Willy Winkie??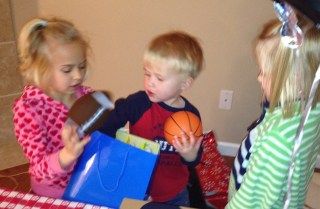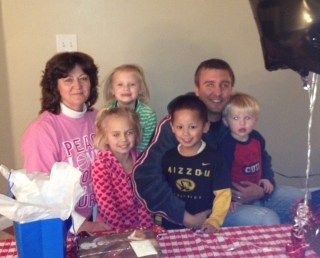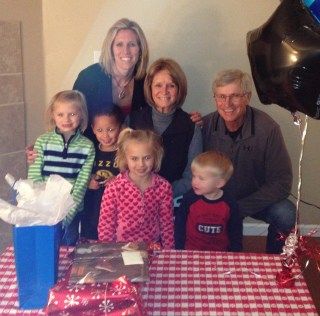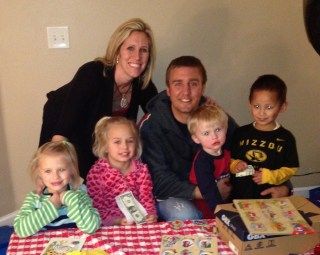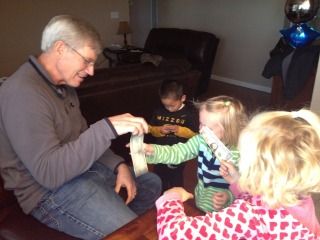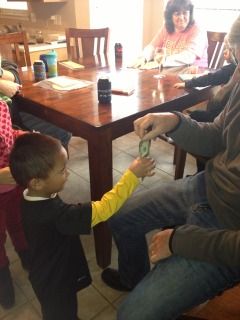 Papa gave the kids a dollar if they could catch it between their fingers. He was pretty tricky and wasn't playing nice, but they all got a dollar out of him eventually.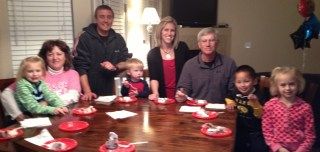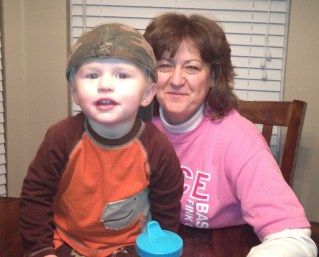 The girls participated in a Block Kids Contest hosted by the National Association of Women in Construction. They had 45 minutes to create something using 50 legos, a 12" piece of string, sheet of aluminum foil and a piece of cardboard. Once they were finished they were interviewed about their creation. While they didn't place they did enjoy the building activity and also received a shirt, hard hat, snack and participant medal. And I loved that it was a quality free event! Papa, Lala & Grandma cheered them on silently from the sideline seating.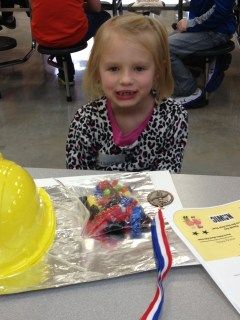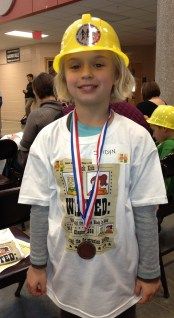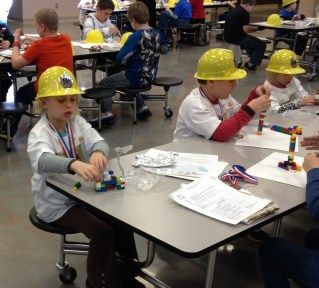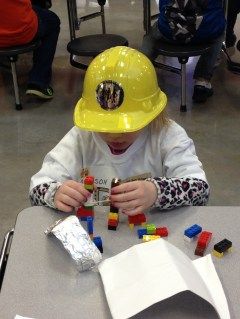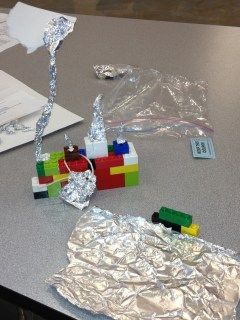 Jaidyn's version of the state capital. Look close and you can see three points made of aluminum foil. The foil square hanging by string is the governor's secret entrance. The big foil sheet is the parking lot and the little legos on it are the handicap parking spaces. She also had a duck pond over to the side of the building. While the structure itself was "interesting", I thought she did a great job putting some thought in to the extras.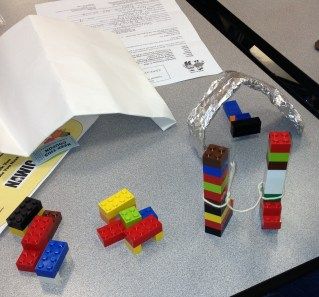 Addy made a playground. She had several climbing toys, a swing, and a bridge to climb under and over.
Grandma Penny treated us out to Hu Hot for dinner and the kids were spoiled getting to make S'mores over a fire at the table. It was definitely the highlight of their meal.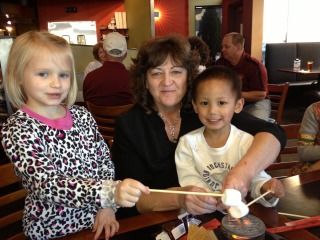 And just some additional pics from our week...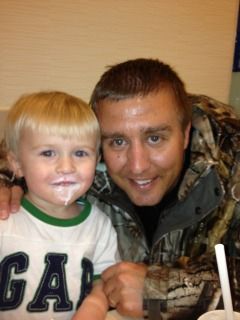 Reid loving him some McDonald's icecream!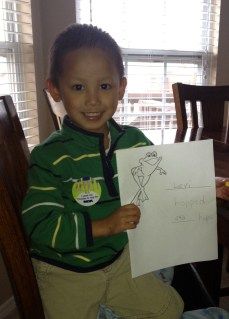 Levi hopped 242 times in two minutes in his MDA Hop-A-Thon! Thanks Papa & Nana for sponsoring him.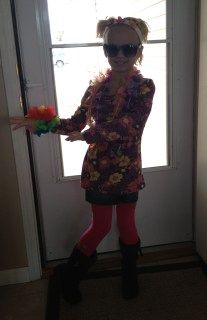 Jaidyn all decked out for "Tropical Thursday" at school.
Jaidyn's owl sketch was one of four art pieces chosen from her school to be placed in the Youth Art Month Capital Exhibit in Jefferson City during the month of March. We are going to take a family trip soon to see her art showcased along with all of the others.
Just a few pictures of the kids that I am hoping to use to make up their Valentines for school.