On December 1st, Santa brought the kids a special friend of his, Holly Jingles the Elf. Holly gets to stay with us until Christmas Eve when Santa will pick her up while leaving some surprises for the kids to take her back to the North Pole. On Saturday morning they found her on the foyer buffet left with a letter to always remember the true reason for Christmas.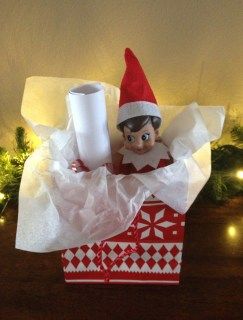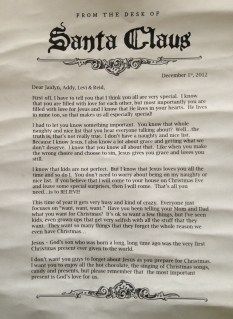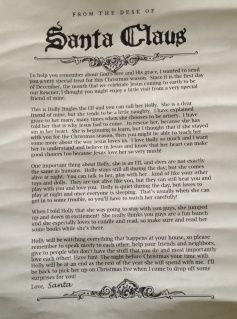 Jaidyn and Addy were so excited about Holly that they wrote her sweet notes and a letter and taped them up in her living accommodation while she is at our house. I love Jaidyn's questions asking Holly if she reported to Santa, had lots of friends at the North Pole and if Rudolph is real.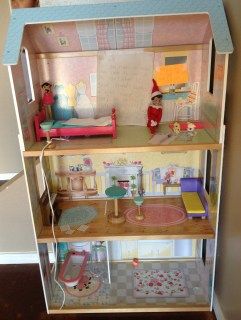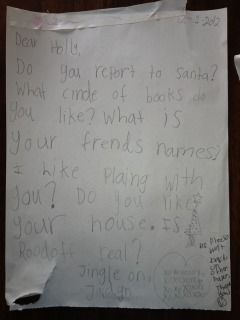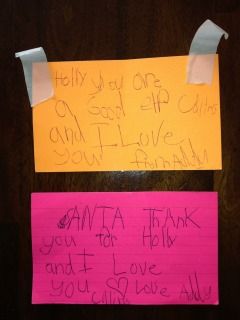 Sunday - While exploring the first night at our house she met some new friends and they played a friendly game of Candy Land.
Monday - Holly helped celebrate Jaidyn's 8th birthday by bringing her a mini chocolate cake (which the kids ate for breakfast), a balloon and by leaving her a sweet message. She couldn't help herself and had to take a bite out of the cake...Elves love chocolate too!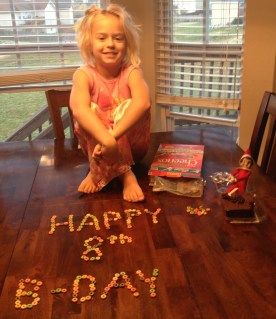 Tuesday - Holly just couldn't hold back any longer and was a little ornery. She replaced all their Christmas stockings with underwear and a diaper for Reid!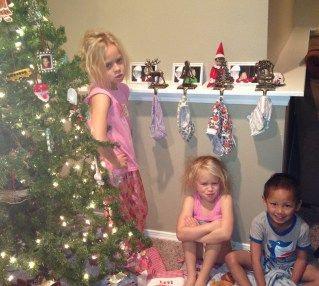 Wednesday - Holly was found on the desk and had replied back to Jaidyn's letter and left the kids a brand new set of markers so that they could continue to write letters to her and draw her more pictures. She also reminded them that these new markers are permanent and to please keep them out of reach from Reid!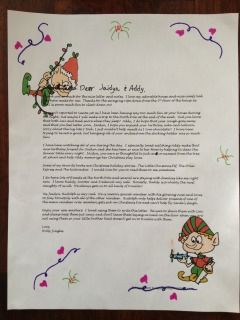 Thursday - MMMmmm! Even though she didn't clean up all of her baking mess, the kids enjoyed her special chocolate chip mini muffins for breakfast. They all hope that she decides to bake more often. Jaidyn made a snowman face design in the bowl that Holly left out.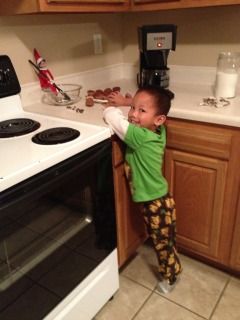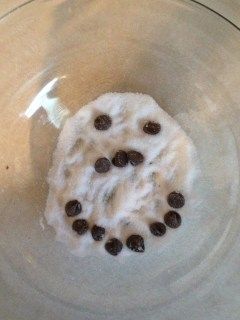 Friday - Seriously! Did Holly not see that the house cleaner was just here yesterday? Did she really feel the need to dirty up the nice clean bathroom counter top? And poor Levi as she blamed her mess on him! He thought the mess was hysterical...probably because it usually is him who leaves toothpaste spit all over the counter. Blah!
Stay tuned for more adventures with Holly! And we have another busy holiday weekend...Breakfast with Santa, Christmas ADVENTure play at church, Silver Dollar City with a friend for Jaidyn and a Christmas party for me.