Last Friday, I survived a night of giggly fun girls as Jaidyn had her indoor camp-out themed slumber party to celebrate her 8th birthday. We kicked off the night with camp-out style grilled hotdogs, chips and a veggie tray (none of the girls except Jaidyn would hardly touch). They played relentlessly for hours and one of their favorite things to do was sliding in their sleeping bags down our basement stairs. We had Pinterest style s'mores and they were able to choose from several different toppings and stuff them in a sugar cone before placing them in the oven. They were quite yummy and so much less messy than a typical graham cracker s'more. I survived and I know all the girls had a great time, but it won't be any time soon that I am looking to have another one of these slumber parties that turns in to a nightmare of sugar-overloaded silliness extending well into the midnight hour as that was when I finally ventured down stairs and laid outside the tent so that they would all go to sleep. I'm such a party pooper, I know!! I drifted off only to wake up to the sounds of their snores and with a sore hip from lying on the carpeted concrete floor for an hour. Where was Wes during all this??? He was sleeping happily in the comfy cozy bed for the past 3 hours. :(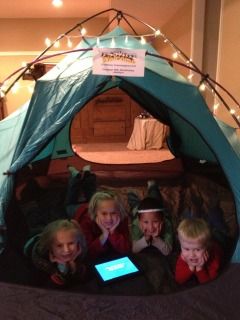 The basement was transformed into a scene perfect for a camp-out under the starry night sky.
Food Bar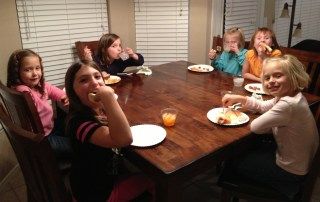 Playing a game of headbands...I caught trying to cheat by looking the in the glass door hoping to see her reflection. Cheater pants!
Sliding down the stairs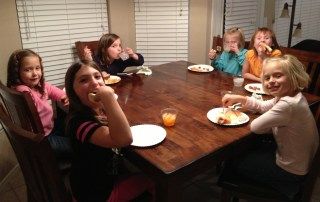 White powdered donuts, juice and fruit for breakfast! Levi helped me get the groceries for the party and I told him that he wasn't allowed to have any of the donuts until all the girls woke up on Saturday morning. He took me word for word and he snuck downstairs and woke the girls up at 7:00am so he could have donuts!!
One of the mom's when dropping her daughter off also brought me a "survival" kit!! Even though it was rather tempting many times throughout the evening, I held off and didn't pop the top until mid afternoon the next day. I figured it had to be 5 O,Clock somewhere, right?
All the girls were sent home with a Hobo style treat bag. :) Levi had a nice little holiday party ending the first half of the preschool year. The party consisted of holiday songs, conversations on Santa's lap and a gift exchange. Reid was super good sitting in one of the little chairs and watching all of the festivities...maybe because Santa was in the room and he was trying to be on his best behavior. I wish Santa would show up a little more often!! Levi only asked for one thing from Santa, a new bike. Unfortunately, I am not sure that is on Santa's list...
As we were leaving the preschool, Levi asked looking up at the roof, "What did Santa ride today?" He obviously didn't hear any pawing of reindeer hooves.