We spent several days over the Thanksgiving holiday with Wes's side of the family at the lake house. It was mainly spent relaxing and eating way too much. The kids, as always love hanging with their cousins and enjoyed every minute of it.
The girls helped Grandma make homemade donuts. They were quite impressed with their final count of donut holes at the end.
Christmas came early as Grandma each family an Ipad. It's amazing what those devices can do! Once the Ipad was opened there wasn't much socialization going on unless it was fighting over who got to play on it.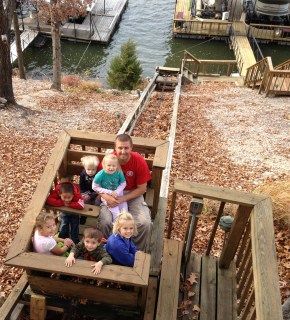 Unfortunately it was too windy to take the boat out on the lake, but it didn't stop the kids from riding up and down on the tram a couple of times.
Jaidyn suckered Uncle Bear out of $5 for eating a jalapeno...
Making McPenny's for breakfast(Bacon, egg, cheese on a croissant), Hadley's request. We are squeezing in little mini bouts of Christmas cheer when we can find the time...
It only took 2 1/2 hours, but Wes managed to get 4 strands of lights put up on roof of the house...that's all the details that I will go in to. :)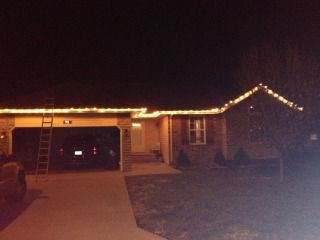 A short trip of looking at neighborhood Christmas lights resulted in two asleep and two acting like goons. :)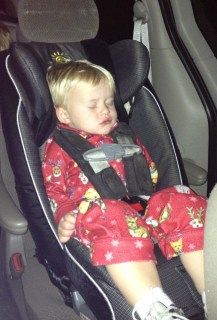 Nana came for a night during the week when Wes was gone and read the kids one of her favorite Christmas stories, "The Polar Express" while the kids enjoyed hot chocolate with marshmallows. She and I (okay, mainly I) proceeded to polish off a bottle of wine after the kids went to bed.
We had friends over for an evening get together and were also visited by a limo of carolers!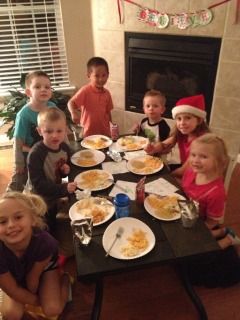 Nothing like 70 degree weather for a Christmas parade! While most prefer more Christmas like weather, I happen to think it was just perfect! The girls turned cartwheels and threw out candy for a little over 2 miles with their gymnastic tumbling team.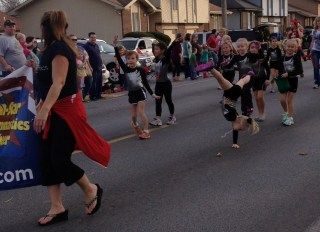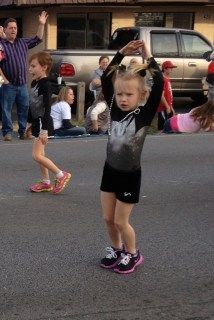 The girls attended a skating birthday party and fun they had! It was a first for the both of them and I'm pretty sure with all that wide open space Addy thought she was a speed skater. The many falls didn't slow either of them down one bit!
Santa also delivered this "sweet" little elf, Holly Jingles as an early Christmas present to the kids. So far she hasn't gotten in to too much trouble, but I'll report back with all her adventures later in the week.