Yea!! We are finally moved in to our new house. And we actually appear to be unpacked, that is until you open the door to the garage...So we will continue to find a home for the things in the garage one box at a time and actually wait for a warmer day to be out there organizing the rest of it. We still need to bring the dogs from my parents house as we are still trying to find the best place to house them but I am sure they aren't too upset as they are being spoiled by my mom. The girls had a nice week at their new schools and after a couple of days next week they will be on Christmas break.
I have lots of pictures to share from the month of December since I have been too busy to post them before now.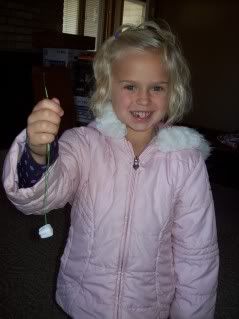 Jaidyn continues to loose a couple more teeth this month and now her two front teeth are extremely loose, so it has been quite fun to tease her with the "All I want for Christmas is my Two Front Teeth" song. She is well on her way towards a toothless grin!!
The girls were able to sing in the Preschool/Kindergarten music Christmas program at their school before we left. They were center front on the risers and I must say we were all quite impressed with their stage presence. They were extremely animated on the song actions and Jaidyn even had a 2 line speaking part that she was thrilled to get to do. I would have crawled in a hole growing up (and to this day would still hate it) if I would have had a speaking part.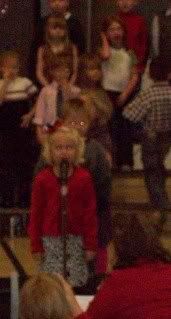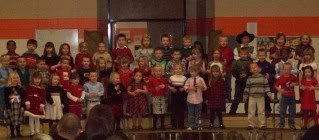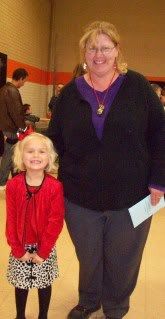 Jaidyn and her Kindergarten teacher. Both Addy and Jaidyn had wonderful teachers at their school in Richland. We can't be more pleased with the experiences that they encountered while at the school for a short 5 months.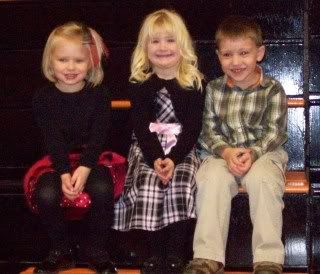 Addy and two of her preschool buddies.
She's Six!! On December 3rd, Jaidyn celebrated her 6th birthday. The day was bittersweet as it was also her last day at her old school. She opened her presents before school while waiting for Papa to make her waffles for breakfast. Wes made a quick morning run to pick up the donuts I had ordered for her to take for her class to enjoy at snack time that day. Jaidyn's teacher also made it a very special day for her letting her eat lunch with her and giving her a birthday gift.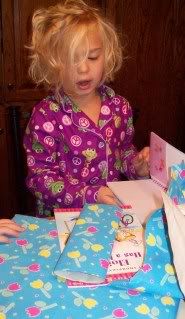 Lots of fun stuff to open...pillow pet, art set, electronic bank, Teacup Piggies Goldie, books, an American Girl gift certificate and a doll outfit.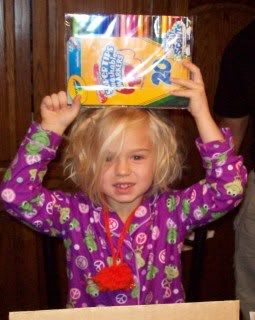 An art set from Aunt Charlene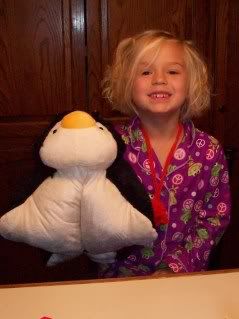 A Penguin Pillow Pet from Grandma Penny.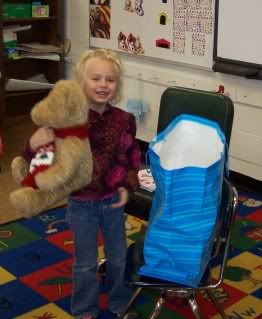 A big plush bear, chapstick, and bracelets from her Kindergarten Teacher, Ms. Beth.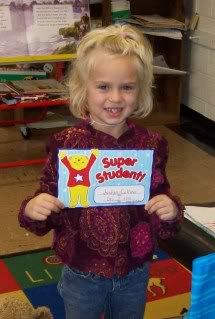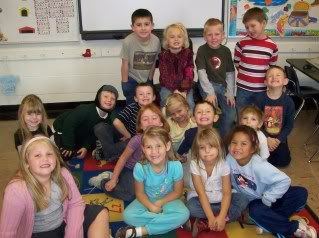 Kindergarten Classmates
Acting normal!!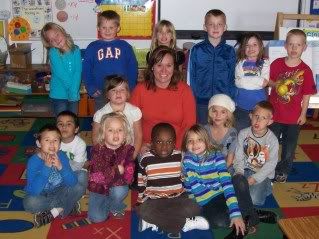 Jaidyn with the Kindergarten class next door.
Jaidyn with the Kindergarten teacher next door (And her son was her boyfriend...or at least the boyfriend of that week).
Nana got Jaidyn a yummy chocolate ice cream cake which we decided to dig in to before dinner time.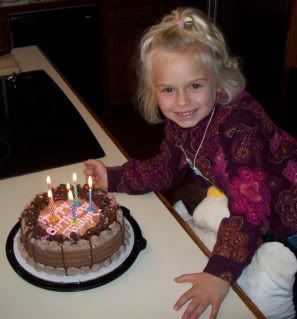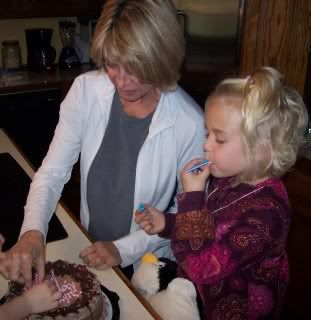 Caught in the act...licking the bottoms of the candles.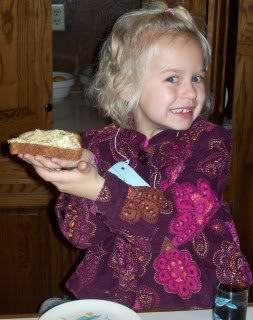 Jaidyn picked Tuna as her birthday dinner...who picks Tuna as their birthday dinner?? Let alone what 6 year old picks Tuna. Blech!
To give Wes and I a day to work at the house along with my Dad and Wes's Dad, Nana took the kids to an elementary school fundraiser "Breakfast with Santa".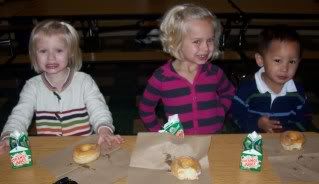 After waiting in a long line to get a breakfast of sausage and pancakes, the kids decided all they really wanted was a donut.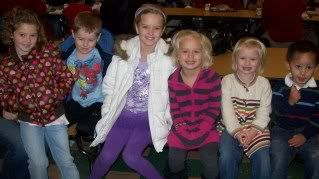 Hanging out with the Hough kiddo clan.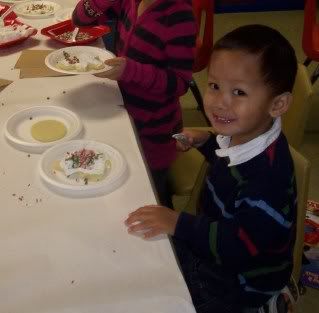 I'm not sure how much cookie decorating Levi did as I am sure he was way more interested in the eating of the cookie.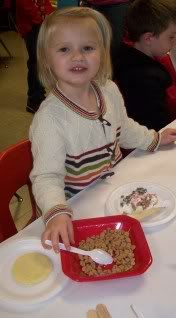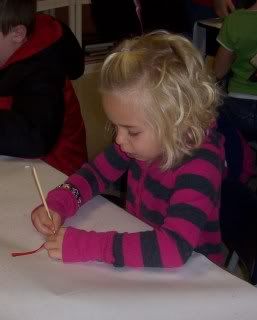 Ornament making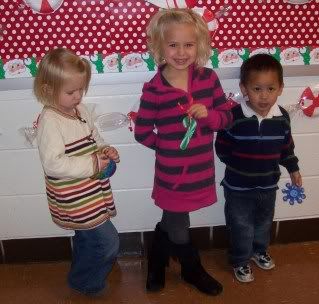 By this time, Addy was in one of her moods...can you tell?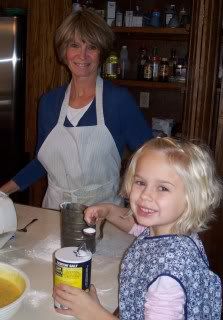 Jaidyn baking banana chocolate chip muffins with Nana so we would all have something to grab and eat on moving day morning.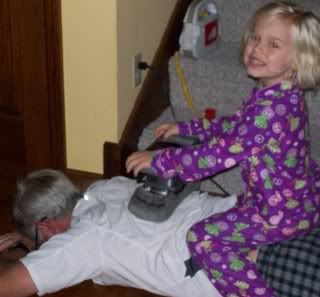 Papa is getting pampered as Jaidyn was so generous in giving out her massage services. I even got a couple. Although, I think she had an alternative motive as she was also wanting to collect some funds to put in her electronic bank.
And thanks to Lauretta and Haley, we have a Christmas tree up in our house. It is nice sight to be able to see a sparkling Christmas tree set up as I really didn't know when I would get it done.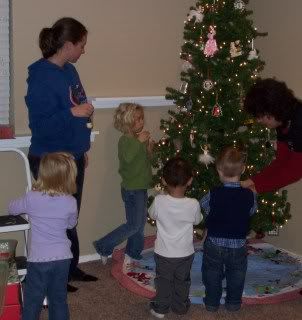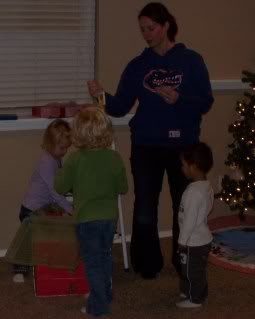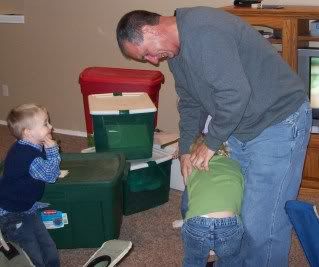 Jaidyn must have been pestering Papa J.R. as he has her in a head-lock.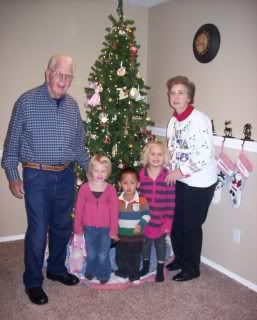 This past week Wes's Grandparents stopped by to see the new house and the kids on their way to Texas for the winter.
I'll try to have some pictures of the house in the next post as I have had several people asking when I was going to get around to do it...someday soon, I hope. :)