Our big 9 lb. 4 oz. Blizzard Baby Boy made his way into this world on February 1st at 3:15 PM. Reid's weight would definitely help explain the many leg cramps, back aches and heart burn that I experienced the past few months. His name from Will (as it was planned to be for probably the last 6 months) to Reid was a last minute switch as the epidural drugs made me cave in to the name Wes wanted. We managed to make it to the hospital early in the morning before the big snow and winds and only encountered sleet covered roads along the way. The National Weather Service had headlines out stating that the Ozarks were possibly going to experience the worst blizzard conditions since 1912. Our doctor who hasn't missed a day due to weather since the big snow in 1978 (year I was born) was a trooper as he made it about mid morning to the hospital for the delivery. Due to the weather, Papa J.R. was our only visitor for the day and the others stayed back with the kids as we didn't want anyone out traveling in the dangerous conditions.
Reid is doing well but unfortunately has his days and nights switched. I was able to get 2 hours of sleep this morning from 5 to 7. He felt the need to be up all of the other hours wanting to eat mainly. And I think is already so spoiled that every time I had him sleeping and would put him down in his crib he would immediately wake up and start crying. As long as I hold him he snuggles right up and goes right back to sleep. It is a little before noon and he has been sleeping soundly for about 2 hours now so I am sure I am up for another long night tonight. We had an early morning doctor's appointment this morning to monitor his jaundice level and unfortunately his billi number almost doubled, so we have a lighted blanket that is supposed to be delivered to our house sometime soon to hopefully bring that number back down in the next 24 hours. Since he is a good eater, they feel that he should recover quickly.
The kids giving their soon-to-be brother hugs and kisses the night before his debut.
The view from a window in the hall down from my delivery room. I didn't get to see any part of the blizzard since I was confined to a bed all day in a non-window delivery room and my recovery room had a window with only a roof top view and it was already dark at that point.
As the doctor delivered him, he says "Well, I think you can take back any Preemie/Newborn clothes." 9 lbs. 4 oz.
Reid has lots of proud siblings and grandparents and of course a very proud dad!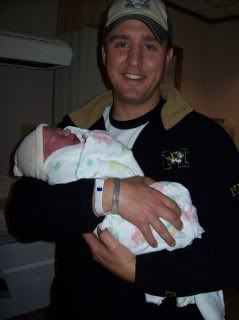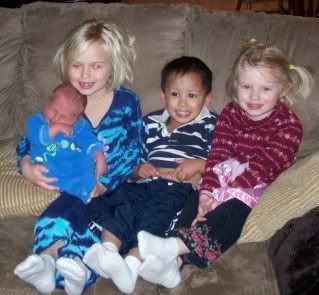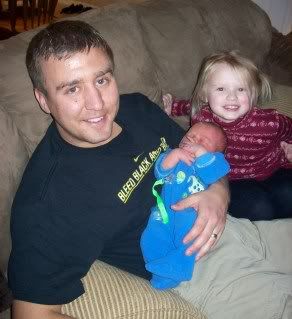 Thank you to Papa, Nana and Grandma Penny for keeping the kids for a good three days. The kids thoroughly enjoyed it! And to Papa for shoveling our driveway and deck. In the bitter temps, I am sure that was quite the task. We appreciate all the well wishes and congratulatory emails and postings on facebook. I am sure I will have some more pictures to share very soon!