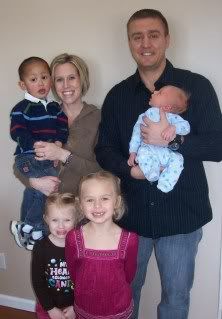 Has it really already been 2 weeks? With the sleepless nights, the days have really seem to run together. Could this also be why I forgot to send Addy's Valentine's box and Valentine's with her to her party on Monday? I remembered to send the paper ware for her party, but missed the teacher gifts and "Love Bug" box sitting on top of the refrigerator (to keep Levi from it)that she had worked so hard in making a few days prior. Poor Addy was devastated when she walked in to her class and saw everyone else's box and had to decorate a paper sack. Thankfully, I did notice it about an hour in to her preschool class and did get it delivered to her classroom before the party. I'm hoping that this is not a normal occurring theme for a mom with 4 little ones. Oh, help me now!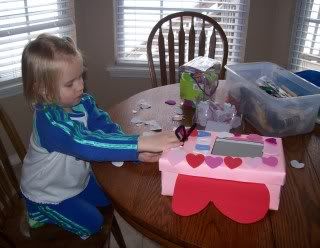 Yea! The snow is finally almost melted away. And I am loving the warming weather in the forecast. Jaidyn did make the most of the snow while it was here.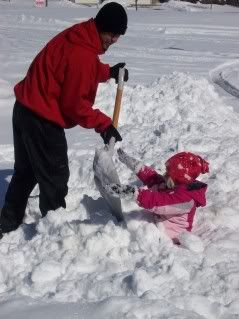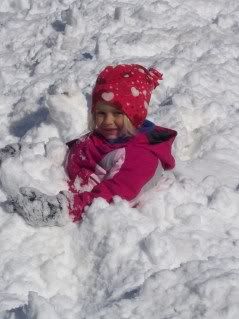 I LOVE my mom! Last week she spent a good three days with us basically just being Cinderella. The laundry was always folded, the dishes were put away, school books were read and of course Reid was really spoiled as every time he would even mutter a little cry she was there to pick him up. And she ran all of the errands so I never had to get out in the icky snow any of those days.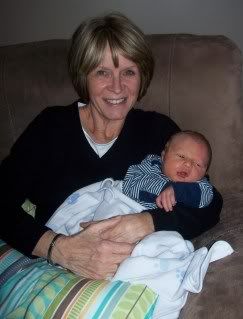 We ventured out for the Super Bowl to one of Wes's coworkers house. This was Reid's first official night out. I was a little worried about having to take 4 kids to someone else's house, but as you can see in the picture, they fit right in. And truly our kids were entertained by all of the older kids and I barely saw them while I was there.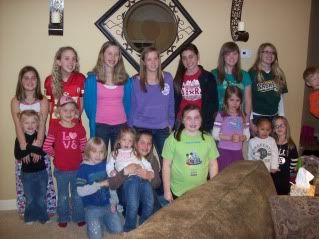 One of my best friends, Lesley and her kids made the trip to see us. It was so nice to just sit around and catch up. I wish we were able to get together more often, but between her kids activities and ours, even when we lived closer, it just didn't happen much.
And Addy tells us that she is going to marry Kory...I'm not sure that he is on board though. :)
Jared & Carrie gave up a Friday night and brought over pizza to get to meet little Reid.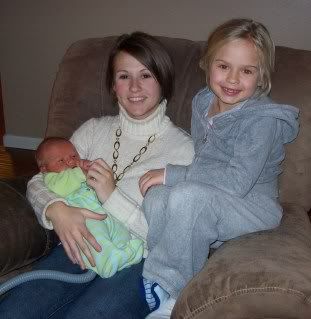 Jill, Ryan & Connor spent last weekend with us. I am so glad they made the 4 hour trip.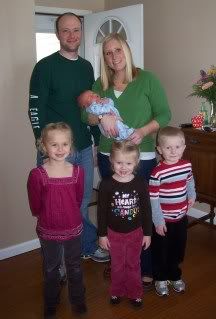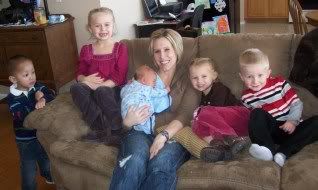 The kids are just loving little Reid. Addy goes on and on about how handsome he is. Jaidyn is truly a little mother hen. Levi likes to sit in my lap when I am holding him and gives him kisses.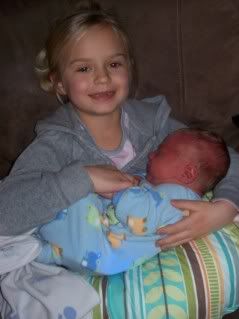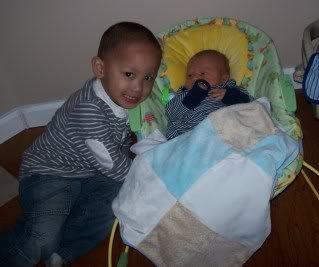 Just this morning, Jaidyn was reading a book that she picked out at the school book fair last night to Reid.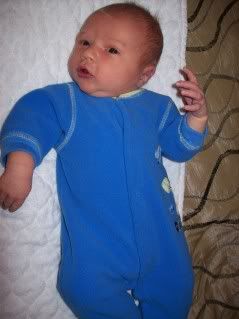 Yep, I would have to agree with Addy, He sure is handsome! I love this little guy! It has only been two weeks and we already can't imagine our lives without him.
This past weekend we were all able to meet up to give my parent's their 60th birthday (coming up in March) getaway. I think they knew something was up because of us all wanting to meet, it just wasn't an engagement or elopement of one of my two siblings as they had maybe thought. Lol!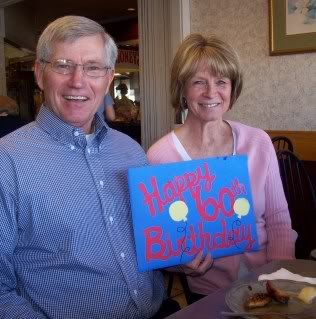 (Yea Dad! You have your eyes open!)
(Dad, two pictures in one day with eyes open...Your're making progress!)
Thank you to everyone who sent the kids Valentine's. They love getting mail and loved all of their special treats and surprises. Thank you Lauretta for dropping off the Lasagna meal. It was a perfect meal for Valentine's Day. I didn't have to drag the kids out to eat and I didn't have to cook. And you know it was a success as even Addy ate it and liked it.