My heart continues to weigh heavy over the last few days as I continue to watch the devastation that the tsunami and earthquakes have brought to the people of Japan. I can't even begin to imagine the horror and the depths of sadness that so many people are experiencing right now. It's very difficult to sit back, watch and do nothing especially since at this moment I am sitting in the comfort of my warm home, with a stocked refrigerator with all my kids taking a cozy afternoon nap. The devastation photos are simply unimaginable, but the vivid pictures and reports from the news media such as these have really hit close to home...seeing so many mothers and fathers lucky enough to have survived the disasters, but yet now are faced with how to keep themselves and their children alive all while not knowing what obstacles the future might continue to bring.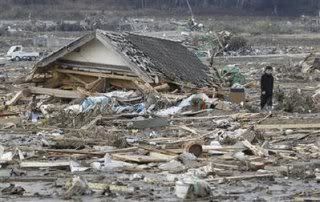 A child standing in the ruble of his home.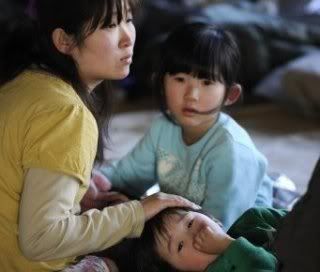 A mother comforting her children in an evacuation center.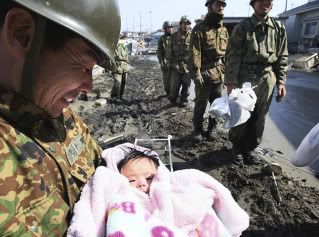 A rescued 4 month old baby girl.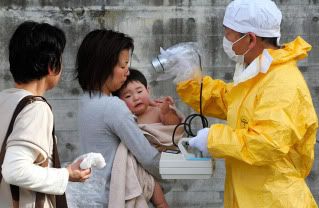 A mother bringing her child in to be tested for radiation exposure.
And it seems that right now the greatest need is monetary contributions so that organizations can begin to begin to distribute aid in the most cost efficient way possible. Wes and I are going to donate $1 to
Convoy Of Hope
(up to $100) for every comment received on this blog post from now until Sunday, March 20th. Deployed Convoy of Hope disaster responders are staging initial relief efforts from Manila, Philippines. Convoy of Hope will focus on getting water, food and emergency supplies to people in desperate need in the devastated areas. So please bloggy friends and family, even if it just to say hello or to tell how you are getting involved in the relief, leave us a comment as every little bit helps.
And besides PRAYER and lots of it, as it can make a huge difference, please consider giving.

The American Red Cross
: You can make a donation on line. Or, you can simply text REDCROSS to 90999 and instantly donate $10 to the Japanese relief efforts.
The Salvation Army
: You can also donate on-line here as well. You can also text JAPAN or QUAKE to 80888 and make an instant donation.
Samaritan's Purse
: They have a wonderful biblical message and low overhead costs. This is the organization that sponsors the Operation Christmas Child Shoeboxes that our family participates in each year.