Not too much excitement going on at the Collins' House the past few weeks. The cold weather has kept us indoors for the most part, but when Reid allows it(when he thinks he has had enough to eat for an hour or so), it has also allowed me to spring clean the all the closets in preparation of bringing out all of the spring and summer clothing. I'm leaving just enough winter clothing in their closets to get us through a couple more weeks. Hopefully, spring weather will be here to stay very soon! Once Jaidyn gets home from school today, the kids are all officially on spring break. Yea! I am sure the week will fly by with the activities we already have planned...science day at community center, soccer practice, trip to Lebanon, a visit from Grandma Penny and we really need to get a jump on cleaning out the flower beds and our garage.
Addy and Levi working hard on creating their Musketeer Masks.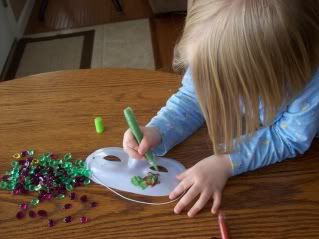 Reid taking a short snooze with a paci. This is one of the few times that he has actually accepted a pacifier. He isn't a fussy baby, but sometimes I wish he would just take one more often to keep from wanting to eat. Half the time he just falls asleep eating and I think it is because the sucking is soothing to him.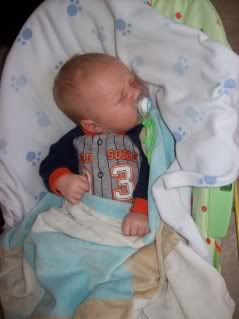 Handy Levi! Levi put on his tool belt while watching Handy Manny this morning. Hopefully Levi will develop some handy skills from either his Papa J.R. or Papa Dave...it won't be coming from his dad.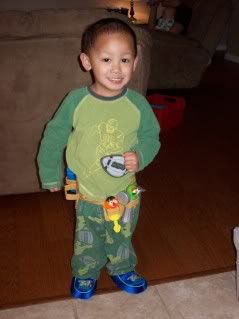 The past 3 nights Reid has slept for at least 4 to 6 hours at one time. It has been WONDERFUL! I remember reading somewhere that it takes 16 to 21 times of repeating a task to make it a habit. So we still have many more nights to go in hopes of making this sleep pattern a behavior. Fingers crossed!