I honestly can't remember what the beginning of the month of March was like, but I'm thinking there was some nice weather so as the saying goes, March came in like a lamb. And for me the end of March went out like a Lion. Last Wednesday, Wes took our black lab Jacy (named after our initials of Jenny and James Collins, JC) of 9 years to the vet as he had almost quit eating with the exception of some canned dog food and the peanut butter sandwich that I would make him the last week or so because he has always loved peanut butter. In a matter of a couple short weeks he had become almost skeletal. While I knew in my heart, the outcome at the appointment wouldn't be good, I never imagined that me giving him his peanut butter sandwich earlier that day would be the last that I would see him. At the same time as the vet appointment I had to take Jaidyn to the doctor's office as the school nurse called earlier in the day to tell me her throat was hurting her and that strep throat was going around. She did have it and thankfully we were able to get her on medication quickly to ease her pain and keep the rest of our kids from getting it. I called Wes shortly after leaving the office to check on Jacy's appointment...only to find out that Jacy had Lymphoma and that he was past the stage to where treatment could be done and that he was suffering. Wes had given the vet permission to put him down and just left him there. What??? I know Wes made the right decision in letting him be put down because he was in pain and there was no chance of recovery, but I am still hurt by the fact that it never crossed his mind that I would want to be there or have the opportunity to say goodbye. When he knew that I wanted to be there, he immediately called the vet office back and I was speeding through side roads to get there, but as I reached the parking lot, he called me to tell me that it had already been done as soon as they left. I was too late. Over the last 9 years, Jacy has been my loyal companion...sleeping with me (before we had kids) while Wes was away, my walking/running partner, and he was great with our kids even when Addy would try and ride him like a pony. While I admit he wasn't the smartest dog in the world (thought that yards didn't have boundaries) and had to keep tied up because of it, he was genuinely a very nice, laid back big black lab mix. I just feel so guilty for not being there for him and there just isn't closure for me. The last few mornings heading down the basement to work out were tough as he wasn't there in his crate reminding me to let him out to go to the bathroom. On Saturday morning, while walking back from a neighbors garage sale, Addy out of the blue said, "I miss Jacy." Me too, Addy. "He is living now with Jesus and with Grandma Plassmeyer. I just really, really miss them." Yes Addy and I am sure Grandma loves having him around. Ha!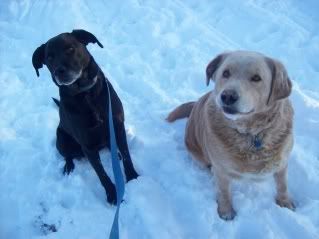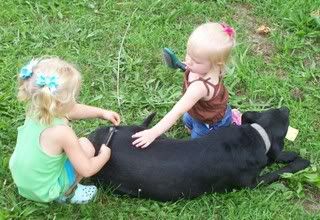 And on to more positive notes...
- My dad and mom both turned 60 during the month of March. And Wes's dad is still hanging on to the 50's for one more year. Happy, Happy Birthday!
- Potty training is going well. After 2 days of being completely unsuccessful in my attempts to get Levi to use the potty and several laundry loads of wet big boy underwear, Levi went yesterday without having one single accident and even came inside on several occasions to tell me he needed to go. He even told me during the middle of church this morning that he needed to go. Yea, Levi!!
Levi hanging out in his big boy undies!
- Jaidyn and Addy had a stellar soccer game on Saturday. Jaidyn scored 3 of the teams 6 goals. Addy had an opportunity to score as she dribbled it all the way down the field only to stop right in front of the goal to let her trailing sister try and kick it in for her. Silly girl! We were so proud of Addy as the prior game she was more in to the dog on the sideline that someone brought along and anytime on the field that she got knocked down she just liked to lay there and hang out for awhile. This time she would hop right back up and then turn and give us a thumbs up before chasing the ball down again.
- Reid continues to grow like a weed or should I say the Michellan Man. At his 2 month appointment he was 24 inches and weighed a whopping 15 1/2 lbs. He put on a show at his appointment as he cooed and babbled while hanging out in his diaper showing off all his rolls. However, the cooing stopped once he had to have his shots. Three separate sticks...they really need to come up with a way to combine all of these in to one.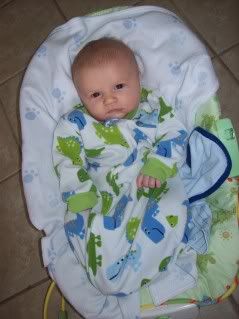 We put shoes on Reid for the first time today before going to church. Wes could barely get the velcro to reach across. Good thing it will be summer soon. I'm thinking he would much rather be barefoot than have his feet squished in shoes.
- Grandpa Rex & Grandma JoAnna stopped by to see the kids on their way back from Texas. And they took them out for icecream at McDonald's to help celebrate Levi's potty accomplishments.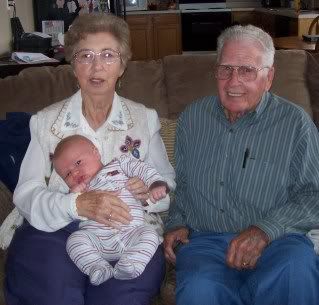 - I was able to have a girls dinner out with my mom and some friends enjoying good Mexican food and margaritas. I took Reid with me and he may have met his future girlfriend. She wasn't shy in shelling out kisses to him.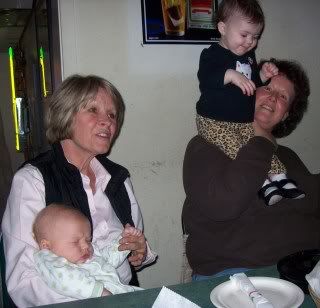 - During this month Levi will start playing tball. Wes has been out in the yard working with him a little. He has quite the arm...if only his aim was as good. :)