After church, Wes and I had good motivation to hurry and get the house cleaned so that we could enjoy a nice spring afternoon at Hammons Field for a baseball game. We made the kids play outside with the exception of letting them come in only to use the bathroom so that we could get the floors mopped and bathrooms cleaned. And after finally getting it all clean it only further motivated me to cash in on my Christmas present from Wes...hiring someone to clean a couple of times a month. I have someone coming on Friday to interview and give us a bid. I'm really hoping it works out.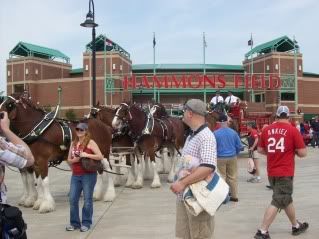 The Clydesdale horses were in town. Jaidyn took lots of pictures with her camera of them parading around the field before the game started.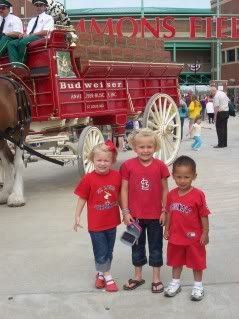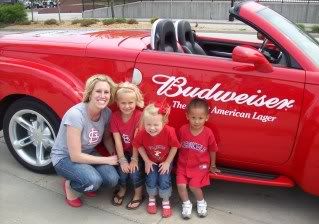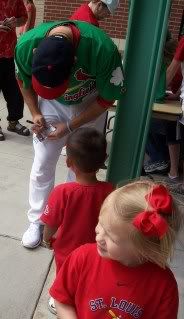 Levi getting his ticket signed by one of the players. Maybe Levi will keep the ticket and someday this player make may it to the big leagues.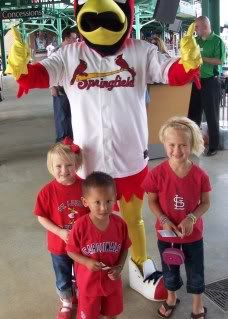 The kids with Louie The Cardinal. I gave Wes the camera for just this one picture and Louie's head gets cut off. :)Later in the game we were taking the elevator up to another level and Louie gets on the elevator with us. The kids were completely silent and just stared at him...kind of an odd elevator ride.
We almost always buy general admission tickets and bring our own blanket and sit out in the outfield. It is so much easier with the kids this way. And I don't have to worry about one of the kids spilling their drink down the back of the person sitting in front of us. Yes, this did happen a couple of years ago and he was wearing silk...who wears a silk shirt to a ballgame? :)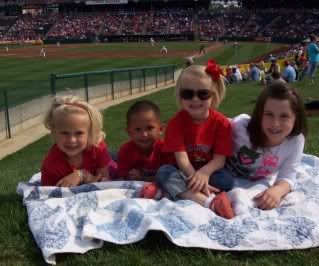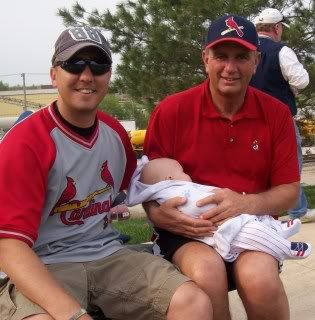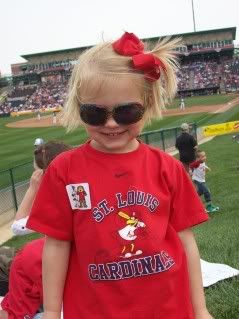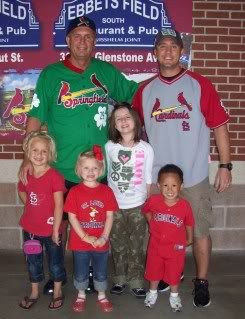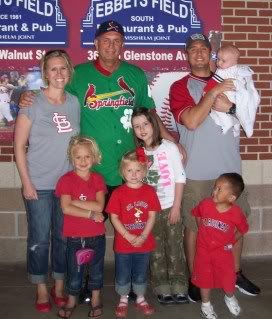 Papa J.R. was the high bidder on one of the special St. Patrick's Day jerseys that were auctioned off for charity during the game. We were so glad that Papa J.R. and our niece Haven were able to spend the afternoon with us.
Jaidyn brought me this "card" home from school. She said she made it during her center time. So sweet! It is definitely one that I will keep.
Mother's Day Card
Mom you rock. Mom you roll. I love you. You are 32 years old. You like blue. You like J for Jenny. For Mother's Day I will take you shopping.
Reid looks forward to seeing Jaidyn when she gets home from school.
Jaidyn had her Easter Egg hunt at school yesterday. Isn't her milk carton Easter Bunny basket the cutest? I can't imagine how long it took for her teacher to cut out the shape and make the faces for 21 baskets. Her teacher is so creative. Super cute!