Oh my, when will it slow down? As I look ahead to the coming weeks it seems that each day in my navy blue purse sized planner (I'd be lost without it) continue to have tiny little scribbles filling up the lines...Christmas play rehearsal, Snack for Levi's Preschool Class, Letter H for Show and Tell, Reid's Neurosurgery Follow Up Appointment, Packet Pick-up for Turkey Trot 5K, Jaidyn in Christmas Parade and it goes on and on. And those are just the things that I write down...nevermind the 4:45am runs that I have been getting in on with a local running group, the menu planning and grocery list complete with a thorough search through the sale ads and coupons, the many loads of laundry, and once again that list goes on and on. Thank God for Wes as he just helps make the morning times and the evening times when he is home go nicely. He has become quite good at getting those lunches packed for our picky eaters and getting all the kids their breakfast and reminding them to brush their teeth (yes, they would manage to sneak out of the house without doing so if we didn't remind them).
A little over a week ago I was able to check off a huge project off my list that I had devoted a lot of time to in the last month. Because I opened my mouth (note to self, keep all fundraising ideas to myself from now on, :))I was a co-coordinator for the 1st Annual Running On Faith 5K & 1 Mile Fun Run that the St. Anne's Guild of our church put on to raise money for our chosen charity (Tornado Relief Efforts of the Joplin Catholic Schools) and funds so that our group is able to meet our building fund pledge. While I am so glad it is over, I really enjoyed the actual day of the event and was thrilled with the participation we had considering it was our first event with other competition in the surrounding areas doing the same type of activity. It also feels great to be able to be part of a project that will benefit many people in so many ways. And the best part was that so many of my family members came out and supported us.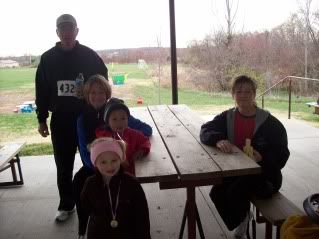 Papa, Nana, Grandma Penny, Jared and Carrie did the 1 Mile Walk with the kids.
Jared and Carrie after a Strong finish in the 1 Mile Fun Run (or in their case WALK).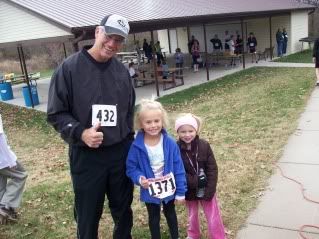 Thumbs up to Jaidyn! At age 6, she ran a 32:03 5K and received a 3rd place medal in the 12 and under age group.
Co-Coordinators for the Running On Faith 5K!
As soon as we were able to get out of town after the race we enjoyed a nice weekend in Branson with Grandma Penny...great dinners, The Christmas Story Musical at the Sight and Sound Theater and a self guided tour through the Titanic Museum.
Reid continues to hit all those great baby milestones! He is currently teething and combine that with a nasty cold and it makes for a constant runny nose. Poor guy!
Ray is quite protective of him and find a seat right next to him when we are outside.
He has a booty scoot down with one leg in front and one in crawling position and he seems quite content with this as it gets him where he wants to go.
He is constantly moving to destroy Levi's latest creation whether be Lego's, Train Tracks or Cars, so we have moved Levi's play area to up on top the high top kitchen table.
Addy came home after school one day last week and gave her best efforts in building a blanket fort, but gave up and decided a nap would better suit her.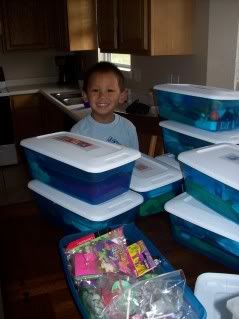 Last week was the Operation Christmas Child Shoebox Drive so Levi and I finished packing up all the boxes and were able to deliver them to nearest distribution center. All of our boxes will be shipped to one of the big distribution centers in Orange County California and then could possibly be sent to the Philippines as we received a map and the Philippines was on it as one of the countries that will be receiving boxes from this particular distribution headquarters.
Ack! I just looked at the time and I need to get Reid changed and Levi a snack before running out the door to attend Addy's Kindergarten Feast. Happy Thanksgiving to All!