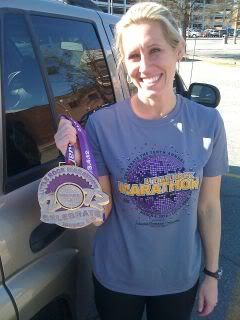 Mind over matter and Heart! Sunday morning standing huddled amongst hundreds awaiting the start of the Little Rock Marathon & Half Marathon (my very first marathon) my heart fluttered with both nervousness and excitement. Through the course of the last several months, I slid out from underneath the cozy flannel sheets almost daily to endure cold early morning runs with many of them completed before my family awoke. I put up with the constant tiredness from early runs, late night/early morning feedings nursing the baby, and the normal fatigue of a mother with four kids. Yes, four young kids and my tired state truly began to feel normal. I mean, who truly gets 7-8 hours of sleep anyways?? Initially inspired to get back in to running to help lose the baby weight as the third time around has seemed much harder, I joined a local running group and it didn't take long before I drank the "kool-aid" and signed up to run my first marathon. As I stood there nervously checking my shoelaces to be double knotted, making sure my Garmin was set & ready, evaluating my bathroom situation even though it was too late by this point (I had already went 2x before leaving the hotel and had already joined the crowd in line for the porta-potties) I still felt calm and I was confident from my various training runs of hills, challenging paces, and group support that I would finish. Mind over matter first and I knew once my mind became blurry from fatigue and hurt, my heart would keep pushing me to the end. And even know I had the main goal of just finishing as I couldn't think of any outcome worse than not, I still had a bigger goal...a time goal. I can't help myself as I have a written list of mini goals written almost daily sitting on my desk waiting for me to tackle. I have a marathoner sister whom I so desire to be comparable to. And so because of this pressure I put on myself, I had pace times written in 5 mile intervals on my inner forearm that would put me under four hours. The Little Rock Marathon is as wonderfully entertaining as I had been told and imagined. Bands and music were set up at least every mile. Thousands of spectators including businesses, church congregations, and students from local schools lined the race course cheering and holding up encouraging signs. They were there to hand out dixie cups of water, Gatorade and little snacks. My favorite were the orange wedges, MMmmm! My first "oh-shit" moment was when one of the group "fasties" came running up beside me about mile 8 from behind. I looked down at my watch in a panic now aware that I had taken out faster than planned, as there is no way she should be behind me. However, as quick as she dropped beside me she was off in to the crowd ahead. I continued to plug away mile by mile and the first half was truly enjoyable just taking the experience all in. The long, never ending hill that came with mile 14 also brought about a truly humbling moment. Just as I my quads were starting to scream and I start cussing the hill I look up to see a wheel chair athlete at a complete stop half way up the hill, just giving her arms a break from the climb and with that I felt relieved that while my legs hurt I was still blessed to have them underneath me to carry me to the top. And what goes up must come down (or at least as a runner you hope) and while much of mile 16 was downhill another "oh-shit" moment occurred as I was trying not to wince in pain from the steep decline. Normally a decline means cruise control and I take it on graciously, but in this mile I was already starting to feel some discomfort and tightness in my knees and it almost hurt as bad as the incline a couple miles before. An almost 6 mile portion of the course (miles 18-24) were an out and back type design. This was my least favorite part of the run and maybe because I hit my WALL about mile 22. This was also the point that the 3:55 pace group passed me and even though they encouraged me to hang with them, it seemed as I just stood there as the green flags they were holding seemed to disappear within a matter of seconds. Again, when I was at what felt like my lowest point I was given another humbling moment...across the way just in to mile 19 was a male athlete running on a prostetic leg. And I also saw our group leader across the way looking over at me with some peppy encouragement, but I also envisioned her standing in front of me telling me to "SUCK IT UP" (one of her favorite phrases). And I did, I did just that...I sucked it up and with another running group member joining me, we pushed ourselves to accomplish something we both had never done before! We climbed mile 25's killer hill and with each painful stride we inched closer to the finish line and eventually crossed it. I knew my favorite color of blue was for a reason as those blue timing mats lying on the ground under the finish arch couldn't have looked more appealing. I crossed the line finishing at goal pace and even though several bets were made that finishing my first marathon would be an emotional experience it wasn't until another running group member finished, yelled my name and ran to give me a big hug that the tears fell. The physical exhaustion along with the emotional feelings of completing something that I had committed so much time to over the past few months was more than I could keep in to myself.
Along with just good ol' pride I also have a huge "almost gaudy" marathon medal (that I plan to hang around Wes's deer mount when he gets it), several blood blistered toes (that need to heal quick so I can wear some flip flops), and super sore legs that make me cringe at the thought of taking any stairs. On several occasions, I have been tempted to use the belly sliding technique to tackle the stairs like we teach the kids before they learn to safely walk down them. And one of my favorite post race moments...Levi goes back and forth eying both my extremely large medal and Wes's nice medium sized medal, and then asks "Mommy, how come you can run faster than Daddy??" I love it and instead of trying to explain to him the difference of the race distances, I think I will let him think just that! :)
I have already been asked several times, "Will you want to do another one?" I have decided that motherhood is a marathon, my life is a constant marathon and so I quite frankly feel that I do one on a weekly basis. But completing another marathon consisting of running 26.2 miles consecutively...Hmmm, Maybe! :)
Wes also drank the "kool-aid" and ran his very first half marathon in Little Rock. He had a fantastic run and enjoyed it so much that on Monday morning he registered for his first marathon in April. I am so proud of him and his accomplishment as it took a team effort for us both to be able to commit to our training runs. I loved that we were both able to spend the weekend together and while we LOVE our kids it was the first weekend away for the two of us in a really long time. Maybe Wes will write a little on his half marathon experience...
Saturday carb load lunch at Roma's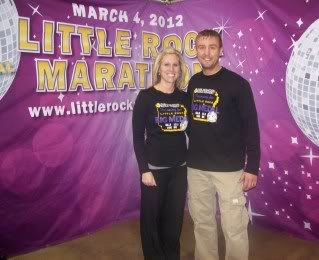 Wes & I at the Expo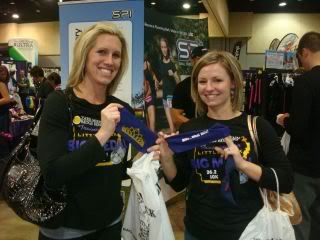 Showing off our newly purchased bondi band head bands. Mine is fitting because the running group calls me "Princess". Still not exactly sure why...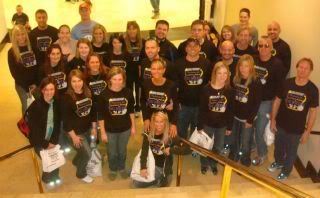 A nice participation from two local running groups.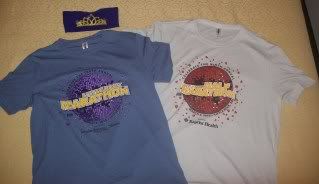 Race shirts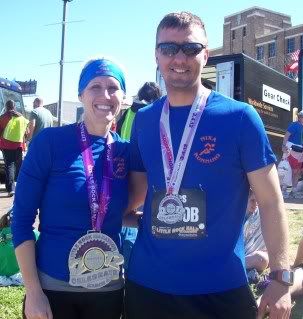 Wes & I after our races...it really hurt for me to stand for this picture.
Wes & one of our training buddies. She is a hill monster so anytime either of us run with her we are sure to be chasing her up the hills.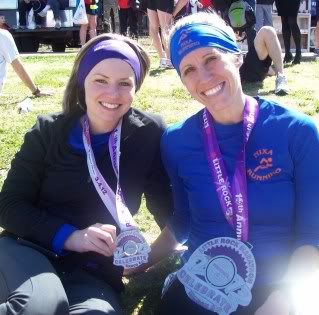 Just a few pics of this past weeks events...
Jaidyn participated in 80's/90's day at school. Before school, we helped get her in to character by playing some Vanilla Ice, MC Hammer and Cyndi Lauper. I was able to tease her curls to get some major poof. We used lots of hair spray but I would have loved to have had a can of Aqua Net to use. :)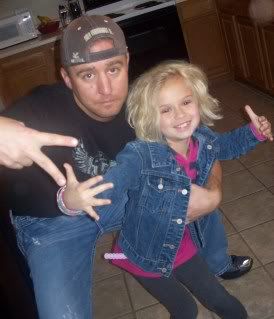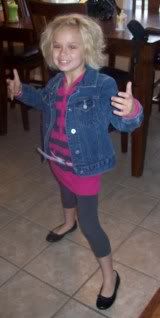 Levi joined in on the morning 80's dance party!!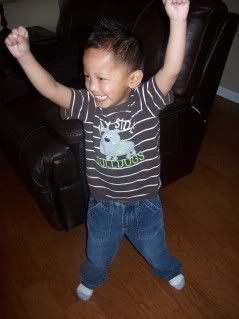 Addy celebrated the birthday of Dr. Suess by getting to wear pajamas, bringing a pillow and blanket and favorite books to school.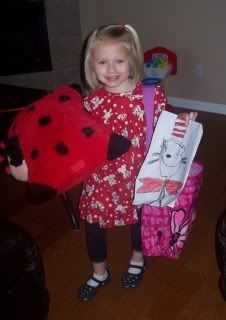 Levi completed his Hop-A-Thon at preschool this week completing 222 hops in two minutes. Thank you to those who helped him raise money for The Muscular Dystrophy Association.