Not sure if it is possible, but I am going to try and recap our entire spring break before Wes pulls tonight's dinner from the grill. Descriptions will be brief, but I think I can do it! :)For starters, the entire week's weather was simply perfect. I can't even remember a Missouri spring break that didn't consist of much chillier temperatures and if it was warm, most days seemed to be spoiled by rain.
The weekend leading in to spring break was spent in Booneville/Roachport with my mother in-law and my 3 sister in-laws. Two entire days away from my kids, how was I to survive? Or better said, how was Wes going to survive? Together, all of us girls enjoyed shopping some of the specialty shops in town, a winery, a concert at the casino, and a night out at the local bar (through some people watching we learned some new dance moves including a new way to do "the sprinkler"). We all had a really nice time and enjoyed each others company as normally when we get together our time is spent tending to our kids (and needy husbands, lol!).
We are attempting to look like Charlie's Angels.
Warning: Too much wine may lead to cliff jumping!!
We spent a couple of days early in the week at home and they were easily able to entertain themselves through the day riding their bikes, digging in the dirt, water gun fights with the neighborhood kids and pulling rollie pollies from the rocks. We spent several evenings after dinner practicing up on tball skills as we will be signing the kids up soon for summer tball and softball.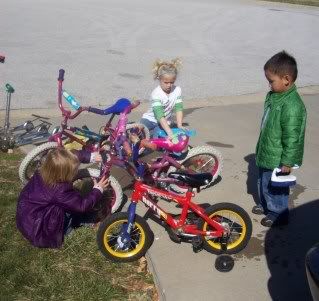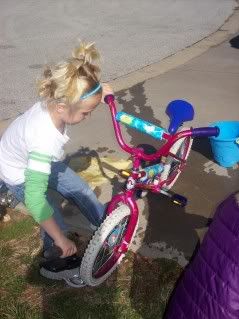 While I don't have any pictures, Jaidyn, Addy and Levi were treated to an afternoon at the circus with Lala and their Aunt and cousins. Levi's favorite were the motorcyclists zooming around in the giant ball and Jaidyn and Addy's favorite was the Ring Master who did daring tricks way up high in the air on a rotating bar.
Since Wes had to work, the kids and I spent the last couple of days of the week at Nana's.
She had a scavenger hunt prepared for them that sent them on a hunt to find the St. Patrick's day themed donuts and pinwheels. So glad that they were able to figure out all the clues as I really enjoyed getting a donut. :)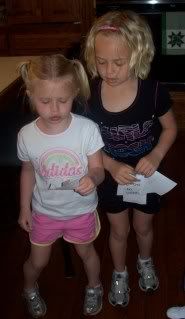 Don't worry, both Levi and Reid were removed from the Jacquzi tub before we turned the jets on producing a crazy bubble bath.
Hiking, biking, picnicking and fish feeding at Bennett Springs State Park!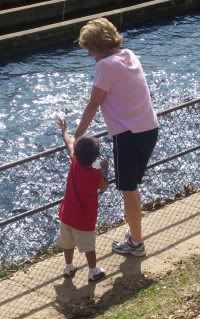 The kids and I have been listening to the Little House on the Prairie audio books so Nana brought out her Little House on The Prairie themed paper dolls for the kids to play with.
Saturday Shamrock Shuffle 5K & Little Lads and Lassie's Fun Run benefiting local foster kids.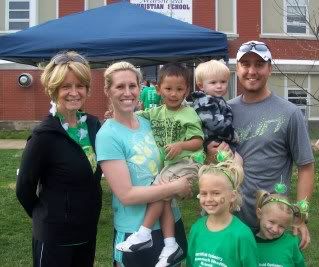 We had a great time dressing in green (Wes felt that the little bit of the green coloring on his shoes counted enough)for St. Patty's day and participating in the 5K running festivities. Many people from our running group participated so it fun hanging with friends. Both Wes, Jaidyn and I ran the 5K. Wes and I ran the event and crossed the finish line together receiving personal bests times for the 5K distance. Levi & Addy ran the short fun race and my mom pushed Reid in attempts to follow Levi & Addy, but they didn't seem to need any encouragement to cross the finish line in full speed.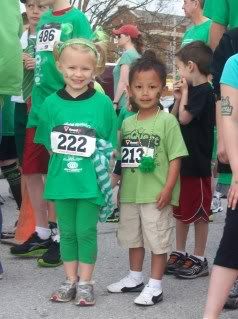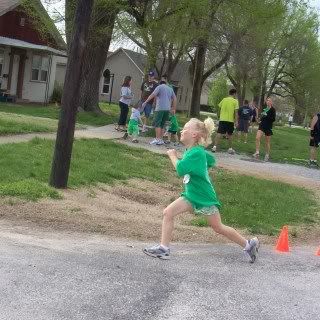 The afternoon was spent with lots of great friends celebrating a special girls first birthday! A rainbow theme was perfect tying both a first birthday and St. Patrick's Day together.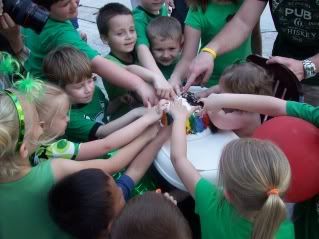 Back to the normal routine tonight...early bed times, book reading and practicing of sight words. :)