June is in the past and I forsee July being the same way...and in August I will be busy with my own back-to-school! Yes, I am going to be teaching junior high Physical Education and coaching jr. high Volleyball in the Fall. I'm still not sure how we will juggle it all and am sad that I won't get to spend long days at home with Reid (he will probably be glad as he is a Daddy's boy) but am looking forward to the change.
We are having so much fun with the kids and they continue to do some great things making us very proud of them.
Jaidyn attended a 3-day volleyball camp put on by the high school coaches and players. She came home with the "3rd Grade Camper of the Week" award and a baggie full of goodies.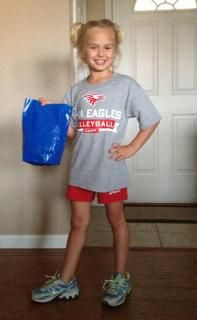 Addy is continuing to enjoy her new dance class and comes away from each class telling me how awesome it is (or rather how awesome she is). Ha!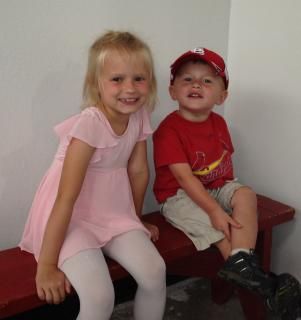 Levi enjoyed a "Wild West" summer camp at Wilson-Rutledge Farms with several of his buddies. And while it was a lot of driving for the week, the rest of the kids and I enjoyed hanging out with several other moms for some great playtime fun in the morning hours. Levi enjoyed riding one of the farm horses, but told me that they walked really SLLLOOOOW. He was a little disappointed that they didn't gallop with him on like he was anticipating.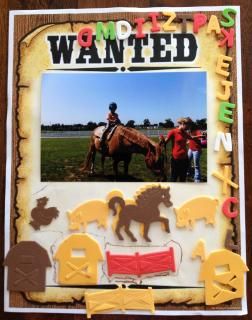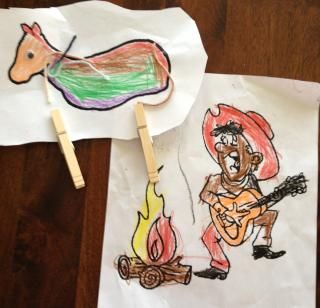 And Reid continues to push his siblings buttons most of the day whether it be destroying a newly built train track or whacking them in the back of the head with his plastic golf club. The golf club spends most of its day up on top of the refrigerator and out of his reach. However, we all can't stay mad at him for long...he's just too dang cute!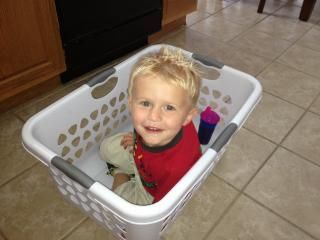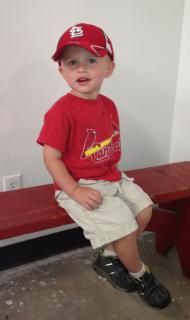 A couple of weeks ago we had very high straight line winds blow through while taking with it our two lone trees. Now the kids will no longer have a tree with branches low enough to swing from, a tree to sneak peeks at spring time baby birds and Ray has lost his front yard shade and will now probably resort to digging down deep in to the dirt of our front flower beds.
Addy and Levi had received movie theater gift cards from friends for the birthdays back in May and they used them to go and watch the long anticipated Monsters University.
We finally found a decent morning at the lake to get Jaidyn out on the water to test out her new skis. She made it up a couple of times for a few seconds but after many more attempts she decided to just ride out her time on the knee board. However, she is determined to figure it out before the summer's end.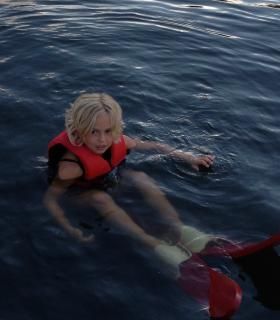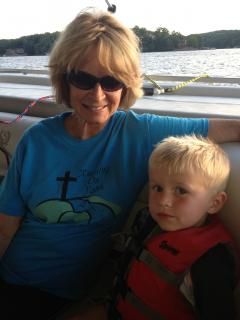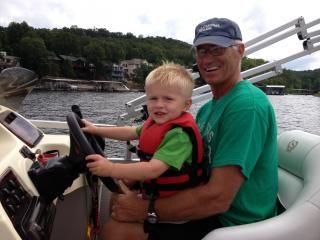 The 4th of July and the days surrounding it were low key and we stayed close to home, but nevertheless we enjoyed it to the fullest! Getting a new dishwasher (after washing a week of dishes by hand) was also part of that enjoyment! Taking in a Springfield Cardinals Game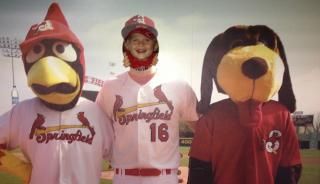 Enjoying hot days at the neighborhood pool
BBQ with Friends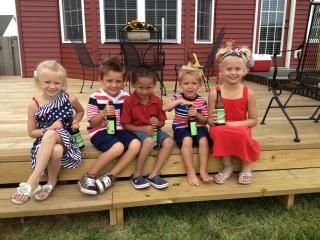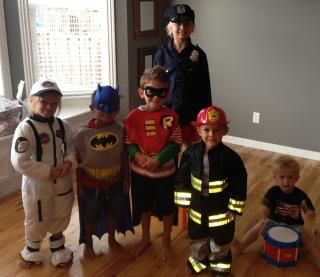 You'd think it was Halloween the way the kids were dressed!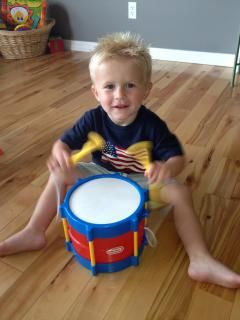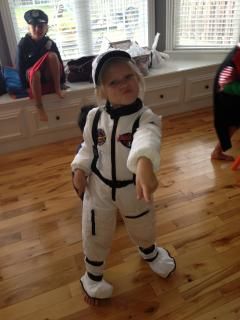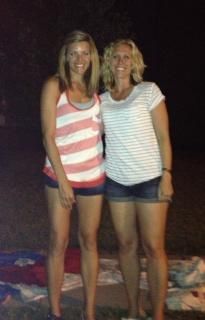 The kids had a blast setting off our big combined driveway firework purchases of $40 total and being up on a high hill in a neighborhood allowed us to see big fireworks miles away in several directions.
Super quiet around my house today! I wonder if Papa & Nana can say the same? They were already out bright and early this morning picking blueberries and if the weather cooperated were headed to the pool this afternoon. They (Papa & Nana) should sleep well tonight!