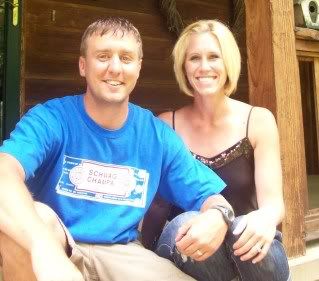 Another year older! Wes and I celebrated our 31st and 32nd birthdays this past weekend. We celebrated with the kids and Papa JR and Mama LaLa earlier in the week with a trip to Silver Dollar City and then to Pomme De Terre Lake. On Thursday, the kids and I celebrated my birthday with a best friend of mine and her kids by having a picnic and eating cake at the park and then going to the local aquatic center. Friday and Saturday were spent helping my mom with her yardsale. YOu know you are getting old when you agree to have a garage sale on your birthday. Crazy!! We had a birthday dinner of lasagna at my moms on Friday and then they kept the kids for us Saturday night so that we were able to go out and stay at the lake house and celebrate our birthdays and upcoming 8 year anniversary (Tuesday). A night to ourselves was so nice and was spent eating at a restaurant on the water, listening to a live band, and cruising the lake in the dark. We were so exhausted from the week, that I fell asleep around 11:00 watching SNL.
Silver Dollar City Pics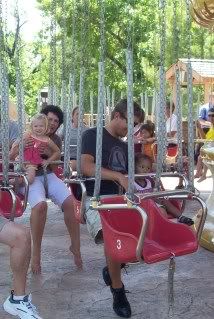 "Hi, Mom!"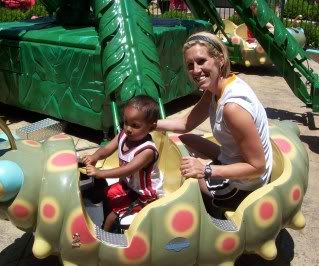 Just watching the circular, up & down motion of Carnival rides make me sick to my stomach, so I usually get out of riding them. However, Wes wasn't able to fit in the back of this cute little caterpillar and I didn't want to disappoint Levi as he had waited in a long line to ride it, so I took Wes's place.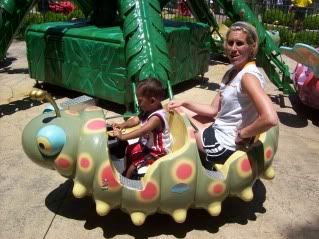 Yes, I wanted to barf!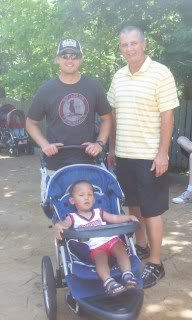 Taking advantage of the shady trees.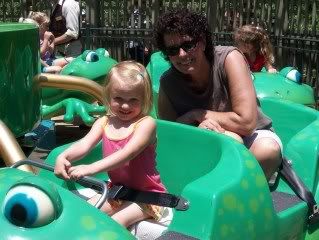 Addy & Mama Lala on the jumping frogs!!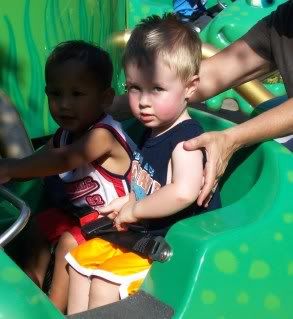 Can you tell by the look on "H" face that this ride was only going to go downhill?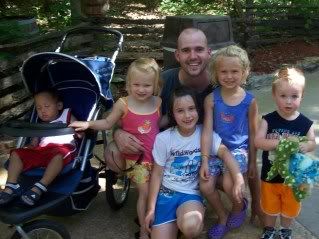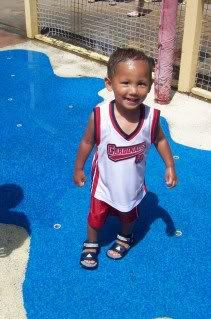 Park & Pool pics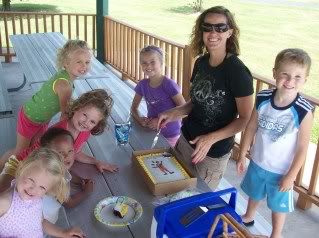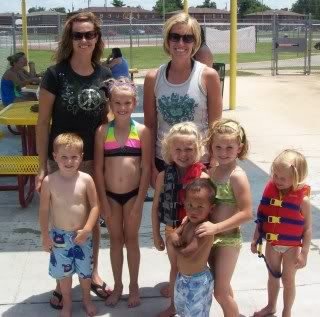 My actual birthday was spent helping my mom with a yardsale at her house. Fun times!! Papa set up a soda stand for Jaidyn and she was such a great little seller. She took it very seriously. She learned how to count out her dollars and was able to give back 2 quarters when someone gave her a dollar. I tried to get her to split the money up with Addy and Levi, but she wasn't having it since she said she did all the work (which she did). I was able to convince her to give them each $2 for their piggy banks.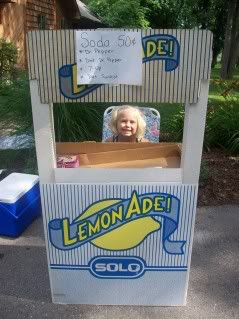 She already learning that she can multi-task at work. :)