Oh, where do the days go? At least this past week has led to the start of summer break. And summer it has been as the past couple of days have been in the upper 80's.
Last weekend we were able to celebrate my cousin, Jessica's college graduation party. She is going to make a wonderful elementary teacher. We are so proud of her and excited for her in her future endeavors. Being able to spend time with so much of our family was so nice as those times are very few and far between. It is just hard to get everyone together at the same time.
My sister and I with the graduate.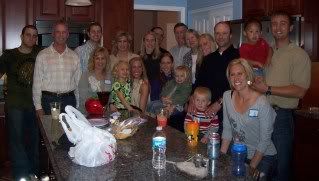 A partial group picture as my parents and grandma were missing as they had already left to take my grandma home.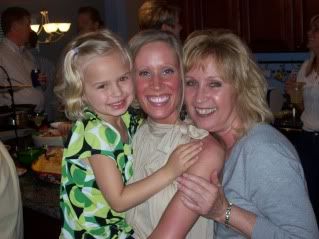 Jaidyn thinks she is a little adult and works the room quite well. She loves attention!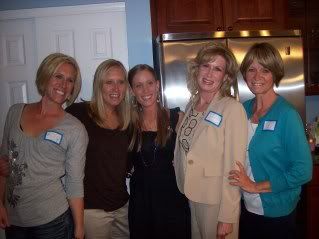 My name tag says, "The Favorite Cousin" and my mom's said the "Favorite Aunt". My mom's sister (who is super competitive) put "Most Favorite Aunt". A little friendly competition is always good. :)
Stair Climbing Fun!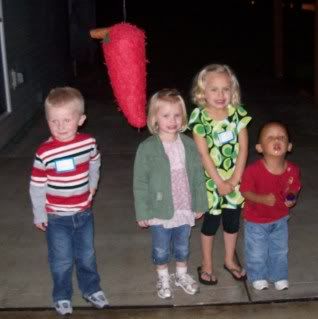 A Mexican themed graduation party wouldn't be complete without a Pinata!!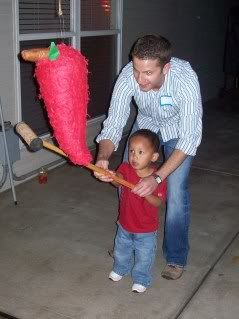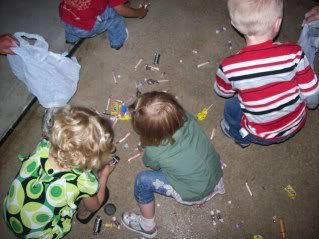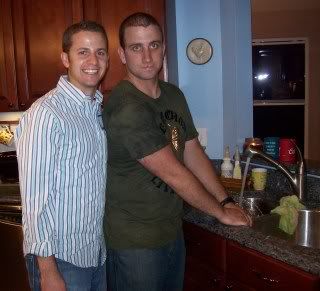 The clean-up crew...glad the Aaron's know their place. Just kidding! They do make fantastic margarita's, so I really need to be nice to them or I might get ousted on the next family get together. :)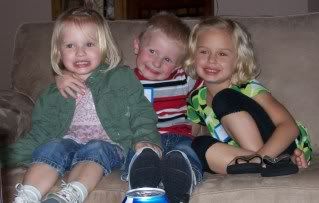 All of the kids were asleep in the van before we were able to drive out of the subdivision.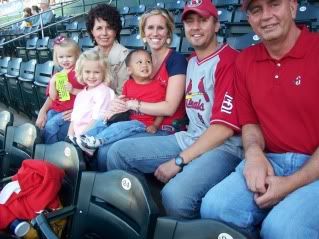 Kickin off the summer with a Springfield Cardinal baseball game.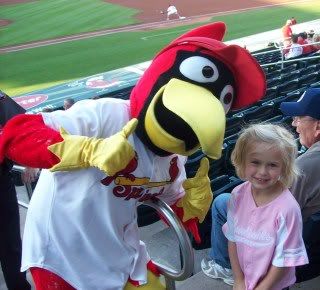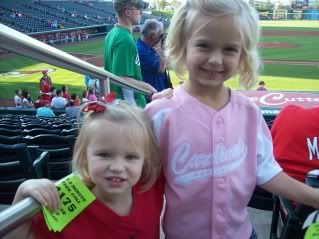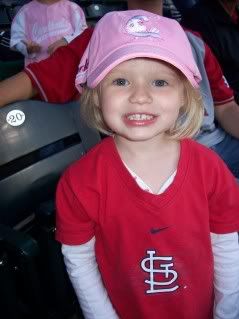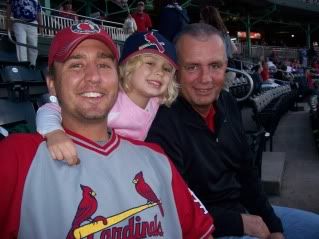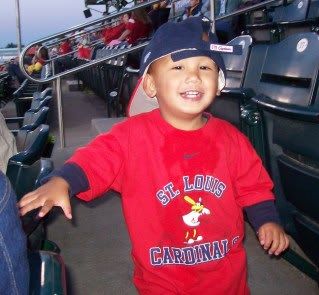 Levi loved the walking back and forth between the isle seats (thankfully they weren't very full). Although he would find a lap quick if Louie the Cardinal or Fetch the Dog mascots came parading through the isles.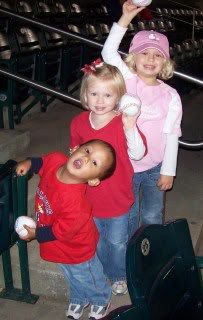 Each of them came away with a soft, beanie baseball and Addy was the lucky recipient of a pink Cardinal themed ball cap, which Jaidyn is wearing.
Jaidyn and Addy both had their preschool parties last week too. I can't believe Jaidyn is no longer a preschooler. Her preschool days are over. Kindergarten, here she comes!!!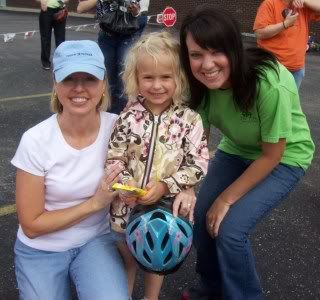 Jaidyn with her teachers.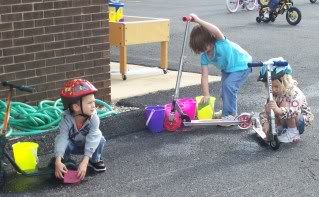 Washing up her scooter at the car wash.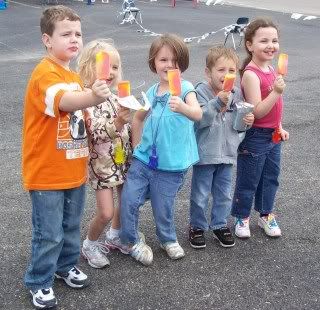 Cotton Candy popsicles...interesting flavor.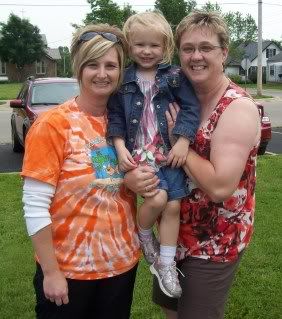 Addy with her teachers.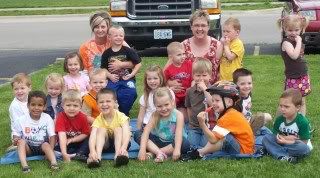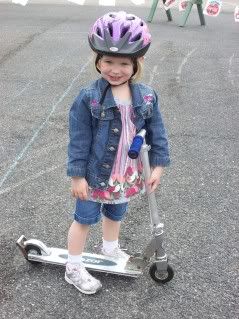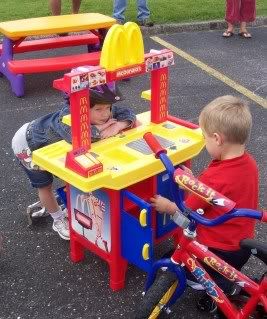 Addy ordering at the McDonald's drive through..."I'll take chicken nuggets and white dip (Ranch)".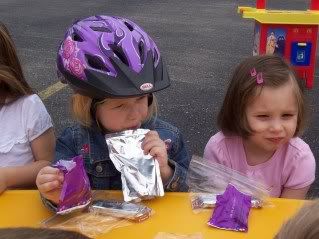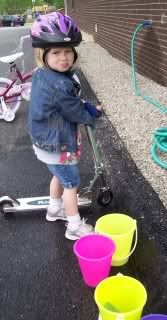 We had a last minute visit from Uncle Bill and Aunt Twila. I am so glad that made a detour on their trip to stay the night with us. We were up til midnight laughing around the kitchen table.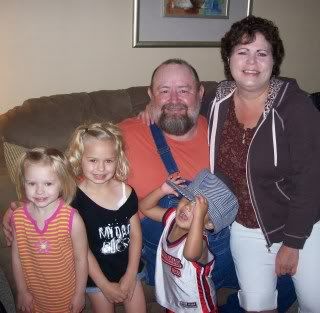 And then on Saturday, finally our adventure race date arrived (glad to see that day come so I can scale back a little on the training efforts).
Team #29: Goldilocks & The Three Bears
A before the sunrise picture...all smiles, we still don't truly know what is in store for us the rest of the day...there is so much to come in the next 11 hours.
Of the three adventure races that I have participated in, I felt this one had the most challenging course. The upper 80's temperature made for a smoltering, hot day. We ran on hot black top highways, gravel roads and pushed through the brush filled woods for the orienteering segment. One hill during the orienteering portion was so steep that I had to crawl up it grabbing on to trees to continue to pull myself up the hill. At one point after what felt like a monster climb I looked up and still couldn't see an end to the hill. Definitely a hill from hell. We also had to cross quite a few barbed wire boundary fences and finally I just rolled underneath them as I just didn't have the energy to hike my leg up over the wires. Due to the mass rain last week, the canoe section was cancelled (darn the luck as we all could have really used the break on my legs). Much of the muddy trail biking was nearly impossible or at least for me as I wasn't physically conditioned enough to ride the hills. So I spent most of the time pushing my bike up them. I was ever so glad to see the last 9 miles of the course be on gravel roads and the highway back to the finish line.
Wes experienced severe cramping and had to drop out about halfway through. So many teams including ourselves had partial finishes due to cramping issues and team members having to drop. I hated this for him as I know how much he enjoys these types of events. I don't know how many teams we encountered along the route with at least 1 or 2 members of their teams lying down rubbing down their legs. The heat just didn't help anyone out throughout the day.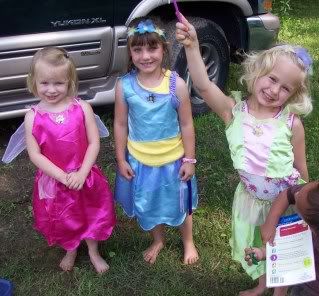 Another little girl brought along a tub of dress-up clothes to the race headquarters so Jaidyn and Addy had a ball dressing up with her.
Don't be jealous of these legs. Gross, I know! Poison ivy, thorn bushes, itch weed, and heat rash was just a small price to pay for a little adventure. They look bad now, but they look much better today than 2 days ago as I have been rubbing them down with vitamin E to hopefully speed up the healing process.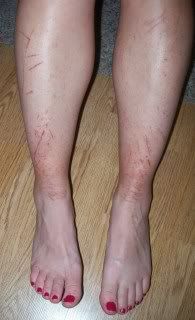 Yesterday was spent at Papa & Nana's lake house and relaxing on the boat. I even managed to sneak in a much need hour power nap.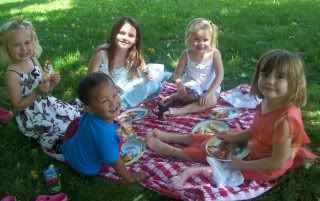 With everyone out for summer break, today the kids had a pizza and apple picnic in the backyard with the neighbor girls.