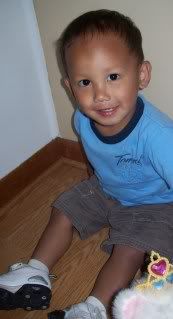 Look who's two!
Wow! We have so much to celebrate and be thankful for! This week, while crazy busy (as if being super busy isn't normal for us) has brought us so much joy. On Sunday, I was able to share Mother's Day with Levi's 2nd birthday. Poor Levi...we were burnt out on cake from Addy's birthday a few days earlier that we didn't even have cake on his actual birthday. Two nights later Wes was going to let the girls have a slice for snack once Levi went to bed. This was before I reminded him that it is Levi's birthday cake. So even though it was past the kids bedtime and they didn't need a sugar rush they all enjoyed chocolate cake. We are still trying to get him to hold up 2 fingers when he is asked how old he is, but we continue to just get the index finger. Levi has a love for farm animals. He can tell us what sound each animal makes and hearing him snort like a pig is hysterical. Instead of barking like a puppy dog he just pants and since he hasn't got the "qua" sound down he says, "boc, boc, boc" when trying to quack like a duck. He also would be great in a Coca-Cola commercial. He has the refreshing "Awwwwe" sound down and does it when he takes a drink of soda or juice. He also likes to make the sound when he sees Wes or I partaking in an adult beverage. He has really gotten in to playing with diecast cars over the past couple weeks, so now I have them stashed in my purse and the van and continue to find them in the couch cushions and under furniture everytime I pick up. In fact, that reminds me, I need to pull out the stove and rescue Hudson Hornet as he rolled underneath a couple of days ago.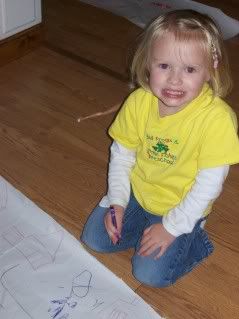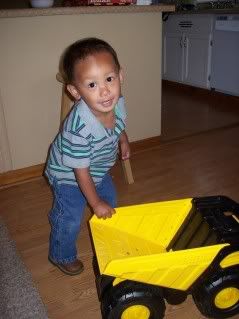 Levi loves his Tonka dump truck that he got from Grandma Penny. He can even sit in the back and be pushed around by his sisters. But most of the time, I find him hauling Barbie dolls through the house. :)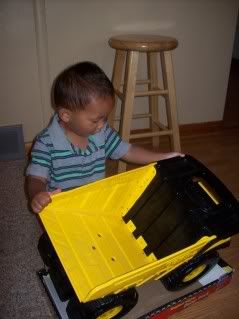 I can remember my brother playing with his big metal Tonka trunks in the yard so I thought this would be something Levi would like. Nana has also pulled out Uncle Jared's Tonka trucks and tractors from the basement and Levi is enjoying playing with them at her house.
Levi LOVES books. He will pull books from the book shelf, come find me, pull on the bottom of my shirt and say "up" while he then turns and backs into me wanting to be picked up. He likes any book that has farm animals, Barney and Elmo. He especially enjoys lift-a-flap books. And one of his favorites is, "Brown Bear, Brown Bear". He also likes picture books and naming family members. He will go through everyone in the family and call them by name, everyone but himself. He is yet to say, "Levi". He always looks and responds when he is called by name, but won't even try to say it. I hope he likes his name. If we point to him and ask who it is, he just points to his chest. Levi also likes to dance. Jaidyn and Addy have been taking some hip hop dance classes and Levi has been paying close attention as he will mimick some of the moves. The best is when he rolls across the floor like he has watched the girls in the advanced class do.
And, IT'S OFFICIAL! Levi is now offically stuck with the Collins family. On Tuesday the 11th of May we finalized his adoption. While we have felt that he was truly part of the family from the moment we met him, it is nice to have it official on paper and with the court system.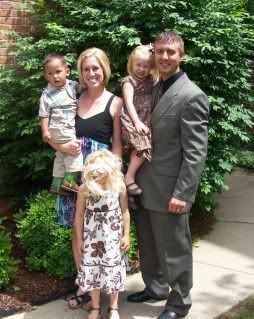 Sad, I know, but this is the best family picture that I got...Jaidyn is in the middle of a sneeze. Lol! Hopefully someone else has a better one on their camera that I can replace this one with.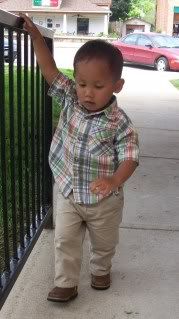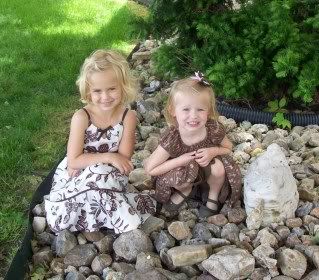 The rain has dampened most of our time outside this week, but we did get one afternoon in outside. This is what you get when you cross Dorothy with a cowgirl...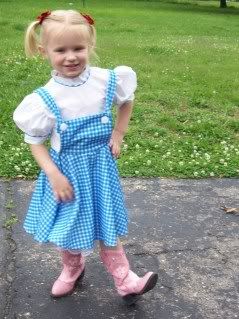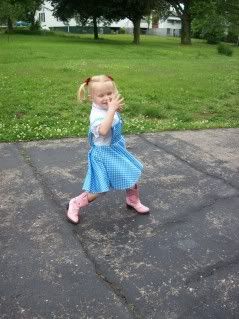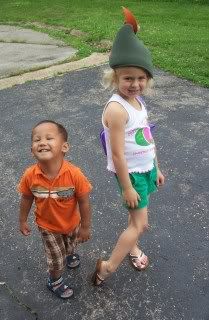 Robin Hood, Princess of Thieves and her sidekick.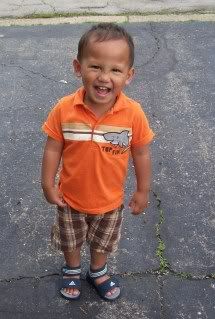 Yes, He's all Boy!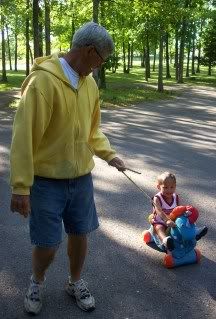 Papa pulling Levi down the driveway on the horse.
We hope everyone has a great weekend! I have a 5k run in the morning and then we are going to visit family and celebrate my cousins college graduation. I'm looking forward to the fun weekend ahead!