She's just 3 days shy of turning 4!! And already, Addy is taking it very seriously. She announced yesterday that she wasn't going to suck her thumb anymore except for when she goes to sleep and for the most part has been sticking to her word. She has also started taking showers with Jaidyn instead of a bath and this makes the nighttime routine go soooo much faster.
Papa & Nana joined us tonight for a fish fry. Wes didn't have any luck turkey hunting two weeks ago, but did manage to bring home a bag of fish that he was able to catch in his uncle's farm ponds. Papa told Addy that she had to eat most of her dinner before she could have her birthday present (as he knows that she typically eats very little). So she turns to me and asks me to make her a peanut butter and jelly sandwich. That is about the only thing that she will eat without me fighting her to take bites. Since we were celebrating her birthday, I did make her a PB&J.
Addy got a purple Kodak EasyShare Camera from Papa & Nana. She's a very spoiled 4 year old. Her camera, sadly, is better than Papa & Nana's as they have duck tape holding the battery door shut on theirs. Ah, the things grandparents do for their grandkids. :)
It was a nice evening and we were able to sit out on the back deck and enjoy dinner and Addy's chocolate ice cream cake.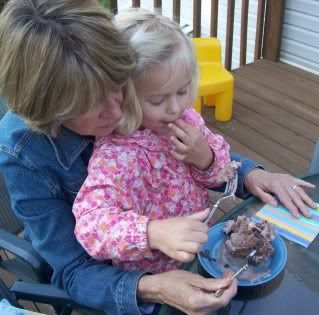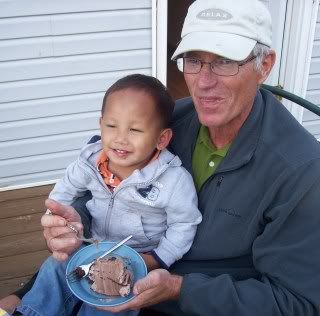 Levi did not want Papa giving him bites...he wanted his own fork so he could scoop cake for himself. Once their plate was cleaned, he moved on to his dad's lap. Smart kid!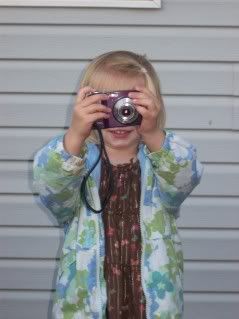 Addy and I took a picture of each other.
Doesn't take much to entertain her.
With lots of girl clothing at our house, Levi usually ends up cross-dressing during some part of the day. He came into the kitchen this morning saying, "Yee-ah" sporting with his pj's, a pink cowgirl hat and pink boots on the wrong feet. I just love his character...he's so funny!