We took full advantage of having a neighborhood pool tonight. This was the first time that we had Reid out in the water and like the rest of our kids, I think he will turn out to be a little water bug. He was like a bobber out in the pool and just bounced up and down while Wes held him. All that cute chunkiness makes him very buoyant.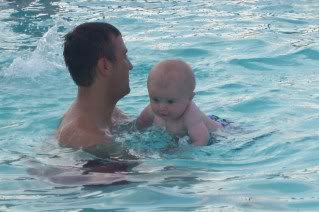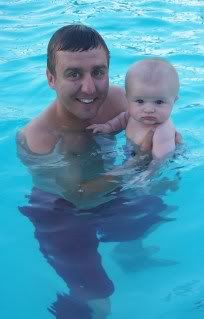 I finally had to just take him from Wes as his fingers were starting to wrinkle. And within minutes he was asleep all bundled in a towel.
The other three were showing off their newly acquired skills from swim lessons earlier in the week. Jaidyn was doing cartwheels off the side and pushing off the side to turn a back flip under the water and Addy was doing cannon balls off the side. In a matter of 3 days they have become very confident in their swimming abilities.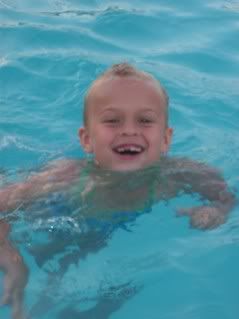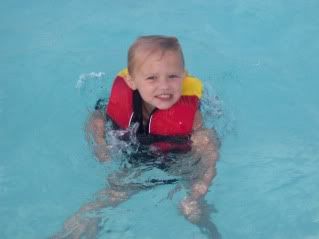 It took him awhile, but eventually he made it down to the 4th step and then finally was jumping off the side in to Wes's arms.
Levi found some guys goggles lying on the side of the pool and decided to try them on. He couldn't even open his eyes as he had them on so tight it pulled them squinty. Haha!
We spent the earlier part of the week in Lebanon with Papa and Nana who caught something nasty and were really sick the entire time we were there. And if I didn't have those days so jam packed with as much as I could fit in, I would have driven back and forth each day as I felt really bad being there as I know with 4 kids hanging around there isn't much sleep going on.
Swim Lessons
He threw the biggest fit when I would drop him off and his screams would echo so loudly in the indoor pool. It would only last for a minute and he was all smiles and would wave at me as soon as he saw me walk back in the door to pick him up. Levi loved the lessons, but just never wants him Mommy to leave him anywhere...he better get used to it as preschool starts up in less than 3 months.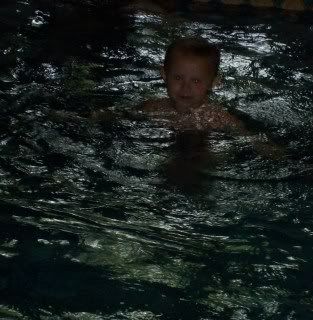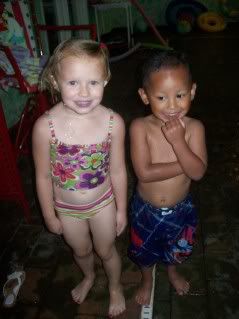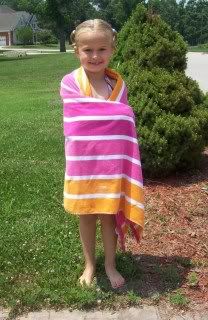 Jaidyn attended volleyball camp and loved it. She has no problems showing off her camp award trophy!