Memorial Day weekend at the lake usually is our kick-off to the summer. Wes worked long days in Joplin to help with the tornado recovery efforts and was unable to join us for most of the weekend. And while we missed him, we knew that his long days were helping so many families who were victims during this terrible disaster. The kids look forward to weekends spent at the lake house during the summer and I debated on even packing their swimsuits as the water temp was only 62 degrees and I thought there would be NO WAY they would want to get in...wrong! But I remember a trip to the ocean out East when we were young and everyone was walking the beach in sweatshirts and jeans except for us crazy Missourians out jumping the waves in our swimsuits.
I had told them that they probably wouldn't get to swim and they were okay with that as long as Papa took them fishing. And from the dock they each were able to reel in at least one catch. Papa Dave even took Jaidyn out in the fishing boat the next morning for her very first fishing trip. Being six years old must be the magic number. The minute he woke her up, her feet hit the floor and she was ready, super excited. She came back as I had figured with some great fish stories. Papa had coached her up good!! I just hope she never catches more than he does as the one time I did that, I don't remember being invited back. Hmmm??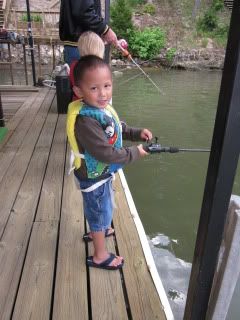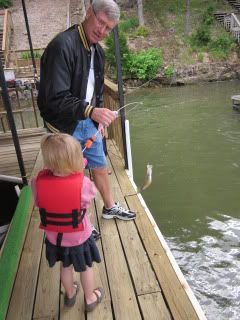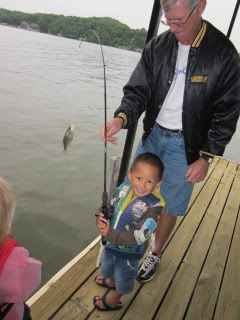 Reid had his first time out on the pontoon. I had bought an infant life jacket at a garage sale earlier this spring thinking it would be the perfect fit...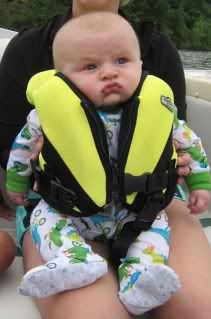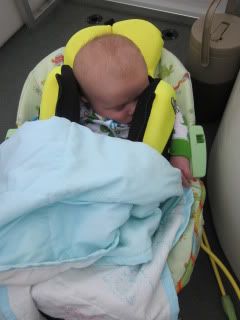 Hitting the waves out on the boat made a perfect rocking motion to put Reid to sleep.
Man's Best Friend!
Life is Good!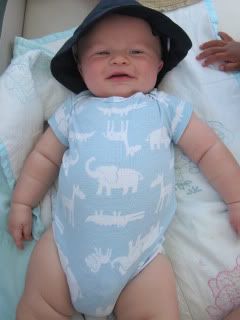 My kids love Ted! Ted may have started a new interest with the kids...Frisbee! Everyone else wants to just sit and relax and Ted is usually the only one they can talk into playing.
Helping Nana make the salad. Addy must have felt some ownership as she even asked to try it.
Uncle Jared and Reid
Yes, he has the Godparent touch! Or maybe he slipped Reid a little of what he was drinking...I'll have to keep my eye on Uncle Jared. :)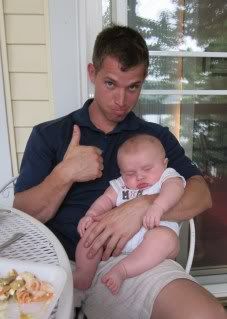 We hiked Ha Ha Tonka State park and picnicked at one of the lake bottom trails in the state park.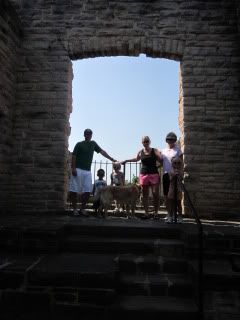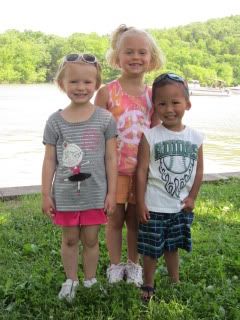 Eating at Bulldog's Beach House...they really need to bring back their happy hour special from the past couple of years.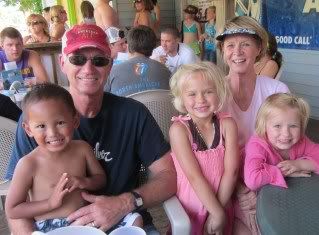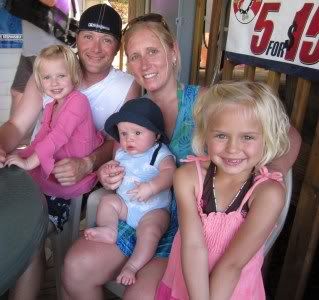 So I thought once we moved from the month of May in to June that my calendar would all of a sudden bring some summer relaxation with things like sitting on the front porch watching the kids draw with sidewalk chalk, catching up on some Redbox movies and possibly picking up a book from the library just for my own enjoyment. Ummm, not so much! And while I might complain about how busy we seem to stay, I love the summer days with my kids and I know these next couple months will go by fast and I'll be wishing them all back.
With lots of ever turning creative minds we have lots of crazy moments at the house...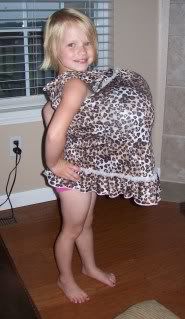 We aren't sure what inspired Addy to model this look.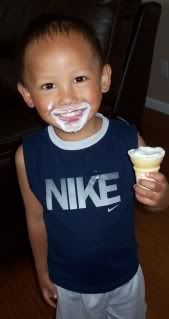 Note to self...NEVER give Levi an ice cream cone in the van. I couldn't get him out fast enough.
Levi had "The Princess" of the tball team over (while she is the lone girl on the team she is the best slider in to home plate and never goes home with clean clothes) and they dressed up as the princess and prince.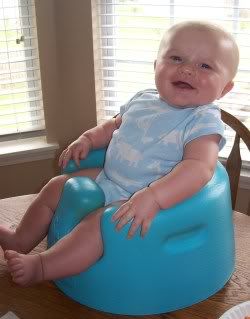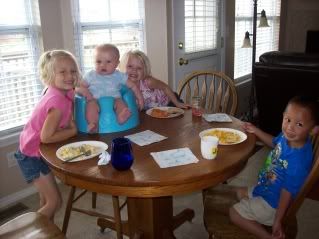 Reid likes sitting in the Bumbo seat so he can be right in the middle of all the action. And trust me, he isn't going anywhere. It almost takes two to pry his legs out from the seat.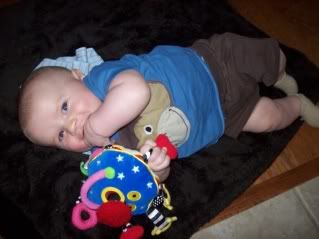 This is the first time that I caught him rolling over to his side. His 4 month check-up went well and obviously he was still topping the charts at both height and weight. He weighed in at 19 lbs., 15 3/4 ounces. I looked back at the girls baby books and Jaidyn was right at 15 lbs. at 4 months.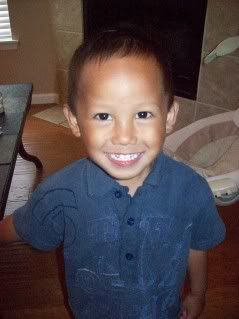 This picture was simply taken because Levi brought me my camera and wanted me too. I love his smile!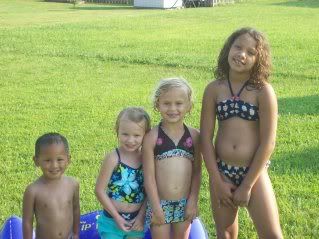 After only two days of high traffic use, our slip-n-slide bit the dust. We had friends over one evening and then the neighborhood kids along with our own all enjoyed it the next afternoon. And while the fun was interrupted with a tear across the plastic they all had a blast while it lasted.