The kids were invited to a carnival themed birthday party for a newly turned 4 year old friend. With a princess bounce house, professional face painter, and true carnival eats of popcorn, nachos and snow cones, even Wes and I had a very enjoyable time (the keg of beer was a nice adult treat for a HOT July evening). Of course, I hope that my kids don't up their expectations for their next birthdays because I am sure I will do my best to persuade them towards the easy-peasy McDonald's/Chuck E. Cheese parties.
The birthday girl first in line to get her bunny face on!
Jaidyn picked a fancy tiger face. It's amazing the face transformation that can take place with a little paint.
There was no question and it didn't take Addy long to pick out a princess face.
So when Levi saw the birthday girl (his crush) as a cute little bunny he didn't even need to look at the variety of faces he could choose from...bunny it is!
Unfortunately because of the hot temps and crazy bounce house fun, the kids were sweating so much that their cute character faces disappeared quickly...I'm betting there is a lot of face paint sticking to the inside walls and floor of the bounce house.
About an hour into the party Levi came to tell me that he didn't want to be a bunny anymore, but instead Spiderman. I really didn't think much of it and told him he only got to get his face painted one time. It wasn't until I saw the birthday girl parading around with a new face of Spiderman that I figured out why. Levi just follows her around everywhere and is in awe of her.
Bounce house fun! Addy's sticky body kept her from getting a good run down the slide.
Little love bug Reid!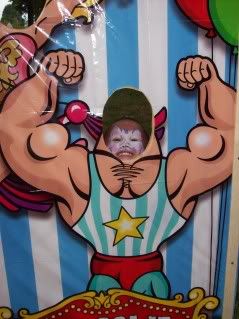 Levi showing off his muscles! Even standing on his tippy toes, he could barely reach high enough to see.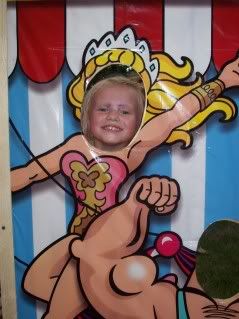 Flying...gracefully!
CAKE TIME!
I loved this picture of her mom getting a good angle of her blowing out her candles. Just like a super-mom to always have the camera in hand. We moms go to all means to try and capture the moment.
I hope Wes isn't noticing...not only did Levi pick to be painted like a girly bunny, but he also picked the pink iced cupcake. I bet you can't guess who else picked a pink cupcake. :)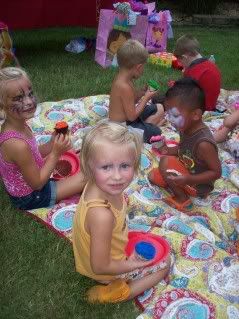 Cheeseburger anyone? What about an egg sunny side up? During a morning rain the kids played pretend restaurant.
While the rain cancelled our plans to attend a firework show on the lake during the 4th of July weekend the days were gorgeous and we managed to spend most of it out in the water.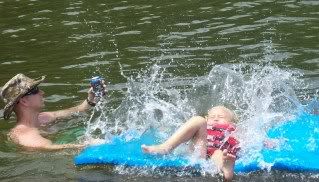 Worn out??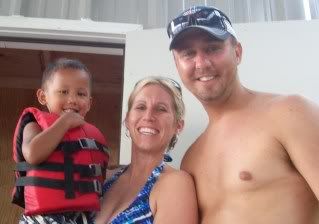 So one of our family dinner conversations this week was Wes trying to convince Addy that Justin Beiber is not all that hot and that he himself is way better. Addy is convinced that JB is absolutely FABULOUS and she argued that JB is way cuter! The rest of us got a good laugh...but we will let you all be the judge. Hehe!
or this...