I can't believe June is already over and before you know it, I will probably be shopping with the kids for school supplies. Ugh, I don't even want to think about school yet. Addy was just asking me this morning how many more days (45) until it starts. She is sooo excited to be a Kindergartner.
The last couple of days have produced smoltering hot heat and the kids attire has simply become bathing suits. Time has been spent running through the neighbors sprinkler and over at our subdivision pool. The freezer is stocked with popsicles as this has become the go to cool-down snack all week.
Reid continues to be a super happy baby. He just hangs out and seems to be quite entertained by just watching the commotion of our day. He has recently taken to a pacifier which has been nice for me as it seems like it has slowed his eating habits lately and I haven't felt as if I spent the entire day sitting in the recliner. And the last 2 nights he has only awaken twice to eat instead of the typical 4 as I have been able to put him back to sleep with just the pacifier. And we have tried some cereal from a spoon this past week and he has done very well with it.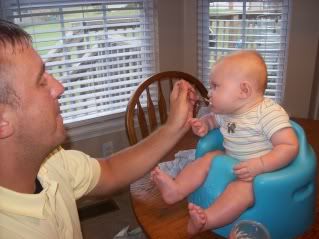 First time trying some cereal...MMMmmm!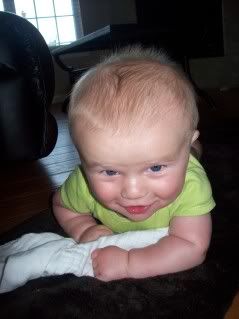 Tummy time! If my head weren't so big, I'd be able to hold it up a lot longer.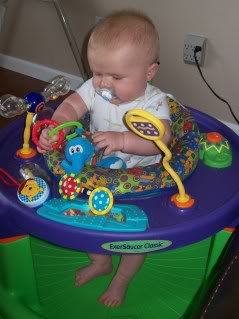 Playing!
Levi and Addy are just at the age where they enjoy completely annoying each other every second of the day. And here they are wrestling on the tile of the kitchen floor. Addy better be careful as Levi is gaining on her in weight and usually finds a way to some how come out on top.
On Wednesday Nana visited for a day out with the kids. We made a full day of it as we spent several hours at the Discovery Center, had a snack of McD's shakes and french fries, went to theater to watch Cars 2 (Nana & Papa gave him tickets for this for his birthday), and ended with Mexican for a late dinner.
Discovery Center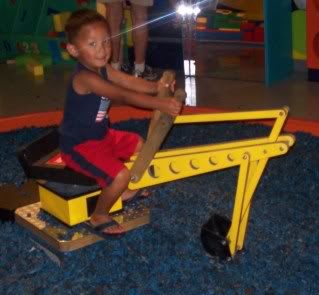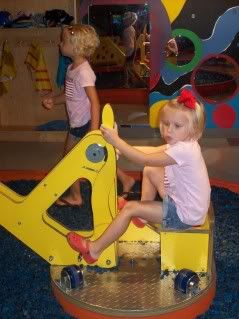 Hair raising static electricity!!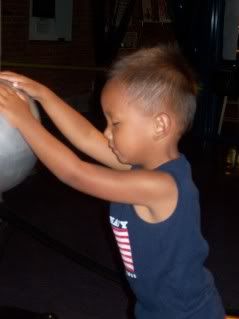 Levi didn't quite get the same results but if you look closely his hair is standing on end.
The drinking fountain...no thanks, I'll pass. Actually, it brings back bad memories from the college days.
The gigantic bubble machine was one of their favorite stations.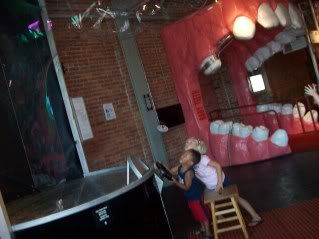 All three made some very impressive bubbles.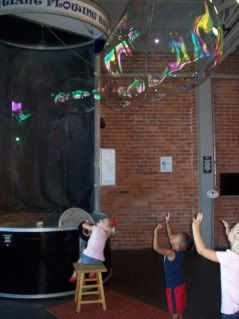 When they popped they would be showered with sticky drips.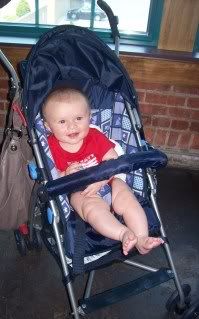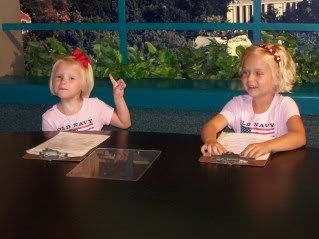 Reporting from the news station. This too was one of their favorite centers. They enjoyed watching themselves on the TV in front of them. Jaidyn and Addy's conversations were quite entertaining! A future career maybe??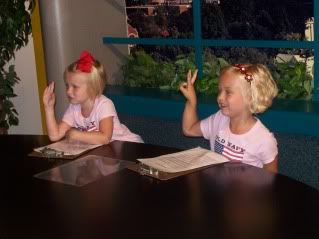 KY3, the place to be!!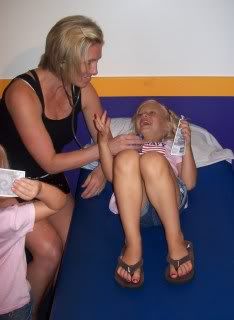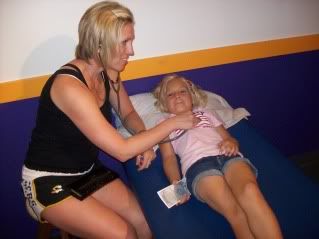 Jaidyn had just got $70 worth of cash (pretend ATM machine) before visiting the Dr.'s office and when I told her she owed me $70 after just listening to her heart and lungs she thought I was kidding. I was only trying to give her an accurate "real world" experience.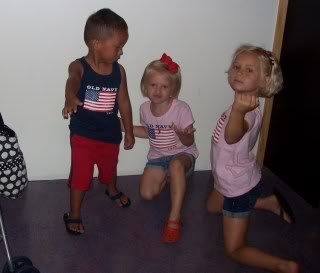 One more picture before leaving the Discovery Center. Not sure why, but they felt a ninja pose was appropriate. :)
Tomorrow morning we are getting around and heading to the lake. With the extremely hot temps we will probably spend many hours inside in the air conditioning or submerged in the water. And Wes is getting back from his work trip a day earlier than originally planned...Yea! He gets to spend the entire holiday weekend with us.
We hope everyone has a wonderful, safe holiday weekend! Happy Independence Day!