On Friday afternoon we picked the girls up from school an hour early so that we would be able to get on the road to make our haul to St. Louis for the weekend. We made a short detour about halfway there to take Grandpa out to eat and visit with him for a little bit.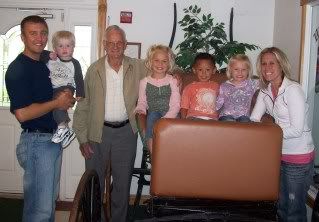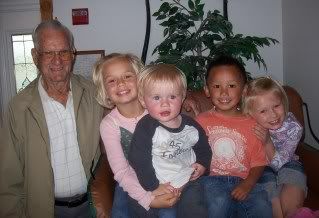 Our initial reason to go to St. Louis was so that Wes could participate in his first marathon. But I talked my sister in to running the half marathon with me and then we also decided to take the kids along for the weekend so it turned out to be a family event. Some of our Saturday plans were chalked up and changed due to the constant rain all day long, but we still had a great time with all the kids while visiting the race expo, eating at Mcdonald's instead of a picnic at the park, and going to the Magic House. While we weren't headed to the stadium to watch the Cardinal baseball game, we still wore our St. Louis Cardinal baseball attire to support our favorite team. Later in the evening we met up with lots of family at my Aunt's house for a pasta dinner and drinks.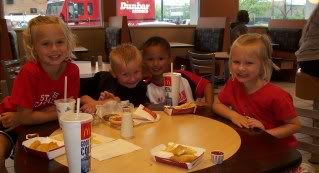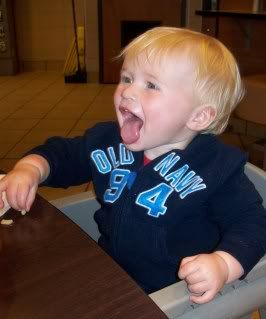 At the Magic House...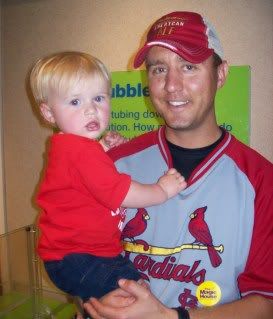 Blowing gigantic bubbles!
Water tables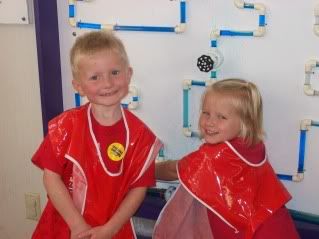 Water wall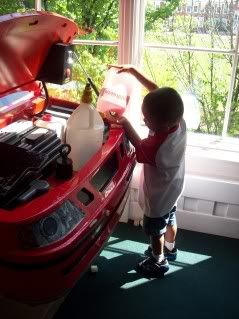 Levi was completely entertained playing at the Service Station in the makeshift town.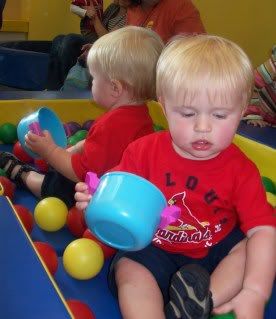 Reid and I played in the ball pit. I finally sat completely in front of him to block the continuous line of balls he kept throwing out.
I don't even remember the exact purpose of this bar, but Jaidyn used it to show us her pull-ups and used it a gymnastics bar flipping around it several times.
The kids weren't quite sure what to think of the static ball and Levi and Addy wouldn't even attempt it. Reid is the overall winner!! He had the perfect hair for this hair raising event!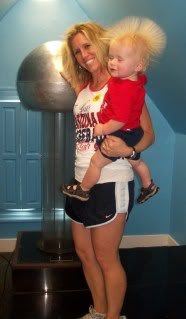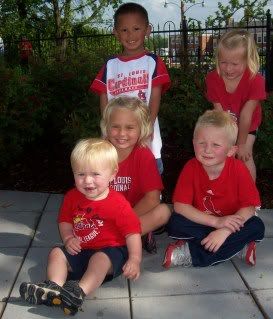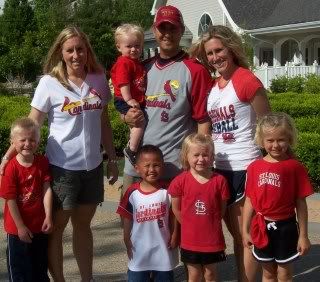 Both the marathon and half marathon had a 7:00AM start time. The rain had pushed through leaving the morning temps about perfect with just a little bit of a breeze.
I never should have ran as I am paying for it today and had to make an early morning trip to the doctor's office. I had been attempting to let my foot heal from the plantar fasciitis that I am dealing with, but deciding to run 13 miles on it without completely healing wasn't one of the smartest decisions I have ever made. So I am spending most of my time sitting (that is why I am finding time to do this post today) as I am not able to put much weight on my foot and walking is very painful. My sister and I did hang together until around mile 9 as I finally convinced her to go on as I knew that last few miles were going to be much slower and I was going to struggle to finish. I finished with a time of 1:53 which was a ways off from my PR, but I was still extremely thrilled with that time considering the pain I was experiencing.
I didn't get to see Wes in the starting corrals as there were probably close to 25,000 packed in on the street and he left us early to go the corral as Jill and I decided to wait in the long line at the porta potties for one last chance of using the bathroom. I did get to see him coming down one street about mile 10 after one of the turns that us half-milers made while the marathoners kept proceeding on. I was able to briefly get his attention and receive a thumbs up from him. The next time I saw him was as he breezed through the finish line...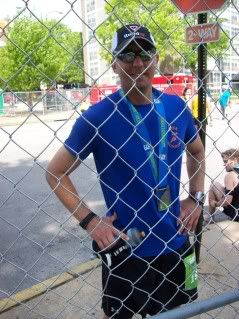 He just finished getting his finishers medal placed around his neck.
Wes finished with a time of 4:22:00 and honestly didn't look like he was just completely exhausted. For some reason his body doesn't make him feel the pain and fatigue the same way mine does. I know it wasn't quite the time he was hoping for, but he still had a great run and will be able to cross that challenge off of his bucket list too. Way to go, Wes! I am super proud of his dedication to his training the past few months and to his effort during the run.