Levi has begun his new life with Christ!! Yesterday he received the sacrament of Baptism. We are so glad that so many of our family was able to share this special day and baptismal ceremony with Levi and all of us. I can't think of a better way to spend a Saturday morning, but getting everyone to the church wasn't easy...
Jill, (one of Levi's Godparents) came down with a severe case of Tonsilitus two days before, but drove several hours very sick to be at his baptism. And, I managed to get the van stuck in my parents driveway shortly before we were supposed to be at the church.
My dad and brother had already left for the church to start shoveling away some of the parking lot so they had the snow shovels. So I managed to clear away the snow under the tires with the garden shovel.
Grandma Penny took control of the wheel while the 3 of us pushed.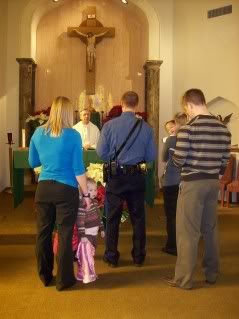 Levi with his Godparents. I love the look on his face. Levi has other things on his mind...probably lunch. :)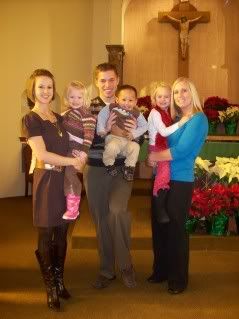 Reading with Uncle Jared. Levi loves books!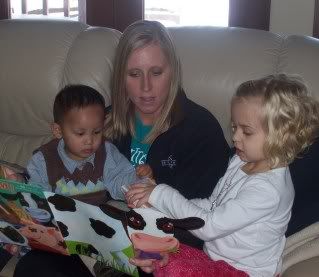 Levi loves farm animals! Looking at his new book from Aunt Jill.
Looking at a picture book with Jared and Carrie. He especially loves the group photo and pointing to people he knows.
The future winter olympic bobsledding team enjoyed the 6 inches of snow we received on Friday with their Daddy and Grandma Penny. I did manage to make it outside, but only to take pictures and video.