Earlier this month, Wes applied for a new position and we found out on Wednesday that he was the man for the job. He is still with the Highway Patrol but will be working in the DDCC, Division of Drug and Crime Control. Although he loved his current job as a road officer, he is excited for this change in his work focus. While I am excited about his job opportunity, I have to admit I am sad about moving further away from my parents. They have been a HUGE help so many times in helping watch the kids for different occassions. It was so nice to occasionaly go to the grocery store alone without 3 kids hanging out of the cart, take only one to their dentist or doctor appointment, and get a chance to workout a couple times a week. Yes, Papa and Nana will be missed. Hopefully, they are willing to make an hour or so road trip frequently as it will be hard on the kids (and me) not seeing them several times a week. The past couple of days we have spent talking with a realtor to get our home listed and scouting houses in the new prospect town that we are looking to relocate to. Hopefully, the selling of our home and finding a new place will sycronize in to a comfortable time frame and the transition of our move will be easy.
Jaidyn received passes to Jump Mania from her Papa JR and Mama LaLa for her birthday and we had a chance to use some of them on Friday. She and Addy loved all of the big blow-up slides and jump houses. Wes, Levi and I kept our jackets on the entire time we were inside as we thought it was a little chilly, but Jaidyn and Addy were sweating and had hot rosy cheeks from playing so hard.
Levi, on the otherhand, had a different outlook of Jump Mania...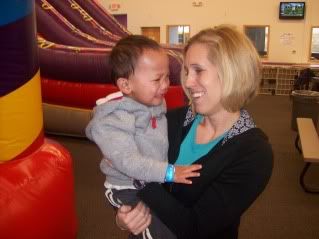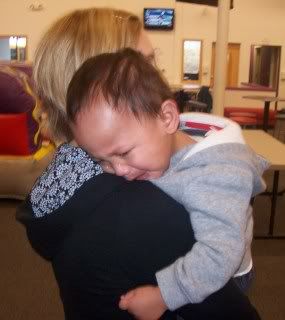 He did finally warm up to the place and claimed the Little Tykes slide as his own most of the afternoon.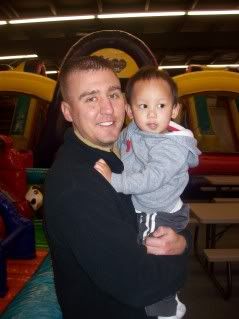 Addy and Levi helped me make a pizza for dinner this week. I have such great help!
They thought I was finished taking pictures and had walked off, but I caught them sneaking bites of the shredded cheese.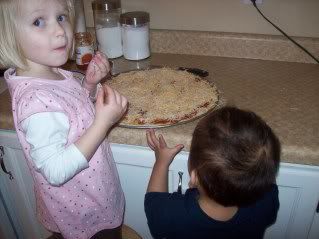 A fashionista in the works! Jaidyn took a scarf, slipped it over her head to make a shirt and then added a pipe cleaner around her neck to attach part of it to make it in to a halter top. The crown and gloves are an added touch to her outfit.