Wow! I can't believe it's October, although the weather has definitely turned fall-like. I love October it is my favorite month along with Halloween being my favorite holiday.
The kids are loving the weather and have been spending most afternoons after school outside playing in the trees, riding bikes, pushing their babies around in a stroller and drawing on the sidewalk with chalk.
Jaidyn is loving Kindergarten and comes home each day eager to continue learning as she usually wants to write in her journal, practice math skills in a workbook, or play on her Leapster. Her sentences are really good and she has just recently learned about the comma, so she likes to place a couple in a sentence and pauses when she reads one. Funny!
Addy is doing well in preschool. Going everyday has been great for her and she has adjusted to the structure of it well. She likes to come home and tell me who was good in class for the day and who wasn't. She tells me she is always good...hmmm?? Her favorite part of the day is when they have "specials". She loves music and gym days. In music she has been learning to sign the letters of the alphabet and in gym they have been playing soccer and have recently started learning throwing skills.
I'm loving my morning time with Levi. He loves being part of the morning routine and is up as soon as Wes or I gets up most mornings. We got Levi a Thomas The Train backpack as he was always trying to wear Addy's pink Disney Princess backpack. This past week he has been wearing it proudly into the school building when I take the girls to their classrooms. Levi wants so much to be like his sister's. He has also developed the love for Barney. I thought I was in the clear of the big purple dinosaur as the girls had outgrown him and Levi never really expressed much interest in tv, but that has all changed. He can almost completely follow the Barney "Dino Dance".
Wes is still making the long commute to and from work each day (and our house selling doesn't look promising right now, so he might be doing this for awhile), but he loves his job so he doesn't mind it too much. He is still trying to find time to sneak in some 5:00am runs to prepare for the adventure race coming up the first weekend of November.
As for me, I manage to stay busy just trying to keep up with the rest of the family and their schedules. I finally look pregnant and not just like I have been making Casey's donut runs each morning. A teacher in the building stopped me today and said, "Well, you are finally looking pregnant" and I have others making the same type comments. I guess these are complimentary...maybe not?? I am feeling good most of the time so that is nice.
Nana to the rescue!! Jaidyn has a Kindergarten bake sale this Saturday and I talked my mom into whipping up some desserts. She came through with an Ooey-Gooey Butter Cake, Washington Apple Cake, and two pans of Cinnamon Roles. I just really hate baking and when I do, I don't mind my family eating it, it isn't something that I would want to sell to others. I made up a batch of snack time granola and placed in individual cellophane baggies, but that is extent of my contribution. She brought them Thursday afternoon and we have had to use some strong willpower to keep ourselves from digging into them. Actually, Wes wants me to turn around and buy the Ooey-Gooey Butter Cake instead of dropping it off and leaving it...sounds like a good idea to me. :)
Grandma Penny had a conference for work close to us so she spent a couple of nights with us. The kids really enjoyed their time with her.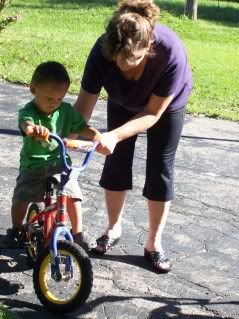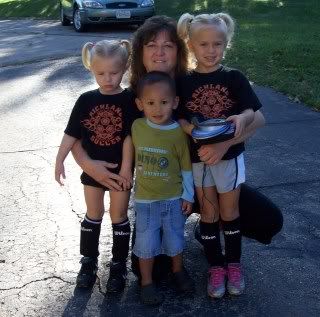 She was able to watch their Saturday soccer game before leaving town.